Exxon Could Be the Big Winner of the Oil Crash
The company had a bad quarter, but its competitors are way worse off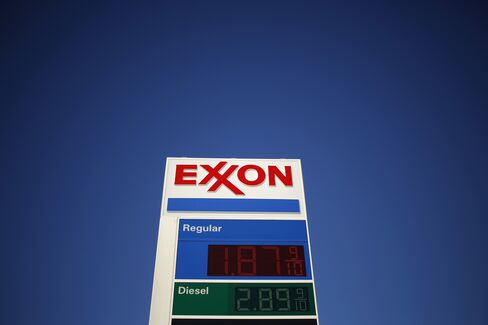 These are tough times for oil companies. Crude prices have fallen 60 percent since last June, demand remains relatively weak, and the world is still producing more oil than it needs. Not to mention that with crude getting harder to find and costlier to extract, oil companies are spending more money for every barrel they produce—hardly a recipe for steady profits.
Yet ExxonMobil, the largest oil company in the U.S., just reported that it made $6.5 billion in profit during the final three months of 2014. That's well below the $8.3 billion it made during the same period a year ago, but all things considered, it could've been a lot worse. The price of crude averaged $73 a barrel last quarter, compared with $97 a year earlier. So while Exxon's profit fell 21 percent, the price of oil was down 25 percent. As of Monday afternoon, shares of Exxon were trading around $88—roughly where they were a year ago, even though oil is about 50 percent cheaper now than it was last February.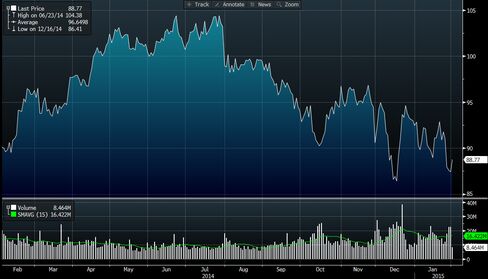 Exxon's competitors are having a much harder time making money. Chevron's profits last quarter were off 30 percent, and ConocoPhillips actually lost money last quarter (the first time that's happened since 2008). BP will report its latest earnings tomorrow, but considering the company's ongoing trouble over the 2010 Deep Horizon spill, it seems unlikely to post a killer quarter. Given BP's mounting liabilities in the Gulf, and what looks to be a sustained period of low prices, there are even rumblings that the company could be ripe for a takeover later this year. One of its presumed suitors? Exxon, of course.
It's premature to start talking about a potential BP-Exxon merger, but the current crash in oil prices could usher in an era of megamergers similar to those in the late 1990s and early 2000s. And it's all part of a normal business cycle: A decade of high oil prices spurred unprecedented amounts of investment, as oil companies went for growth and market share. Now, as prices fall and demand stalls, the game is to consolidate and buy up rivals. This is when the strong get stronger, and right now, no oil company is in a better position than Exxon. Fadel Gheit, an oil analyst at Oppenheimer, thinks Exxon is on the prowl and could make a "massive acquisition" at some point before prices go back up. "This is the time to go big," said Gheit. "And this is the company that can afford to do it."
Exxon is sitting on nearly $5 billion in cash and equivalents, and while there aren't many holes in the company's portfolio, there is room to upgrade. The company could try to expand its footprint in the deepwater Gulf of Mexico or take a bigger position in the liquified natural gas market. But perhaps the most obvious place is the area that's driven so much of the change in the global oil sector: U.S. shale. One of the knocks on Exxon, as on most other major oil companies, is that it missed the fracking boom in the U.S. when it pulled investments in the late 1990s and focused on Arctic and deep-water plays. But as oil prices have crashed, that decision is looking smarter by the day and gives Exxon a great chance to get into the fracking game on the cheap. The U.S. oil patch is littered with struggling companies: Many of the small and midsize independent wildcatters that drove the shale boom, helping boost U.S. oil production to its highest levels since the early 1980s, are now drowning in debt and low on cash. "This is an excellent time for Exxon to swoop down on some of these smaller shale players," said Steven Kopits, president of Princeton Energy Advisors.
The question is whether to buy assets or just swallow up companies whole. In 2009, Exxon pulled off a $41 billion deal to buy XTO Energy. The deal expanded Exxon's reach into the U.S. shale gas market but was widely seen as a bad move because the price was high and Exxon had trouble integrating XTO. Brad Heffern, an oil analyst at RBC Capital Markets, thinks that will give Exxon pause if it considers swallowing up a fracking company. "I do think they'll be looking to make shale investments, but I'd be surprised if they did a big corporate deal. XTO wasn't fun for them." Heffern thinks Exxon would be much better off simply buying up oil wells from small fracking companies that are looking to raise cash.
As for BP, the company actually has a fairly big footprint in U.S. shale. Last spring, it announced plans to form a separate company to manage its oil and gas operations in the lower 48 states. Could Exxon be a potential buyer? Depends on how hungry it is.
Before it's here, it's on the Bloomberg Terminal.
LEARN MORE