Apple Plans $5 Billion Bond Sale; Fourth Since 2013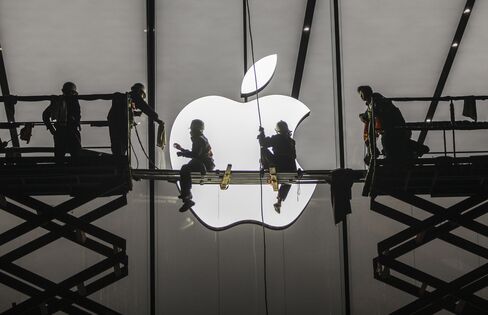 Apple Inc. sold $6.5 billion in bonds, after boosting the deal by 30 percent, in the iPhone maker's fourth major debt offering in the past two years as it preserves its overseas cash hoard.
The company sold the securities in five parts, with the longest portion maturing in 30 years, according to data compiled by Bloomberg. The deal will be used for stock repurchases, dividend payments and debt repayments, according to a person with knowledge of the matter.
Apple has issued the equivalent of $39 billion of bonds since April 2013, when it sold $17 billion in what at the time was the biggest corporate-bond offering ever. The Cupertino, California-based company's previous debt deal was a sale of 2.8 billion euros ($3.17 billion) in November that allowed it to fund shareholder rewards without using cash from abroad that would be subject to U.S. repatriation taxes.
"The company is building on the momentum of a strong past couple of weeks," Jody Lurie, a corporate credit analyst at Janney Montgomery Scott LLC in Philadelphia, which manages $61 billion in assets, said in a telephone interview. "They are being advantageous with the current environment."
Bond Yields
The company issued $2 billion of 3.45 percent 30-year notes at a yield of 125 basis points more than similar-dated Treasuries, Bloomberg data show. That's more than the relative yield of 100 basis points the company paid on 30-year bonds in the April 2013 offering.
The shortest maturity portions included $1.25 billion of 1.55 percent five-year bonds that yielded 42 basis points more than comparable Treasuries. A basis point is 0.01 percentage point.
Steve Dowling, a spokesman for Apple, didn't respond to a telephone call and e-mail seeking comment on the offering.
The borrowing comes after Apple posted a 30 percent jump in fiscal first quarter revenue to $74.6 billion on Jan. 27, its largest sales increase in three years. Net income rose 38 percent to a record $18 billion.
Apple's bonds have returned 13.6 percent since the start of last year, outperforming the 10.3 percent gain in debt of similarly rated companies, and more than quadruple the 3.2 percent return on speculative-grade bonds, according to Bank of America Merrill Lynch Indexes
"The borrowing is a bullish signal in the confidence of their business," said Michael Walkley, an analyst at Canaccord Genuity Inc. in Minneapolis. "A debt offering is about the sustainability of providing strong long-term cash flows, and taking advantage of attractively priced financing."
Buy Backs
Billionaire activist investor Carl Icahn in October renewed his pressure on Apple to accelerate buying back company stock, saying its shares are undervalued and should be at $203. That'd give Apple a market capitalization of more than $1 trillion. Apple's shares closed at $118.63 in New York today.
Apple announced an increase its capital return program to $100 billion in April 2013, including share buybacks and dividends. The company raised it by $30 billion in April last year along with a boost to the dividend and split of its stock 7-for-1.
Apple ended December with about $178 billion in cash and marketable securities, according to a company statement on Jan. 27.
"We have now taken action on almost $103 billion of our $130 billion capital return program including $73 billion in share repurchases with four quarters remaining to its completion," Luca Maestri, Apple chief financial officer, told analysts during a conference call Jan. 27, adding the company plans to announce an update to the program in April.
Investment-grade bond yields have fallen to 2.93 percent, below the 3.49 percent average of the past five years, according to a Bank of America Merrill Lynch index, as the yield on the 10-year Treasury note, a benchmark for everything from corporate bonds to mortgages, has fallen to 1.66 percent this year, near the lowest levels since 2013.
"Apple is getting attractive terms," Mike Buchanan, Pasadena, California-based head of global credit at Western Asset, said in a telephone interview. "The demand for high quality will continue to encourage companies to tap the market."
Before it's here, it's on the Bloomberg Terminal.
LEARN MORE