The Biggest Super Bowl Bet of Them All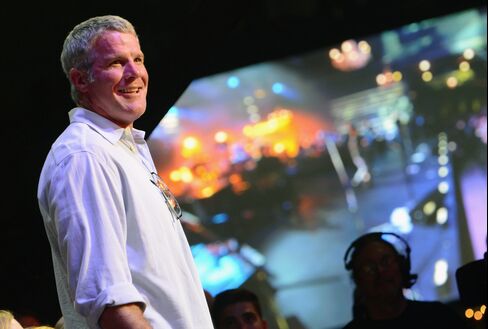 For a company that's never posted a profit and is forecast to report revenue of just $140 million in 2014, putting up an estimated $10 million for a Super Bowl ad comes off as daring, to say the least.
But bold, it would appear, is exactly what Wix.com Ltd. is going for. The Tel Aviv-based company, which provides free online tools to build websites, is betting that this will be its breakout year as it converts more of its growing subscriber base to a paid premium service. The Super Bowl ad will help make that happen, company officials say.
That an unprofitable company of Wix's size would buy some of the most expensive TV air time in the world alongside corporate giants like BMW AG and Mars Inc. has been disconcerting for some investors. But the company's prediction of profit in 2015 has made Wall Street more bullish, with JPMorgan Chase & Co. and Bank of America Corp. naming Wix one of their top small-cap picks for 2015.
"This will not bear immediate results, but at some point everyone in the States will know what Wix is," Chief Marketing Officer Omer Shai said in an interview on Jan. 25. "The point is eventually to grab more users and do it through brand awareness."
Wix, which went public on the Nasdaq Stock Exchange in November 2013 and now has a market value of about $750 million, has posted at least 15 straight quarterly losses.
The stock is down 5.8 percent this year after suffering a 22 percent rout in 2014. The shares fell 2.4 percent to $19.30 at 9:59 a.m. in New York after losing 1.9 percent last week, compared with a 1.7 percent decline on a Bloomberg index of the most-traded Israeli stocks in the U.S.
Brett Favre
Wix used National Football League legends such as former quarterback Brett Favre in the ad for Sunday's Super Bowl, where the New England Patriots beat the Seattle Seahawks 28-24 to capture their 4th championship in team history. The event attracted 111.5 million viewers last year, the largest television audience in American history, according to Nielsen Media Research.
Despite all the enthusiasm Super Bowl commercials generate, 80 percent of them do not boost sales or purchase intent, said Jeri Smith, chief executive officer of Communicus, an international advertising research firm. That's a low success rate for the $10 million cost Smith estimates for a 30-second TV spot, including production expenses.
"The number one reason these commercials fail is that advertisers and agencies are too focused on entertaining viewers more than elevating the brand," she said by phone on Jan. 26. "If Wix gets too far down the road with the line-dancing and the pigs, the brand may get lost."
Double Deuce
In Wix's ad, the football players open fictional small businesses with matching websites. Favre, who won the championship with the Green Bay Packers in 1997, starts a charcuterie store (Favre & Carve) and former Dallas Cowboy running back Emmitt Smith opens a Texas bar called Double Deuce.
Wix is expected to post a $54 million loss for 2014, according to the average analyst estimate compiled by Bloomberg. The company will release its annual earnings on Feb. 11.
The company, which targets small businesses that are wary of spending on programmers to create an online presence, says it will reach profitability on an adjusted earnings before interest, taxes, depreciation and amortization basis during the second half of this year.
Premium subscribers grew 10 percent from the second quarter to about 1.1 million users at the end of September, according to the company. Wix has over 59 million registered users, a total that increases 1.4 million a month.
Largest Player
Wix shares retreated last year amid a selloff of high-growth Internet stocks running a loss, said Tim Klasell, an analyst at Northland Securities Inc. in Minneapolis. The company also faces challengers including Squarespace, which says it has millions of paying customers, and Weebly.com, with over 20 million users. Still, Wix's platform stands out above others, Klasell said.
"Investors have been concerned if Wix can build a moat around their technology and their business," he said by phone Jan. 20. "But in speaking with users, partners and evaluators they are building something that is defensible and they will be the largest player in the market."
'Upside Surprises'
Regardless of the impact of its Super Bowl outreach, Wix has the backing of Wall Street analysts. All seven covering the stock recommend buying it, with shares forecast to gain 51 percent in the next 12 months, according to the average price target.
Wix shares have jumped 17 percent since it said on a Nov. 5 earnings call that it would become profitable in 2015. The announcement won over investors who were skeptical of the heavy marketing budget, analysts at JPMorgan said in a Jan. 22 research note.
"The lack of profitability and, more specifically, the large marketing spend have generated a lot of pushback in our conversations with investors," analysts led by JPMorgan's Sterling Auty wrote in the note. "Momentum will continue with possible upside surprises relative to our estimates."
Before it's here, it's on the Bloomberg Terminal.
LEARN MORE