Refinery Shuts as U.S. Oil Workers Strike Reaches Second Day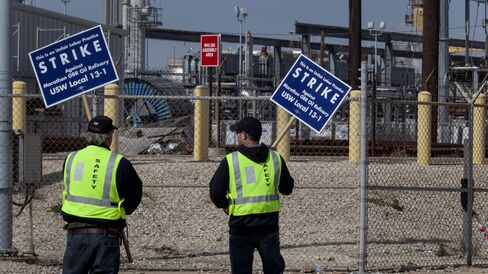 One U.S. refinery is shutting while management takes control of operations at six others after union workers walked out of the plants in the biggest strike since 1980.
The United Steelworkers union that represents employees at more than 200 refineries, terminals, pipelines and chemical plants stopped work Sunday at nine sites, accounting for 10 percent of the country's refining capacity, after contract negotiations fell apart. The union rejected five offers made by Royal Dutch Shell Plc on behalf of companies including Exxon Mobil Corp. and Chevron Corp. since talks began Jan. 21. Tesoro Corp. is shutting half of its 166,000-barrel-a-day Martinez plant in California that wasn't already idled for maintenance.
Union leaders haven't called a strike nationally since 1980, when a stoppage lasted three months. While only one of the nine plants has curbed production amid the stoppage, a full walkout of USW workers would threaten to disrupt as much as 64 percent of U.S. fuel output. Shell and union officials began negotiations amid the biggest collapse in oil prices since 2008.
Refiners may cut operating rates "a little" during the strike, John Auers, executive vice president at Dallas-based Turner Mason & Co., said by phone Monday. "They won't push the units as hard. The key will be to run them reliably and safely."
Health-Care Benefits
The USW has been asking employers for pay increases, stronger rules to prevent fatigue and measures to keep union workers rather than contract employees on the job, Lynne Hancock, a union spokeswoman based in Nashville, Tennessee, said by phone on Monday. It's also negotiating for better health-care benefits because workers are "paying too much" for deductibles and premiums, she said.
United Steelworkers members do everything from operating units to performing maintenance to testing and analyzing samples in labs at U.S. refineries, Hancock said.
The refineries on strike can produce 1.82 million barrels of fuel a day, data compiled by Bloomberg show. They span the U.S., from Tesoro's plants in Martinez and Carson, California; and Anacortes, Washington, to Marathon Petroleum Corp.'s Catlettsburg complex in Kentucky to three sites in Texas, according to the USW's statement.
In Texas, Shell's Deer Park complex, Marathon's Galveston Bay plant and LyondellBasell Industries NV's Houston facility are affected, according to the union. LyondellBasell activated its work-continuation plan, according to spokesman George Smalley on Sunday.
U.S. benchmark West Texas Intermediate oil rose $1.33, or 2.8 percent, to settle at $49.57 a barrel on the New York Mercantile Exchange on Monday, erasing an earlier decline. Gasoline for March delivery rose 4.5 percent to $1.5446 a gallon, and the diesel contract for the same month gained 3.3 percent to $1.7575.
Marathon Plants
Brandon Daniels, a spokesman for Marathon, confirmed work stoppages at its Catlettsburg refinery and Galveston Bay plant and said the company "has plans in place to ensure the continued safe operation." The walkout also includes Marathon's Houston Green cogeneration plant in Texas and Shell's Deer Park chemical plant.
At Marathon's 451,000-barrel-a-day Galveston Bay refinery, which the company bought from BP Plc in 2013, as many as 45 union workers were taking turns picketing in four-hour shifts. They wore green jackets and winter gear covering their faces, holding blue signs with "This Is An Unfair Labor Practice" scrawled across them in white lettering.
David Jones, a 56-year-old pipefitter who has worked at the refinery for almost half his life, was at the union office a mile from the plant with other picketers getting his strike assignment Monday. He said many of the refinery's supervisors have never worked its processors and other complex machinery before, or at least in many years.
"I wouldn't be surprised if the place isn't running in a couple weeks," Jones said. "It's a very complicated facility. It's not like getting in a car and driving away."
Martinez Shutting
Tesoro is shutting process units at Martinez, Tina Barbee, a spokeswoman at the company's headquarters in San Antonio, said by e-mail on Monday. The facility already had about half its processing capacity offline for maintenance. The company has "successfully transitioned and are operating" the Anacortes and Carson refineries, Barbee said.
More refineries are standing by to join the sites on strike, according to two people familiar with the plan who asked not to be identified because the information isn't public.
Shell remained "committed to resolving our differences with USW at the negotiating table and hope to resume negotiations as early as possible," Ray Fisher, a spokesman for The Hague, Netherlands-based company, said by e-mail on Saturday. Shell activated a "contingency" plan to continue operations at its Deer Park refinery, Fisher said.
Rolling Extensions
Remaining USW-represented sites are operating under rolling, 24-hour contract extensions, according to the union.
Refiners' shares on the Standard & Poor's 500 have more than doubled since the beginning of 2012, when the steelworkers last negotiated an agreement. U.S. fuel producers have been cashing in on the biggest-ever domestic oil boom, which has helped drive oil prices almost 50 percent lower in 2014.
Gasoline in New York was at a premium of $15.55 a barrel to crude at Cushing, Oklahoma, the delivery point for WTI contracts. That's the highest profit from making the motor fuel since September.
"There will be a knee-jerk reaction in gasoline and diesel prices because we don't know how long this is going to be or how extended it might be," Carl Larry, Houston-based director of oil and gas at Frost & Sullivan, said by phone Sunday.
Before it's here, it's on the Bloomberg Terminal.
LEARN MORE