Corporations resent outside lawyers for their outsize bills. And the attorneys—at least the partners of the country's most expensive firms—just can't seem to stop aggravating the resentment.
"The Big Boys Now Make $10 Million," blares January's cover of American Lawyer magazine, the bible of the biggest U.S. firms. About 50 rainmakers pocket $10 million each a year, the magazine estimates in a dispatch sure to make teeth grind at companies paying their bills.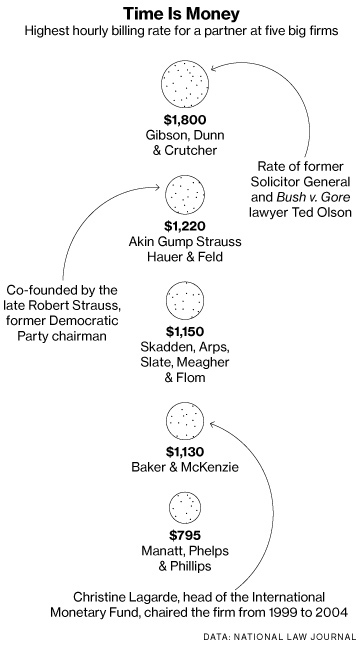 Now there's a digital startup proposing a partial remedy for legal-expense anxiety. Viewabill markets software that allows clients to monitor attorney billing in real time, with an eye toward tighter management, smarter budgeting, and fewer surprises at the end of the month for in-house general counsel. Clients use a computer "dashboard" to monitor attorney hours, and Viewabill provides an array of analytical reports to assess spending trends.
"We're a supporter of the concept, and we've installed the Viewabill software," says Peter Secor, director of strategic pricing and project management at 500-attorney Pepper Hamilton. "It's a very new concept, though, and it's hard for people to grasp."
After Viewabill started in early 2013, "we got a lot of pushback from law firms that feared we'd drive a wedge between them and their clients," says Daniel Steinberg, director of marketing. Early marketing materials promised the software would give clients more control over "opaque" billing practices. Last year, Viewabill "rebranded" itself, Steinberg says, "so that law firms would understand that they wouldn't be signing up to have a babysitter looking over their bills."
There's still a babysitting aspect to Viewabill, but the revised pitch emphasizing collaboration between law firm and client seems to have worked. Viewabill now boasts that more than 100 law firms subscribe to its service, including half of the American Lawyer 100, a list of the largest firms by revenue.
Reed Smith, which has 1,900 lawyers and represents 57 of the world's 100 largest companies, subscribes. "By highlighting that you're assessing these [billing] items, it shows the culture of the firm is promoting administrative collaboration ," Vincent Cordo Jr., Reed Smith's director of client value, said on a Jan. 12 webinar hosted by Viewabill.
The software requires attorneys to enter billable hours promptly, which can help firms manage themselves more effectively, Rick Howell, director of financial systems at 1,000-attorney Perkins Coie, said during the webinar. "All of the clients that come to us and ask us to install a product like Viewabill, we see improvement in the overall time hygiene of the attorney teams that go into it," he said.
Success has drawn competition. At least two other companies—Apperio and LeGuard—are offering similar services letting companies track legal spending in real time. All these products go beyond traditional internal law firm billing software and after-the-fact bill auditing by clients.
The recession after the 2008 financial crisis made companies more aware of legal expenses. A growing number demanded alternatives to traditional hourly billing, such as flat per-project fees that create an incentive for law firms to perform more efficiently. The persistence of the billable hour, however, provides a market for Viewabill.
Used properly, the services won't necessarily curb attorney bills, says Dan Baker, senior legal operations lead at LinkedIn. "I see the concept of Viewabill as something that's going to help firms get paid more, not less," he said during the Jan. 12 webinar. "If I'm able to get more information, more accrual data, and I can put that into a forecast, I can then budget for more."
The entrepreneurs behind Viewabill—David Schottenstein, a custom-clothing impresario, and his friend, attorney Robbie Friedman—recruited the famous criminal defense lawyer and emeritus Harvard scholar Alan Dershowitz to serve as a co-founder. That seemingly savvy move has created some awkwardness, however, as Dershowitz's name—along with Prince Andrew's—has surfaced in a South Florida sex scandal involving a former client. Dershowitz vociferously denies any wrongdoing in the Florida affair and says he's eager to sing Viewabill's praises: "I see it as a win-win situation for clients and lawyers. Everyone can see what's going on with the bills, and a lot of the conflicts can be avoided."
The bottom line: The persistence of the billable hour has created a market for legal tech companies like Viewabill.
Before it's here, it's on the Bloomberg Terminal.
LEARN MORE