This Medical Supercomputer Isn't a Pacemaker, IBM Tells Congress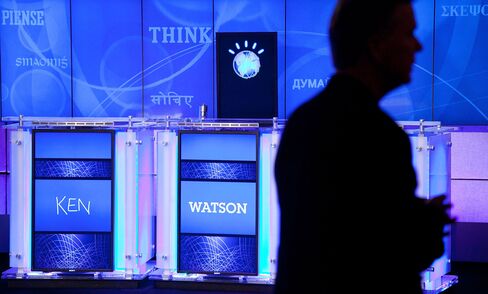 Watson, an artificial intelligence technology that IBM wants to sell to help doctors diagnose diseases, will largely escape the oversight of U.S. regulators if the computer giant wins a two-year Washington lobbying push.
International Business Machines Corp.'s argument to Congress is that its supercomputer, famed for victory on quiz show "Jeopardy!," isn't a medical device like a cardiac pacemaker and shouldn't need lengthy clinical trials to prove it's safe and effective. A draft bill released Tuesday backs that position, and could speed the use of Watson and other decision support technologies.
The artificial intelligence technology already has medical fans. Eric Topol, a genomics professor at the Scripps Research Institute, has used Watson to find research subjects who have serious conditions never before identified. When Watson diagnoses someone -- like it did with a patient with plastic lung, a rare condition that restricts airflow -- Topol can scratch them off his list of candidates.
"We're enamored with it," Topol said. "No human being can read five billion pages of medical literature in two seconds." Since doctors ultimately make a final diagnosis, Topol said, there's not the need for regulation like traditional devices used to treat patients.
Arthur Caplan, founding director of the Division of Medical Ethics at New York University Langone Medical Center's Department of Population Health, disagrees. Caplan thinks the technologies should be regulated the same as medical devices, including going through clinical trials.
Republican Proposal
"You don't want to get seduced into thinking we've solved every problem," Caplan said. "The more evidence, the more information, the better."
The effort to protect decision support tools like Watson from Food and Drug Administration regulation is part of a proposal by the Republican chairman of the House Energy and Commerce Committee, Michigan's Fred Upton. Called the 21st Century Cures initiative, it's a major overhaul in the pharmaceutical and medical-device world, and the possibility of its passage is boosted by Republican control of both chambers of Congress.
Upton's bill would give the FDA two years to come up with a verification process for what it calls "medical software." Such programs wouldn't require the strict approval process faced by makers of medical devices like heart stents. Another set of products defined as "health software" wouldn't require FDA oversight at all.
Wall Street
On the Senate side, Health, Education, Labor and Pensions Committee Chairman Lamar Alexander, a Republican from Tennessee; and Senator Richard Burr, a Republican from North Carolina, publicly began their effort to produce similar overhaul legislation that will include speeding medical product development. The senators released a report Thursday outlining inefficiencies in the health-care system that they're seeking feedback on by Feb. 23.
IBM has said it will spend $1 billion to create a new product it can sell to Wall Street, energy companies and the medical world. The Armonk, New York-based company is counting on Watson to help restore growth after 11 straight quarters of declining sales.
Watson lets users ask questions using plain English, then mines their data to come up with answers. Health insurers have tested it to determine coverage for medical procedures, and physicians at Memorial Sloan Kettering Cancer Center have tried using it to help find the best treatments.
Strict Regulation
Avoiding strict regulation has been the top focus of IBM's lobbying in Washington, as it has for much of the industry. Dozens of technology companies have identified health care as a source of growth -- and of bureaucratic hurdles.
Under Upton's bill, clinical decision support tools like Watson would fall under "health software" and be exempt from regulation, said Janet Marchibroda, executive director of the CEO Council on Health and Innovation at the Bipartisan Policy Center, a Washington-based organization that released a recommended framework in 2013 for health information technology. Marchibroda is a former IBM employee.
Much like manufacturers of mobile medical applications and genetic tests before them, decision support software makers are unclear how the FDA plans to regulate their products since the agency hasn't fully clarified what they believe constitutes a medical device.
Regulatory Clarity
IBM has called current regulations outdated. "It is important to recognize that the current Food and Drug Administration regulatory framework was largely developed during the decades before the rise of today's sophisticated IT technologies," Zachary Lemnios, vice president of research strategy at IBM, told the House Energy and Commerce subcommittee on health in 2013.
Google Inc. and Apple Inc. have paid visits to the FDA's sprawling complex in Silver Spring, Maryland, to meet with top officials and figure out how to get new products to market.
There's a precedent for problems. Genetic-testing company 23andMe Inc., backed by Google, suffered a public smackdown after ignoring the FDA's efforts to regulate a health data service that predicted customers' likelihood of getting certain diseases. The FDA banned the company from selling its analysis to consumers.
Software Act
IBM has led the way in seeking input on how the FDA deals with technologies like Watson. It spent $5 million total lobbying last year and deployed at least two lobbying firms and its own lobbyists in 2013 and 2014 to advocate for earlier legislation, now included in Upton's proposal, called the Software Act.
At least 26 technology, medical device and diagnostic companies sought to influence the earlier legislation, including McKesson Corp., 23andMe, Johnson & Johnson and Verizon Communications Inc.
"IBM supported the Software Act when it was first introduced, and we continue to support it because this bill will foster innovations that can help doctors and nurses better identify and personalize treatment options," the technology company said in a statement.
Bill's Progress
Upton, the 21st Century Cures sponsor, wants Congress to pass a bill by the end of the year, according to a statement from his office. He and Representative Diana DeGette, a Colorado Democrat, worked together on the issue last year.
In addition to the Software Act, the draft released Tuesday focuses on making clinical trials more efficient, streamlining regulations, encouraging antibiotic development and helping companies more easily make changes to how they manufacture medical products.
The FDA is reviewing the 21st Century Cures draft, Stephanie Yao, a spokeswoman for the agency, said.
"We are hopeful that moving forward, a bipartisan process with the committee will enable us to identify opportunities to advance biomedical research and innovation while ensuring that patients and their health-care providers can continue to rely on FDA to ensure that medical products are safe and effective," the agency said in a statement.
Before it's here, it's on the Bloomberg Terminal.
LEARN MORE