Something bizarre is happening on Turkey's accounting books, and nobody's quite sure why.
Turkey attracted $7.9 billion of income from unexplained sources during the first eight months of 2014, compared to an outflow of $90 million during the same period a year ago, according to the central bank data. In the three months that followed, $5.6 billion of that left the country.
Unexplained flows of foreign funds into and out of the economy -- marked as "net errors and omissions" in Turkey's Balance of Payments report -- showed violent swings during the first 11 months of 2014. Outflows in November were estimated to be $3.46 billion, the biggest monthly exodus in more than 16 years, according to central bank data.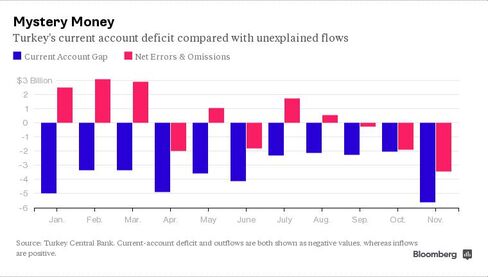 Massive amounts of mysterious inflows or outflows raises doubts about Turkey's ability to finance its current-account deficit, which the government has called the economy's "Achilles Heel."
Note that it's not uncommon for countries to have "net errors and omissions" in their balance of payments sheets. What makes Turkey's "puzzling" is how big these flows are as a ratio to the country's current account deficit, according to Ipek Ozkardeskaya, an emerging markets strategist at Swissquote Bank SA in Geneva.
This shortfall in what comes into the country versus what leaves the country, which is the broadest measure of trade in goods and services, has been a huge headache for Turkey. It approached 10 percent of Turkey's gross domestic product in 2011, prompting policy makers to take action to get Turkey's consumers to buy fewer imported goods.
The gap matters because economists use that to gauge how vulnerable Turkey's economy is to sudden changes in global financial markets. And while fresh capital — any capital — helps in a country that desperately needs it, the fact that no one knows where some of that is coming from makes it especially difficult to predict when it will disappear. That's exactly what happened in the latter months of 2014.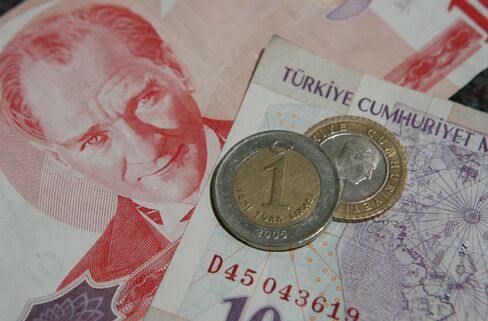 "There is no way to predict what is going to happen to these flows in 2015," Mehmet Besimoglu, chief economist at Oyak Menkul Degerler, said by phone from Istanbul.
Besimoglu has his theories about the source of money and why it leaves. Inflows might be linked to capital flight from Iraq and Syria, where the advance of the Islamic State has pushed more than around 1.5 million people across the border to Turkey. Outflows tend to take place during periods of lira appreciation, he said.
One sea change on the horizon is an eventual normalization of monetary policy, aka interest-rate increases, in the U.S. Turkey's Deputy Prime Minister Ali Babacan has repeatedly said U.S. rate increases is the single most important threat to Turkish economy this year. Higher rates in the world's largest economy could lead to a shift in investors' appetite for assets in emerging markets including Turkey, which rely on foreign capital to finance their current-account deficits.
Morgan Stanley last year listed Turkey in what it calls the "Fragile Five" economies. These countries are most vulnerable to a withdrawal of the foreign investment needed to finance their shortfall in capital coming in versus capital going out. South Africa, Indonesia, India and Brazil are the other four.
Mysterious inflows were higher than outflows in 22 out of the last 29 years that the central bank has keep records of, reducing the need for financing through official sources.
Before it's here, it's on the Bloomberg Terminal.
LEARN MORE