German Inflation Rate Is Negative for First Time Since 2009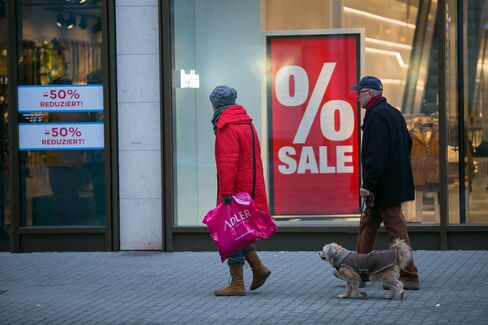 Germany's inflation rate turned negative in January for the first time in more than five years, aggravating a slump in consumer prices in the euro area.
Prices in Europe's largest economy fell 0.5 percent from a year earlier, the Federal Statistics Office in Wiesbaden said today. That's the lowest rate since September 2009. Economists predicted a drop of 0.2 percent.
The European Central Bank committed last week to spend at least 1.1 trillion euros ($1.2 trillion) on government bonds and other assets to avert deflation in the euro area. Prices in the 19-nation bloc probably dropped this month at the second-fastest rate since the introduction of the single currency.
"Euro-zone inflation is likely to stay negative in the first half of the year before base effects and the lower euro exchange rate could return rates into modestly positive territory," said Christian Schulz, senior economist at Berenberg Bank in London. "A return to the ECB's 2 percent target remains a distant prospect."
The euro is up 0.2 percent Thursday and traded at $1.1312 at 14:27 p.m. Frankfurt time. The benchmark DAX Index was down 0.4 percent at 10,673.
The outlook for lower inflation is boosting bonds as it preserves the purchasing power of their fixed payments. Underscoring that point, Germany's 30-year yield fell below 1 percent for the first time on record on Thursday.
The euro-area inflation rate was probably minus 0.5 percent in January, according to a separate Bloomberg survey. Eurostat, the European Union's statistics office, will publish the data on Friday at 11 a.m. Luxembourg time.
Before it's here, it's on the Bloomberg Terminal.
LEARN MORE