Apple's iPhones Surge Into First-Place Tie With Samsung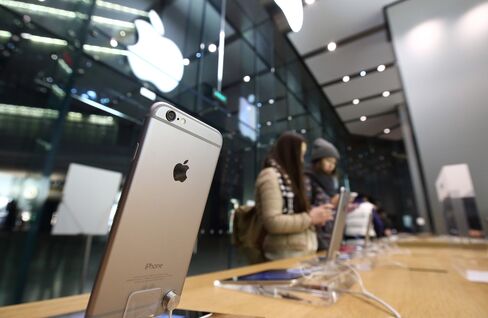 Apple Inc. captured the top spot in China's smartphone market, vaulting it into a tie for global leadership for the first time since 2011 as booming sales of iPhones with larger screens helped it gain ground on Samsung Electronics Co.
Both companies shipped 74.5 million smartphones globally in the fourth quarter to grab 19.6 percent of the market each, Strategy Analytics Inc. said in an e-mailed statement Thursday. Lenovo Group Ltd. was third with a market share of 6.5 percent after its acquisition of Motorola Mobility.
Apple's move into larger screens hit Samsung in an area it pioneered as the iPhone 6 and 6 Plus were popular in markets where consumers want a bigger device to perform the role of a phone and tablet computer. In China, the world's largest market, Apple surged into first place, overtaking local vendor Xiaomi Corp., which fell three spots to sixth place globally.
"Lenovo-Motorola and Apple have rapidly upped their game in China and worldwide and they are starting to chip away at Xiaomi," Neil Mawston, executive director of Strategy Analytics, said by e-mail. "The 'golden age' of easy growth for Xiaomi is coming to an end."
Global smartphone shipments in the quarter rose 31 percent to 380.1 million units, with the total for 2014 reaching a record 1.3 billion, Strategy Analytics said. Apple hasn't been the biggest vendor globally since the fourth quarter of 2011, according to Strategy Analytics.
Apple's Surge
Cupertino, California-based Apple this week posted a 38 percent surge in net income for the December quarter, while profit at Samsung, which uses Google Inc.'s Android for most devices, slumped 27 percent. Samsung, maker of Galaxy devices, saw its global market share plunge 10 percentage points as Lenovo and Huawei Technologies Co. captured more buyers.
Huawei, based in Shenzhen, China, was fourth globally during the quarter, followed by LG Electronics Inc. and Xiaomi, according to preliminary estimates provided by Strategy Analytics.
Shipments of all mobile phones, including those with limited Internet access, rose 7 percent last year to a record 1.8 billion units. Samsung shipped 405 million units for a 22.4 percent share, followed by Microsoft Corp.-Nokia Oyj with 11 percent. Apple was third with 10.6 percent.
In China, the new iPhones helped Apple almost double its smartphone share to 17 percent, from 9 percent a year earlier, Counterpoint Technology Market Research said in an e-mailed statement Thursday.
That ranked Apple ahead of Xiaomi, which fell to second place with 13 percent, according to preliminary estimates from Counterpoint. Lenovo was third in China with 13 percent, followed by Huawei while Samsung fell to fifth with 9 percent.
"Apple has been successful in diversifying its portfolio with two larger screen options hitting the sweet spots and thus attracting a broader set of consumers," Counterpoint analyst Neil Shah said in an e-mail. "Android manufacturers now have no form-factor advantage over Apple."
— With assistance by Edmond Lococo
Before it's here, it's on the Bloomberg Terminal.
LEARN MORE