Jordan Mulls Swap of Jihadist for Hostages, Lawmaker Says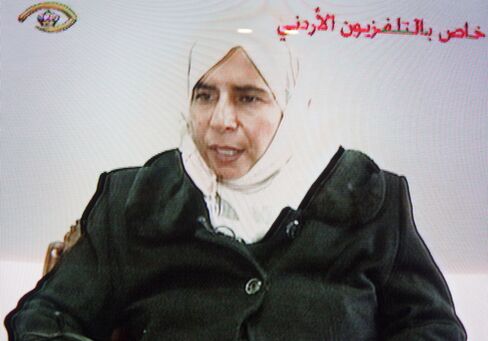 Jordan is in indirect talks with Islamic State to secure the release of a Japanese war journalist and a Jordanian pilot held by the militants, a member of the kingdom's parliament said Tuesday.
The negotiations are taking place through religious and tribal leaders in Iraq, Bassam Al-Manaseer, chairman of the foreign affairs committee in Jordan's lower house of parliament, said in an interview in Amman. Islamic State has demanded that Jordan release convicted jihadist Sajida al-Rishawi as its price for freeing the Japanese journalist.
Manaseer said Jordan and Japan won't negotiate directly with Islamic State and won't free al-Rishawi in exchange for Japanese hostage Kenji Goto only.
"We hope to hear good news soon," Manaseer said.
Japanese Vice Foreign Minister Yasuhide Nakayama said in Amman on Monday that Japan wanted to work with Jordan to secure the release of Goto and the pilot, Moath al-Kasassbeh, who was captured by Islamic State after his plane crashed during a bombing mission against the group last month.
The comments are the clearest indication yet that the governments in Amman and Tokyo may be open to a prisoner exchange.
"It is clear that the likelihood of a swap has increased," Joseph Franco, an associate research fellow at the S. Rajaratnam School of International Studies in Singapore, said in an e-mailed response to questions. "I think the Jordanians, or at least some factions of the legislature, are testing the international reaction over a planned swap."
Jordanian Pilot
Jordan's King Abdullah II told a group of newspaper editors on Sunday that recovering the pilot is the country's top priority as he is "the son of Jordan and its armed forces," the Jordan Times reported. The king didn't mention the Japanese hostage.
Islamic State offered to swap Goto for al-Rishawi in a Jan. 24 video that contained images of Haruna Yukawa, a second Japanese hostage purportedly beheaded by the militants. Islamic State didn't mention the pilot.
"The rescue of the pilot is also an issue for the Japanese people," Nakayama said in comments broadcast on NHK, Japan's public broadcaster. "I hope that both countries can combine their forces so there is a day when the pilot and Mr. Goto can return to their respective countries with smiles on their faces."
Cooperation Request
Yoshihide Suga, Japan's top government spokesman, told reporters in Tokyo on Tuesday that Japan has asked for Jordan's cooperation, without saying whether Jordan was assisting. Earlier in the day, Suga said his nation has had no direct contact from Islamic State.
In a Jan. 20 video, Islamic State demanded $200 million for the release of Goto and Yukawa, a self-styled security consultant missing since last summer. The ransom matched the sum Abe pledged on Jan. 17 in non-military aid to nations contending with the group, an offer Islamic State called "foolish."
The extremist group dropped its ransom demand in the Jan. 24 video that showed a shackled man claiming to be Goto pleading in English for his life and the release of al-Rishawi. The Iraqi woman is on death row in a Jordanian prison for her part in the 2005 attacks on three hotels in Amman that killed dozens. Her husband carried out a suicide bombing, while her bomb failed to explode.
Goto went last year to the northern Syrian city of Aleppo to seek Yukawa's release.
Before it's here, it's on the Bloomberg Terminal.
LEARN MORE