Microsoft Shares Plummet After Sales Hit in China, Japan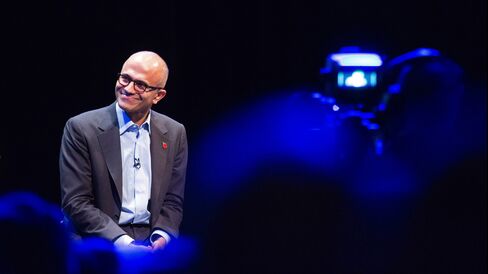 Microsoft Corp. shares fell 10 percent after reporting that sales slumped in China and Japan and a stronger U.S. dollar curbed sales of business-software licenses.
Commercial-licensing revenue fell to $10.7 billion in the period that ended Dec. 31, the world's largest software maker said Monday in a statement. Analysts on average had projected $10.9 billion, based on a survey conducted by Bloomberg. Unearned revenue, a measure of future sales, was $21.2 billion, compared with estimates of $21.8 billion. The shares fell to $42.11 at 9:56 a.m. in New York, the biggest drop since July 2013.
As Satya Nadella approaches his first anniversary as chief executive officer, Microsoft's traditional business-software unit is being hurt as customers switch from licensed programs to its Internet-based products, and as a corporate push to replace Windows XP tapers off. The disappointing sales in the company's biggest division marred a quarter in which total revenue topped estimates, helped by strong growth in its cloud software and Xbox video-game console.
"Even though they beat on consumer and devices, it was a slight miss on the commercial side," said Daniel Ives, an analyst at FBR Capital Markets & Co. "That gives you a B-plus quarter where some investors were looking for an A-minus."
Xbox sales and the shift to cloud products are also pinching margins, the Redmond, Washington-based company said. Gross margin, or the percentage of sales left after subtracting production costs, was 61.7 percent, while analysts were looking for 62.9 percent, on average, Ives said.
"Where there are execution issues, we will address them," Nadella said on a conference call to discuss results. "Where there are macroeconomic issues, we will weather them."
Overseas Impact
The company said currency fluctuations would lower revenue 4 percentage points in the fiscal third-quarter and the issues that plagued commercial licensing sales would also persist, including weaker spending in Japan after the country raised its sales tax. Microsoft forecast sales declines in China, Russia and Japan.
The strong dollar relative to currencies such as the euro hurt sales because it cuts the value of sales made overseas when they are converted to dollars to bring revenue back to the U.S.
In the call with analysts, Nadella wasn't specific on what was ailing Chinese demand, citing "geopolitical issues." To analysts such as Mark Moerdler at Sanford C. Bernstein & Co., that's code for the Chinese antitrust investigation of Microsoft and the country's government avoiding Microsoft software purchases.
China is aiming to purge most foreign technology from banks, the military, state-owned enterprises and key government agencies by 2020, people familiar with the plan told Bloomberg News in December. In July, Chinese regulators raided Microsoft offices in the country and opened an anti-monopoly investigation.
Microsoft also didn't specify what's hurting sales in Russia.
Business Transition
As for the fiscal second quarter, the numbers showed how Microsoft's business is in transition. Cloud sales were a bright spot, while Windows revenue from personal-computer makers who buy the operating system to put on their machines fell 13 percent in both the commercial and consumer businesses.
On the commercial side, demand dropped off from a year ago, when corporations rushed to upgrade because Microsoft was ending support for Windows XP. Consumers are buying cheaper machines, hurting Windows sales.
Profit excluding certain costs in the second quarter was 77 cents a share. Revenue rose 8 percent to $26.5 billion, the company said Monday in a statement. Analysts on average projected profit of 75 cents on sales of $26.3 billion, according to data compiled by Bloomberg.
Commercial Business
Including charges related to Microsoft's biggest-ever round of job cuts, which began in July, and 4 cents a share of income-tax expense, the company reported second-quarter net income of $5.86 billion, or 71 cents a share. Nadella implemented the plan to reduce costs after Microsoft completed its 5.44 billion-euro ($7.33 billion) acquisition of Nokia's mobile-phone business, and as part of an effort to streamline operations and software development at the company.
Microsoft Chief Financial Officer Amy Hood said commercial numbers were hurt by lackluster demand in China and Japan, as well as currency effects stemming from a weaker euro against the U.S. dollar.
"We feel good overall about the health of the commercial business," Hood said in an interview. "The specific weakness we saw is China, Japan and some headwinds from FX."
Net Income
Hood said she expects currency fluctuations, as well as demand in Russia, China and Japan, to persist as challenges for the rest of the fiscal year.
The stock climbed 24 percent last year, buoyed by optimism for Nadella's plan to focus on Web-based software and services to lessen the company's reliance on the slumping PC market. The gain compared with an increase of 11 percent in the Standard & Poor's 500 Index.
While commercial licensing revenue fell short, sales of cloud programs for corporations more than doubled, the company said, and the business now has a revenue run-rate of $5.5 billion on an annualized basis.
The company is trying to increase revenue against the backdrop of a three-year slump in the PC market, where a recent stabilization now looks to be losing steam. Worldwide PC shipments fell 2.4 percent in the fourth quarter, according to market-research firm IDC, as demand for new machines from business waned and consumer interest failed to pick up.
"The business is going through a transition, and Windows 10 is part of that," said Moerdler, who rates the shares the equivalent of buy. "They are going to have to find ways to monetize."
Before it's here, it's on the Bloomberg Terminal.
LEARN MORE