Euro Slips With U.S. Futures on Greek Vote as Treasuries Advance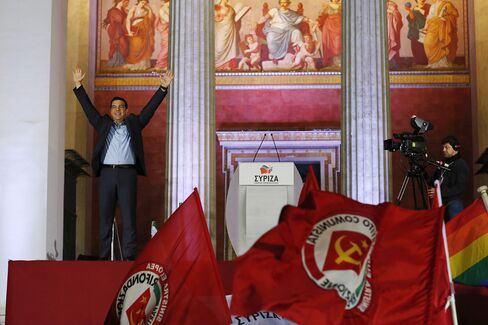 The euro rebounded from an 11-year low and European equities rose amid speculation fallout from the election of the anti-austerity Syriza party in Greece will be contained. U.S. stocks fluctuated, as energy producers advanced with oil to offset a drop in technology shares.
The Standard & Poor's 500 Index declined less than 0.1 percent at 11:45 a.m. in New York, following the gauge's first weekly gain this year. The Stoxx Europe 600 Index advanced 0.6 percent to extend a seven-year high on Friday. Europe's shared currency strengthened 0.7 percent to $1.1285. Greek stocks fell with bonds. The yield on 10-year Treasury notes rose three basis points to 1.82 percent. The ruble tumbled 2.3 percent as fighting in Ukraine spread. Oil rose after OPEC's secretary general said insufficient investment could push prices to $200 a barrel.
The New York Stock Exchange plans to operate on a normal schedule on Monday and Tuesday amid forecasts for a blizzard that may dump as much as two feet of snow from New York to Boston. Greek Prime Minister-elect Alexis Tsipras' mandate is now to confront the nation's program of austerity, imposed in return for pledges of 240 billion euros in aid since May 2010. German business confidence rose for a third month as falling energy costs and anticipation of more stimulus helped lift optimism about the economy.
"We're sort of at an inflection point in the market," Bill Schultz, who oversees $1.2 billion as chief investment officer at McQueen, Ball & Associates in Bethlehem, Pennsylvania, said in a phone interview. "It needs more to get it moving to higher levels. It's just trying to digest all of this information and try to make heads or tails of it. You saw the Greek election although that was not a big surprise, or not a big market mover here today. Right now we're at a little bit of a lull."
Blizzard Watch
New York officials told residents to stay at home as a blizzard forecasters call "life-threatening" approached the city. The Securities Industry and Financial Markets Association said it is not recommending an early close on the U.S. bond market today.
All physical and electronic operations will be fully available with core operations staff and market participants on site Monday and Tuesday, the NYSE said in an e-mail. The last time NYSE's trading hours were changed because of a snowstorm was on Jan. 8, 1996, according to the exchange's website.
Energy shares advanced 0.8 percent today, while technology stocks lost 0.7 percent as half of the 10 main S&P 500 groups slipped. OPEC Secretary-General Abdalla El-Badri said he hopes the oil market will recover in a "reasonable time" and OPEC is open to talks with outside producers.
More Risk
The S&P 500 rallied 1.6 percent last week after European Central Bank President Mario Draghi said it plans to buy up to 1.14 trillion euros ($1.28 trillion) of private and public securities.
The Greek elections "infused a little bit more risk into the market, that's why we've pulled back," Michael James, a Los Angeles-based managing director of equity trading at Wedbush Securities Inc., said in a phone interview. "More people are focusing on a pretty busy earnings calendar this week and the Fed commentary on Wednesday. Those are going to be the much bigger focus for traders."
Microsoft Corp. and Texas Instruments Inc. are among companies reporting earnings today. United Technologies Corp. changed its plans and will release results after the close of trading today instead of tomorrow morning.
Fed Meeting
Federal Reserve officials are scheduled to begin a two-day policy meeting tomorrow. The central bank is trying to determine whether declining oil prices, a slowdown in European growth and any fallout from the Greek elections will threaten the U.S. recovery as it considers raising interest rates. Chair Janet Yellen told reporters after the last meeting not to expect higher borrowing costs before the end of April.
Tsipras, 40, has pledged to keep Greece within the single currency area as he negotiates a writedown of Greek debt and eases budget constraints that were imposed in return for aid after the country's economic collapse.
The current round of funding expires on Feb. 28 and talks with the so-called troika -- the International Monetary Fund, the European Commission and the ECB -- for its renewal have stalled since September amid demands for further belt tightening.
Greek Bonds
Greek 10-year bonds fell, pushing the yield on the 2025 securities 60 basis points higher to 9.01 percent, after the rate dropped 56 basis points on Jan. 23. The benchmark equity gauge declined 1.7 percent, paring a 6.1 percent gain on Friday.
"If you are a broad European investor you should be relatively relaxed," Michael Krautzberger, the London-based head of euro fixed income at the world's biggest money manager BlackRock Inc. said in an interview on Bloomberg Television's "The Pulse" with Francine Lacqua. "If you look at the long end in Italy, the long end in Spain, they are actually up in price, down in yield. If the market were super concerned about spillover we wouldn't have those reactions."
Spanish and Italian sovereign securities erased earlier declines on speculation the ECB's plan may shield those nations' securities from any selloff in Greece.
Italy's 30-year yield fell 14 basis points to 2.55 percent and the rate on similar-maturity Spanish debt dropped eight basis points to 2.34 percent and Portugal's declined 13 basis points to 3.37 percent.
Europe Stocks
Currencies perceived as havens were among the biggest losers versus the 19-nation euro. The Swiss franc weakened 1.3 percent to 99.89 centimes per euro and the yen slipped 0.7 percent to 132.83 per euro.
The Stoxx 600 advanced for an eight day, capping its longest rally since April. Among companies moving on corporate news, Aer Lingus Group Plc added 1.6 percent and International Consolidated Airlines Group SA climbed 3.4 percent as the Irish carrier is mulling IAG's takeover offer. Delhaize Group, the owner of the U.S. Food Lion stores, advanced 4.6 percent after reporting that preliminary underlying operating profit for 2014 was better than estimated.
The MSCI Emerging Markets Index fell for the first time in five days, declining 0.4 percent from an eight-week high.
Russia's Micex slid 1.9 percent and the ruble weakened after its first weekly advance this year. The dollar-denominated RTS slumped 4.2 percent.
The U.S. and the European Union warned that Russia may face further repercussions after a rocket attack on the port city of Mariupol on Saturday. The U.S., NATO, and the OSCE said the attack came from rebel-held territory and the separatists blamed Ukrainian government forces.
Ukraine Fighting
President Barack Obama said the alliance of the U.S. and European governments must remain unified and EU foreign affairs chief Federica Mogherini called an extraordinary meeting of foreign ministers for Jan. 29. Russia consistently denies military involvement.
A new convoy of trucks carrying what Russia says is humanitarian aid will head for eastern Ukraine early on Jan. 27, RIA Novosti reported, citing the Emergencies Ministry in Moscow. Ukrainian troops faced 115 rebel attacks in the past 24 hours, military spokesman Leonid Matyukhin said on Facebook.
Gulf Stocks
The Dubai Financial Market Index slid 3.6 percent, the most this year, and Abu Dhabi's benchmark gauge lost 0.8 percent. Saudi Arabia's Tadawul All Share Index rose 0.7 percent trading resumed following the death of King Abdullah on Jan. 23.
The Shanghai Composite Index climbed 0.9 percent to the highest close since August 2009, with trading volumes 23 percent less than the 30-day average, according to data compiled by Bloomberg. The Hang Seng China Enterprises Index of mainland companies listed in Hong Kong dropped 0.3 percent, ending a four-day rally.
Commodities have fallen 3.6 percent this month, heading for their first January decline in five years amid surging supplies of crude oil and slowing global economic growth.
Copper gained 0.3 percent after sliding more than 3 percent to the weakest since July 2009. Gold dropped 0.7 percent to $1,283.80 an ounce and silver declined 0.9 percent.
U.S. natural gas futures fell 3.2 percent to $2.864 per million British thermal units in electronic trading on the New York Mercantile Exchange.
Before it's here, it's on the Bloomberg Terminal.
LEARN MORE