Pro-Russian Rebels Blitz Key Ukraine City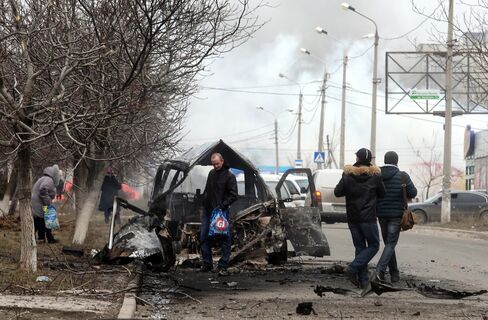 Fighting in Ukraine spread to the strategic port city of Mariupol, which suffered the deadliest attack yet as pro-Russian rebels mounted an offensive across the country's easternmost regions.
At least 30 civilians died in rocket attacks Saturday in Mariupol, local officials said. The projectiles were launched from rebel-held territories, according to the U.S., NATO, the Organization for Security and Cooperation in Europe and Ukrainian authorities. The separatists blamed government forces for the shelling, according to a statement on the self-proclaimed Donetsk People's Republic's website.
"Fighting in eastern Ukraine has sharply escalated, with indications of a large-scale offensive by Russian-backed separatists," North Atlantic Treaty Organization Secretary General Jens Stoltenberg said in an e-mailed statement. "This is in utter disregard of the cease-fire."
The battles erupting along the Sea of Azov coast indicate further escalation after fighting intensified this month, eradicating a truce signed in September. The death toll rose to more than 5,000 since the crisis began last April, according to the United Nations, which said Friday that Jan. 13-21 was "the most deadly period" in the conflict since the cease-fire was signed in Minsk, Belarus.
Overnight Shelling
Saturday night was relatively calm, though rebels shelled government troops nine times in several locations, the Defense Ministry in Kiev said on Facebook. The situation in Mariupol, where the attacks also wounded 95 people, was "stable," the city council said on its website. President Petro Poroshenko declared a day of mourning, he said on his website Sunday.
Separatists were involved in "active defense activities along the whole line of engagement" in the past 24 hours, the Donetsk rebels said on their website.
The rocket attacks on Mariupol "appear to have been launched indiscriminately into civilian areas, which would constitute a violation of international humanitarian law," UN Secretary-General Ban Ki Moon's office said in a statement dated Jan. 24.
"The Secretary-General further denounces yesterday's unilateral withdrawal from the cease-fire by rebel leadership, and particularly their provocative statements about claiming further territory," according to the statement. "The Secretary-General urges all concerned to redouble their efforts to revive the Minsk accords."
'Key Town'
Taking Mariupol would be a key objective for any strategy aimed at creating a land link between Russia and Crimea, the peninsula that President Vladimir Putin annexed last year from Ukraine, said Volodymyr Fesenko, the head of the Penta research institute in Kiev.
Mariupol "is a key town if a strategy of creating a land corridor to Crimea is to be implemented," Fesenko said.
Poroshenko called a meeting of his security council and Prime Minister Arseniy Yatsenyuk urged an emergency meeting of the United Nations Security Council, where both Russia and the U.S. are permanent members. Ukrainian lawmakers may convene Jan. 27.
The rise in the violence has prompted renewed diplomatic efforts to resolve the crisis, which has brought tensions between Russia and its Cold War-era foes to their highest pitch since the fall of communism a quarter century ago. The OSCE urged a meeting of the Ukrainian government, the rebels and Russia by the beginning of next week.
'Actively Evading'
Such a meeting would be "inappropriate" in the current conditions, Vladislav Deynego, a negotiator for the self-proclaimed Lugansk People's Republic said, according to the Lugansk Information Center news website.
"The deterioration has shown well enough that Ukraine is actively evading a peaceful resolution," Deynego said, according to the Lugansk Information Center.
U.S. and international pressure on "Russia and its proxies will only increase" if Russia doesn't immediately end its support for separatists in Ukraine, "close the international border with Ukraine, and withdraw all weapons, fighters and financial backing," U.S. Secretary of State John Kerry said Saturday in an e-mailed statement.
Putin's spokesman, Dmitry Peskov, declined to comment immediately when reached by mobile phone earlier Saturday.
The European Union urged Russia to use its influence on the rebels to stem the violence. Latvia, which holds the 28-nation bloc's rotating presidency, called for an urgent meeting of foreign ministers.
'Grave Deterioration'
The escalation "would inevitably lead to a further grave deterioration of relations between the EU and Russia," Federica Mogherini, the EU's chief diplomat, said in a website statement. She urged the Kremlin "to use its considerable influence over separatist leaders and to stop any form of military, political or financial support."
Poroshenko discussed the situation with world leaders in Saudi Arabia before cutting short his trip to attend King Abdullah's funeral, according to a statement on his website.
Ukraine, the U.S. and its allies accuse Russia of supporting the rebels with hardware, cash and thousands of troops, accusations the Kremlin has repeatedly denied. Russia says the government in Kiev is waging war against its own citizens and discriminating against Russian speakers, who make up the majority of the populations of Donetsk and Luhansk.
'Substantial Increase'
"I strongly urge Russia to stop its military, political and financial support for the separatists, stop destabilising Ukraine," NATO's Stoltenberg said. "For several months we have seen the presence of Russian forces in eastern Ukraine, as well as a substantial increase in Russian heavy equipment."
Russian troops are supporting the rebels with command-and-control systems, air defense systems, advanced surface-to-air missiles, unmanned aerial systems, rocket launcher systems and electronic warfare systems, according to Stoltenberg.
The rebels' statements were contradictory. While separatist leader Alexander Zakharchenko on his website said his forces "launched an offensive at Mariupol," he later said they wouldn't storm the city.
Some of the civilian deaths in Mariupol may have been caused because roadblocks were positioned too close to residential areas and planning and pre-emptive measures by security officials weren't sufficient, Mykola Malomuzh, the head of Ukraine's external intelligence service in 2005-2010, said on Hromadske TV.
"All parties need to take robust and immediate action in order to end the new escalation in fighting and its heavy toll on civilians," the OSCE's Special Monitoring Mission to Ukraine said in an e-mailed statement.
Before it's here, it's on the Bloomberg Terminal.
LEARN MORE