Americans Gaining Equity Seen Lifting Housing Market: Mortgages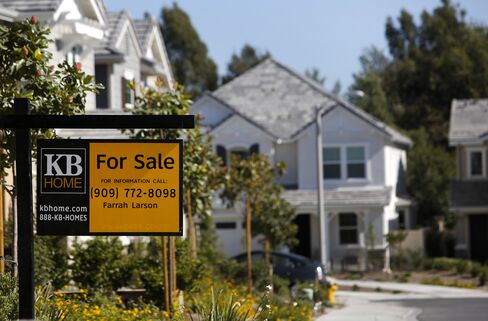 Rising home prices have made it easier for more than a million Americans to sell their properties, giving a boost to the market.
About 1.2 million more homeowners had 10 percent to 20 percent equity at the end of 2014 compared with a year earlier as their property gained value, according to data released today by research company RealtyTrac Inc. An eight-year high in home prices freed them of mortgages that had been underwater, with loan balances exceeding property values, or barely above it in 2013.
The prospects are brightening for these homeowners as the real estate market approaches the busiest time of the year, from March to June. Families jammed into houses that are too small will finally have enough profit from the sale of their property to pay transaction costs and buy a bigger one, said Daren Blomquist, vice president at RealtyTrac in Irvine, California.
"These are people who have been locked out of the housing recovery because of their equity situation," Blomquist said. "They were frozen in place after the housing market crashed, even if their families expanded or their jobs moved. Giving them a chance to be move-up buyers is going to feed the housing market in 2015."
Lawrence Yun, chief economist of the National Association of Realtors, said as many as 20 percent of homeowners who gained at least 10 percent equity in their homes in 2014 may try to make a move this year, giving a lift to the market.
Tightened Credit
Mortgage lending fell last year to $1.1 trillion, a 17-year low, as tightened credit standards made it more difficult to get loans. If about 240,000 of the Americans with newly gained equity buy homes with mortgages this year, it would create more than $50 billion of loan originations, according to data compiled by Bloomberg.
Housing sales dropped about 3 percent last year to 4.9 million, the first decline in four years. If Yun's estimate proves correct, the addition of almost a quarter-million homebuyers would help boost sales to the highest level since the real estate boom that ended in 2006, according to data from the National Association of Realtors.
The housing crash that started in mid-2006 sent median home prices plunging about 33 percent until they bottomed in 2012. That year, the number of borrowers who were more than 25 percent underwater peaked at 12.8 million, according to RealtyTrac. In 2014, the figure dropped by 2.2 million to 7.1 million.
Discouraged Buyers
A shortage of homes for sale has been exacerbated by Americans who couldn't sell because they lacked sufficient equity to buy a new property.
The number of homes on the market averaged 2.5 million a month from 2001 to 2006, according to data from NAR. During the housing bust from 2007 to 2011, supply averaged about 3 million a month as buyers became scarce. In 2012 and 2013, the first two years of the housing recovery, the monthly average was 1.8 million. It rose to about 2 million last year through November.
"If buyers decide they don't have enough choices, they stay at home on the couch," said Stephanie Karol, an economist with IHS Global Insight Inc. "They either get discouraged because they can't find a house they like, or they get discouraged from being outbid by other buyers."
The shortage of homes created a spike in prices that rivaled the housing boom, according to data from NAR. The U.S. median home price jumped 11.5 percent in 2013, the fastest rate of appreciation since 2005, when it was a record 12.4 percent. Values grew by 5.6 percent in 2014, and this year the increase will be about 4.3 percent, according to NAR.
Sustainable Gains
"As inventory grows, the gains we'll see this year will be sustainable, because they are more in line with wage growth," Karol said. "The sellers won't be in the driver's seat anymore."
As homeowners gain equity, they still must overcome stricter lending rules to get a mortgage. Since the financial crisis, banks have resisted easing standards because of losses they suffered when they were forced to buy back soured loans with underwriting errors from Fannie Mae and Freddie Mac, the government-run mortgage companies.
The average credit score for borrowers buying homes in November was 754 on a scale of 300 to 850, according to Ellie Mae, a mortgage technology firm. That compared with 759 for all of 2013. A decade before the housing bubble, the average score was about 715, said Mark Zandi, chief economist at Moody's Analytics Inc.
"We're seeing more people freed from negative equity, but they still have to qualify for a mortgage before they can buy another house," said Michelle Meyer, a senior U.S. economist at Bank of America Corp. in New York. "Until we see additional thawing in credit, we won't see the recovery reach its potential."
Before it's here, it's on the Bloomberg Terminal.
LEARN MORE