EBay Will Eliminate 2,400 Jobs After Weak Holiday Sales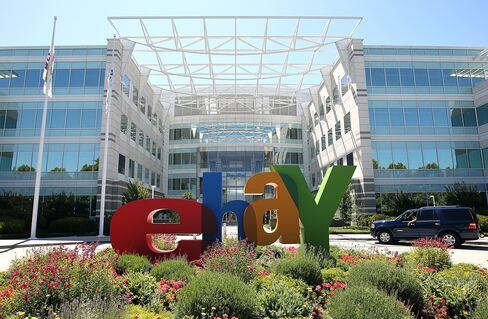 EBay Inc. is cutting 2,400 positions, buying back shares and entering into a standstill agreement with activist investor Carl Icahn as the company prepares to split its marketplace and payments businesses.
EBay also said it's exploring options for its enterprise unit, including a sale or initial public offering, and is adding three new board members, including a representative for Icahn, who had pushed the company to split up.
Progress on Chief Executive Officer John Donahoe's plan to divide the company made up for weak holiday-quarter sales and a revenue outlook that fell short of estimates, with the San Jose, California company's shares climbing in extended trading. EBay's PayPal will become a separate business, freeing up the unit to seek alliances and compete against other online-payment providers. Meanwhile, EBay's main marketplace is facing intense competition from Amazon.com Inc.
"They bought back a lot of shares, they added one of Icahn's employees to the board, they are cutting costs -- those are the things investors care about more than the actual performance of the company," said Gil Luria, an analyst at Wedbush Securities Inc., who has the equivalent of a hold rating on the stock.
The shares of EBay rose 3.5 percent after the announcements. The stock declined less than 1 percent to $53.37 at the close in New York, leaving it down 4.9 percent this year after climbing 2.3 percent in 2014.
Holiday Shopping
First-quarter revenue will be $4.35 billion to $4.45 billion, EBay said in a statement on Wednesday, a prediction that fell short of analysts' projection for $4.71 billion, the average of estimates compiled by Bloomberg. Sales in the fourth quarter rose 9 percent to $4.92 billion, the slowest holiday-quarter gain since 2010.
"My real concern is how the marketplace continues to lose ground in the e-commerce world," said Kerry Rice, an analyst at Needham & Co. in San Francisco.
The year-end holiday shopping season was a record for Web retailers, which were estimated to have sold about $61 billion of merchandise in November and December, according to ComScore Inc. EBay's sales growth lagged behind Amazon's, however, with same-store sales climbing 5.8 percent in December, compared with Amazon's 22 percent, according to ChannelAdvisor, company that helps other retailers sell online.
"EBay growing at half the rate of e-commerce isn't good," said Scot Wingo, ChannelAdvisor's CEO. "We all want to see EBay figure this out and get through this rough spot."
Shopping Experience
EBay's marketplace is still struggling from poor search-engine results following a change to Google Inc.'s search algorithms last year, Donahoe said. Frequent EBay shoppers have returned to the site, but the lack of fresh visitors driven by search is hurting the website's ability to attract new users and occasional buyers, Donahoe said.
"We expect EBay's performance to soften further before we see improvement," Donahoe said in a call with analysts.
Fourth-quarter net income was $936 million, or 75 cents a share, up from $850 million, or 65 cents, a year earlier. Excluding certain costs, profit was 90 cents a share, compared with analysts' average estimate of 89 cents.
Restructuring charges related to the job cuts, which will affect 7 percent of EBay's workforce, will be $350 million to $400 million in 2015, the company said.
Board Members
The standstill provisions with Icahn include the separated PayPal having a staggered board, at least a 20 percent shareholding trigger before any poison pill activates and enabling special meetings to be called by holders of 20 percent of the stock.
"We believe that if an offer is made for a company it should be the decision of the shareholders -- not the board -- to decide whether that offer is worth accepting," Icahn said in a statement. "Following the spinoff, EBay and PayPal will both be well-positioned to take advantage of multiple opportunities."
Frank Yeary, Perry Traquina and Jonathan Christodoro will join EBay's board, the company said. Christodoro was nominated by Icahn as part of the standstill agreement with the activist investor. Standstills generally include limits on how much stock an investor can amass and agreements on shareholder voting and governance. Icahn's deal includes "certain corporate governance provisions to be adopted by PayPal" after it separates from EBay, the company said today.
Share Buybacks
EBay's board authorized $2 billion in additional share repurchases. Including the remainder of a previous program, the company said it plans to buy back $3 billion worth of stock.
EBay built up its enterprise business with Donahoe's $2.4 billion acquisition of GSI Commerce Inc. in 2011, an effort to boost revenue by helping big retailers manage their websites and inventory. The unit helps brick-and-mortar retailers reach online shoppers by letting them buy items online and pick them up in stores and offering delivery to homes from stores. The effort positions EBay as a partner to brick-and-mortar retailers looking to stem losses to Amazon.
Donahoe said that even though the enterprise unit is a strong business, "it has become clear that it has limited synergies" with either EBay's marketplace or PayPal.
Before it's here, it's on the Bloomberg Terminal.
LEARN MORE