First U.S. Envoy Heads to Cuba to Start Normalization Talks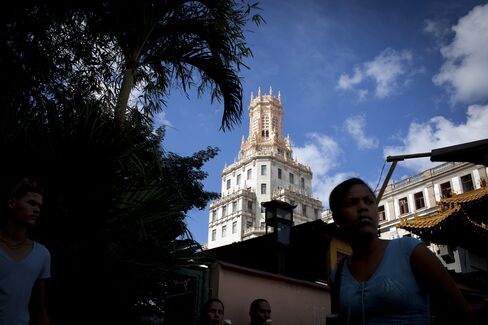 When Roberta Jacobson's plane touches down in Havana this week, she will be the highest-ranking U.S. diplomat to visit the island since President Jimmy Carter's administration. Her job? Help restore diplomatic relations severed at the height of the Cold War.
Jacobson, the U.S. Assistant Secretary of State for Western Hemisphere Affairs, flies to Cuba for two days of talks with Cuban counterparts on Jan. 21, little more than a month after Presidents Barack Obama and Raul Castro announced plans to improve ties following a prisoner swap.
Jacobson's arrival will kickstart negotiations that could eventually expand to include everything from demands for compensation by Cuban-American exiles and U.S. companies to improved human rights. While the U.S. and Cuba have met for years to discuss lower-level issues such as counter-narcotics and migration, her visit is the first to test Obama and Castro's pledges to bolster relations.
The U.S. will review Cuba's designation as a state sponsor of terror and make a decision within six months of the Dec. 17 announcement that relations would be normalized, an administration official said in advance of the trip, speaking on the condition of not being identified because of diplomatic protocol. The State Department will review evidence and intelligence to determine if Cuba is sponsoring terrorism, though the determination won't impede normalization, regardless of the outcome, the official said.
Cigars, Rum
"This is a historic visit," said Barbara Kotschwar, a research fellow at the Peterson Institute for International Economics in Washington. "Right now there's not a precedent in many of these areas. Figuring out with the Cuban counterparts how the implementation is going to work is really important."
The visit comes days after Cuba released 53 political prisoners and the U.S. eased export and travel restrictions, including allowing Americans to bring home as much as $100 in iconic Cohiba cigars and Havana rum, and as much as $400 total in souvenirs from the island. Now that the U.S. embargo has been relaxed, Obama's administration needs to develop logistics that will allow Cuba to legally import mobile phones and laptops for the first time.
A congressional delegation led by Senator Patrick Leahy, a Democrat from Vermont, arrived in Cuba on Jan. 17. It's the first congressional mission since the U.S. said last month that it would ease an embargo first imposed in 1960 under President Dwight D. Eisenhower and expanded under the Kennedy administration.
Embassy Reopening
After officially breaking ties with Cuba in 1961, the U.S. in 1977 converted its former embassy, a six-story building near Havana's Malecon seaside promenade, into an Interests Section in order to maintain communications with the governments of first Fidel and now Raul Castro. While the office gives the U.S. a presence in the capital, it officially operates under the auspices of Switzerland.
Obama has said the U.S. will reestablish the embassy as part of the thaw, though Senator Marco Rubio, a Florida Republican, has said he'll attempt to block funding for it.
The short-term agenda for Jacobson's visit involves getting the embassy set up, including a relaxation of travel restrictions that prevents Cuban and U.S. officials from venturing beyond the capital cities.
An important priority for the U.S. is that ordinary Cubans be allowed to visit the embassy without restrictions, the official said.
American Interests
Normalization is not a reward for Cuba, but rather a way to advance American interests, including promoting economic and political freedom for Cubans and strengthening U.S. national security, the official said. There are also a number of areas for bilateral cooperation on oil spills, drug interdiction and global health initiatives, such as fighting Ebola, the official said.
On migration, the U.S. will continue to press for the return of fugitives, including Joanne Chesimard, wanted for the killing of a New Jersey state police officer in 1973.
Obama has popular support for his measures, according to a Pew Research Center poll released last week. Sixty-three percent of Americans back stronger U.S. ties with Cuba, and 66 percent support ending the embargo, according to the Pew survey of about 1,500 people taken Jan. 7-11. The poll has a margin of error of 2.9 percentage points.
Bipartisan Support
"Our new posture of engagement will advance our national interests and our values by empowering the Cuban people's capacity to work toward a more democratic and prosperous country -- conditions that are very much in the U.S. interests," a group of 78 prominent political figures, academics and Cuban Americans said in a letter sent to President Obama on Monday.
The signatories include former Republican Secretary of State George Shultz, President Bill Clinton's National Security Adviser Sandy Berger and Alfonso Fanjul, the Cuban-American head of sugar producer Fanjul Corp. whose family had long supported the embargo.
While it would take an act of Congress to remove the U.S. trade embargo completely, a move opposed by Rubio and some other lawmakers, the U.S. is easing its terms, allowing companies to export telecommunications, construction and agricultural equipment to Cuba. The embargo has meant that any smartphones, laptops and TVs that make their way to Cuba from the U.S. often arrive as luggage carried by family members traveling on charter flights.
Educational Tours
The regulations announced last week also allow Americans to visit Cuba for reasons including educational tours without obtaining a special license from the Treasury Department, a past condition for travel. They'll also be able to use U.S. credit and debit cards at businesses in Cuba that have the technology to handle transactions. Americans still can't go for pure tourism or vacations.
Obama also quadrupled the remittances that non-family members can send to Cubans to $2,000 per quarter and authorized unlimited transfers meant to help develop private businesses, including small farms.
Resolving claims by Cuban Americans and U.S. companies that had assets confiscated after Fidel Castro came to power in 1959 is a U.S. government priority that may take longer to address. The U.S. has certified an estimated $1.8 billion in foreign claims on everything from houses to sugar mills and hotels to homes. The list totals 109 pages.
Asset Claims
Mediating between claimants and the Cuban government is a challenge that the U.S. government will probably face once diplomatic relations are reestablished, said Julia Sweig, formerly a senior fellow and director for Latin America studies at the Council on Foreign Relations in Washington.
"This is the single most important issue going forward," said Adolfo Garcia, a corporate partner in the Boston office of international law firm Brown Rudnick LLP whose family left Cuba when he was 12. His father's cigarette manufacturing and distribution business was confiscated by the Cuban government. "It's the elephant in the room and no one wants to talk about it."
Kotschwar, from the Peterson Institute, said she expects both governments to work to settle the legal claims in order to keep them from derailing diplomatic ties.
Sticking Point
"I get a very strong sense that if both countries want to settle this, they'll find a way," she said. "That's a sticking point, but not one that I think can't get un-stuck."
The U.S. official speaking on background said compensation for expropriated property is a critical issue that needs to be resolved and will be part of future talks.
Cuba's treatment of dissidents has also raised red flags even after the deal between Obama and Raul Castro. Jacobson on Dec. 30 condemned the detention of Reinaldo Escobar, an activist and husband of Cuban journalist Yoani Sanchez, who was taken into custody ahead of a proposed rally that was the first to test the limits of dissent.
The biggest potential achievement from Jacobson's visit could be establishing confidence between the U.S. and Cuban governments after a half century of estrangement and suspicion, said Philip Brenner, a professor of foreign policy at American University in Washington.
"The history of U.S.-Cuba relations is fraught with distrust," Brenner said. "Having a high U.S. official meet with high foreign ministry officials and maybe even higher, potentially the vice president of Cuba, would be a way of beginning to break down the distrust that exists between both countries."
Before it's here, it's on the Bloomberg Terminal.
LEARN MORE