Oil Falls as Record Iraqi Output Seen Compounding Surplus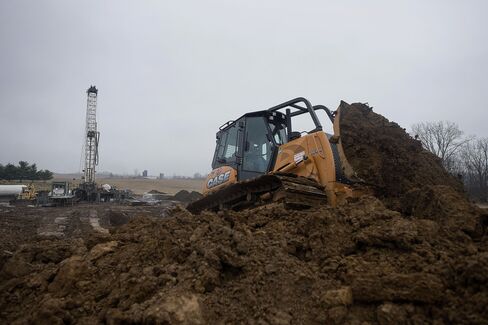 Oil dropped after Iraqi crude production surged to a record and the International Monetary Fund cut its global growth outlook.
Crude fell 4.7 percent in New York and 1.7 percent in London. Iraq is pumping 4 million barrels a day and will boost exports, Oil Minister Adel Abdul Mahdi said at a news conference in Baghdad. The IMF made the steepest reduction to its global-growth outlook since January 2012 in its quarterly global outlook issued yesterday. Projections for the euro area, Japan, China and Latin America were trimmed.
Oil has fallen by more than half since June as the U.S. pumped at the fastest pace in more than three decades and the Organization of Petroleum Exporting Countries resisted calls to reduce production. Goldman Sachs Group Inc. and Societe Generale SA were among banks to reduce their price forecasts last week.
"We continue to get news of rising supplies and a shaky economy," John Kilduff, a partner at Again Capital LLC, a New York-based hedge fund that focuses on energy, said by phone. "The surge in Iraqi production is going to add barrels to an oversupplied market. The IMF report was lousy and further crimps the demand outlook."
WTI, Brent
WTI for February delivery, which expired today, decreased $2.30 to settle at $46.39 a barrel on the New York Mercantile Exchange. The more active March contract slipped $2.66, or 5.4 percent, to $46.47. WTI fell to $44.20 on Jan. 13, the lowest level since April 2009. The volume of all futures traded 34 percent above the 100-day average at 2:54 p.m.
Brent for March settlement fell 85 cents to close at $47.99 a barrel on the London-based ICE Futures Europe exchange, following a 2.7 percent drop yesterday. Volume for all futures traded was down 3.1 percent from the 100-day average. The European benchmark oil closed at a $1.52 premium to the March WTI contract.
There was no floor trading in New York yesterday because of the Martin Luther King Jr. holiday and all electronic transactions were booked with today's for settlement purposes.
Holiday Trading
"The WTI-Brent relationship looks funny because of yesterday's holiday," Kilduff said. "We're seeing WTI catch up with yesterday's Brent move."
Iraq, which holds the world's fifth-largest crude reserves, is rebuilding its energy industry after decades of wars and economic sanctions. The central government reached an accord last month with the Kurds to allow increased oil exports through Turkey. The deal allowed for as much as 550,000 barrels a day of oil to be shipped through Turkey from northern Iraq, including 250,000 a day from the Kurdish region.
OPEC has no immediate plan to cut its output target for crude, and Iran is strong enough to withstand a deeper slump in prices even if the country must sell at $25 a barrel, Oil Minister Bijan Namdar Zanganeh said.
"If the oil prices drop to $25 a barrel, there will yet again be no threat posed to Iran's oil industry," Zanganeh told reporters on Jan. 19 at a conference in Tehran, according to the state-run Fars news agency.
OPEC Output
OPEC maintained its output quota of 30 million barrels a day at a meeting on Nov. 27. The 12-member group pumped 30.2 million a day in December, exceeding its target for a seventh straight month, data compiled by Bloomberg show. OPEC is next scheduled to meet June 5 in Vienna.
Oil prices won't rebound until production growth slows, as even political risks in the Middle East and Africa remain secondary to the glut on crude markets, said Pulitzer Prize-winning oil historian Daniel Yergin. Current prices should slow output growth in the U.S. in the second half of the year, and Canadian production after two years, as companies review budgets for projects, Yergin said.
"There is a surplus of geopolitical risk, but there is an even greater surplus of supply," said Yergin, vice chairman of Englewood, Colorado-based consultancy IHS Inc., in an interview at the World Economic Forum, in Davos, Switzerland. "When the market will make a response in supply, there will be a response in prices."
IMF Revisions
The IMF made the deepest reductions in places suffering from crises, such as Russia, or for oil exporters including Saudi Arabia. The U.S. was the exception, with an upgrade to the forecast for the world's largest economy to 3.6 percent growth in 2015, up from 3.1 percent in October.
"The IMF news wasn't good," Stephen Schork, president of Schork Group Inc., a consulting group in Villanova, Pennsylvania, said by phone. "There's been a lot of cheering about how good the drop in oil prices is for the economy, but I've been arguing that it's more complicated. Oil is a bellwether of economic growth and we're seeing a negative impact as well."
Gasoline futures for February delivery dropped 4.6 cents, or 3.4 percent, to settle at $1.3128 a gallon in New York. February ultra-low sulfur diesel fell 3.9 cents, or 2.3 percent, to $1.6266.
Retail gasoline, averaged nationwide, slid 0.7 cent to $2.054 a gallon yesterday, the lowest since April 2009, according to Heathrow, Florida-based AAA, the largest U.S. motoring group.
Before it's here, it's on the Bloomberg Terminal.
LEARN MORE