Oil Trades Near $50 After First Weekly Gain in 2 Months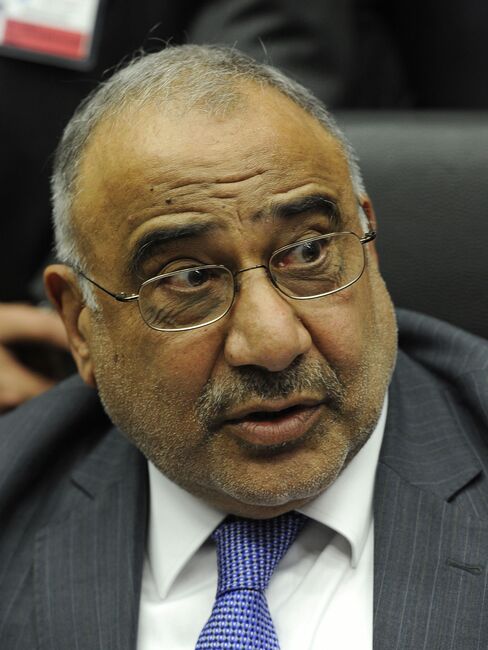 Oil declined from a one-week high in London and New York as Iraqi production advanced to a record, compounding a global supply surplus.
Prices slid as much as 2.2 percent in New York and London after their first weekly gain in two months. Iraq is pumping at an unprecedented pace of 4 million barrels a day, Oil Minister Adel Abdul Mahdi said. Oil extended losses after Chinese shares plunged the most since 2008 as regulators cracked down on margin lending.
Crude slumped almost 50 percent last year as the U.S. pumped oil at the fastest rate in more than three decades while the Organization of Petroleum Exporting Countries resisted calls to cut supply. Iraq's oil production rose to a 35-year high in December and could break more records in the coming months, according to the International Energy Agency.
"With supply exceeding demand it still seems highly likely that the market will fall further," Christopher Bellew, senior broker at Jefferies International Ltd. in London, said by e-mail. "Rallies above $50 have proved very short-lived and my expectation is for the price to move in a sideways range until the next move to the downside, which I expect to take the price to $40 or lower."
London Trading
Brent for March settlement slid as much as $1.12 to $49.05 a barrel on the London-based ICE Futures Europe exchange and was at $49.08 at 4:15 p.m. local time. It gained 3.9 percent to $50.17 on Jan. 16, the highest settlement since Jan. 8. The European benchmark crude was at a premium of $1.05 to WTI for the same month.
West Texas Intermediate for February delivery, which expires on Jan. 20, dropped as much as $1.07 to $47.62 a barrel on the New York Mercantile Exchange. The more active March future fell as much as $1.08 to $48.05. The volume of all futures traded was 66 percent below the 100-day average for the time of day. Prices rose 0.7 percent last week.
Chinese regulators are tightening control of margin investing amid concern that a six-month, 63 percent stock surge is unsustainable and may lead to instability. The Shanghai Composite Index tumbled 7.7 percent, wiping out the year's advance.
OPEC Tactics
The decline in Chinese stocks "is indeed not supportive for oil prices," Michael Poulsen, an analyst at Global Risk Management Ltd. in Middelfart, Denmark, said by e-mail. "Combined with one of the world's worst-kept secrets -- OPEC trying to wash out shale players, oil prices have had a rough ride."
Iraq plans to increase crude exports to 3.3 million barrels a day this year, including sales from the semi-autonomous Kurdish region in the north, Abdul Mahdi said. The OPEC producer exported 2.94 million barrels a day in December, the most since the 1980s, Oil Ministry spokesman Asim Jihad said Jan. 2.
In Saudi Arabia, OPEC's biggest producer, oil exports rose to a seven-month high in November, when it led the group to keep its production quota unchanged. Overseas shipments climbed to 7.3 million barrels a day from 6.9 million in October, according to data on the website of the Joint Organisations Data Initiative.
OPEC, which supplies about 40 percent of the world's oil, maintained its collective target of 30 million barrels a day at a meeting on Nov. 27. The 12-member group pumped 30.2 million a day in December, according to estimates compiled by Bloomberg.
U.S. producers idled a record number of drilling rigs during the past six weeks, according to data from Baker Hughes Inc. on Jan. 16. The number of operating oil rigs in the U.S. has declined by 209 since Dec. 5, the data show. The count was down 55 in the week ended Jan. 16 to 1,366.
U.S. output rose to 9.19 million barrels a day through Jan. 9, the fastest pace in weekly records dating back to January 1983, data from the Energy Information Administration show.
Before it's here, it's on the Bloomberg Terminal.
LEARN MORE