Ukraine Says Russians Cross Border as Airport Battle Rages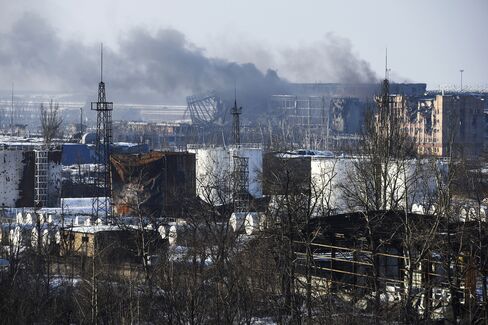 Two battalions of Russian soldiers crossed the border into Ukraine, the National Security Council in Kiev said, as government forces and pro-Moscow rebels battled for control of the Donetsk airport.
The accusation follows months of complaints from the government in Kiev that Russian President Vladimir Putin is sending funds, weapons and fighters to support a separatist insurgency in Ukraine's easternmost regions. Putin denies any military involvement in Ukraine, and Russian Defense Ministry spokesman Andrei Bobrun declined to comment when contacted by Bloomberg on Monday in Moscow.
"Ukrainian and military intelligence confirms the entering from Russia into Ukrainian territory of men and equipment," Ukrainian Prime Minister Arseniy Yatsenyuk said in Kiev on Monday. The rebels' tanks, howitzers, artillery and anti-aircraft systems "can't be bought at a bazaar in Donetsk or the Russian Federation. They can only come from the stock of the Russian Defense Ministry," he said.
The battle over the airport follows a weeklong rebel assault and rekindles the prospect of all-out war. After a push to restart peace talks collapsed this month, both sides are accusing each other of reinforcing their positions in breach of a Sept. 5 truce signed in Minsk, Belarus. More than 4,800 people have died in the nine-month conflict, which has poisoned ties between Russia and its former Cold War foes.
Airport Battle
The hundreds of Russian soldiers crossed the border in a rebel-controlled area, the Security and Defense Council said. At the airport, separatists blew up part of the new terminal, with "many injured," Ukrainian presidential adviser Yuriy Biryukov said on Facebook, without giving details.
Three Ukrainian troops died and 66 were wounded in the past day, military spokesman Andriy Lysenko said in Kiev on Monday, a day after the former Soviet republic said it had taken back "most" of the airport. The two sides have fought fierce back-and-forth battles for the strategic hub, transforming the terminals refurbished for the 2012 Euro Championship soccer tournament into smoking ruins.
Civilians Killed
With the nature of the fighting making it difficult to independently verify the claims made by either side, the government in Kiev has exchanged blame with the rebels and Russia for shelling that has killed civilians. The two sides have also disputed who is in control of Donetsk airport, casualty numbers, troop movements and other issues.
An explosion near a court in the eastern city of Kharkiv wounded six people, Anton Gerashchenko, an adviser to Interior Minister Arsen Avakov, said on Facebook. The blast followed explosions in Odessa, on the Black Sea coast, and a fire that engulfed a rail tank car carrying gasoline in Kharkiv region. The local prosecutor's office called the blaze an act of sabotage. In addition, nine passenger cars were damaged by an explosion in a residential area in Kiev late yesterday.
A 12-year-old boy and his father were killed by a rebel artillery strike in the town of Debaltseve on Monday. Another person also died and 12 were wounded, Vyacheslav Abroskin, head of the Donetsk region police, said on his Facebook account. Rebels said two people were killed and 16 wounded in Horlivka by shelling from Ukrainian government forces.
'Immediate Cease-Fire''
A truce proposal by Putin that includes withdrawing heavy weapons from the combat zone is a chance to de-escalate the crisis, Russia's Foreign Ministry said in a statement on its website. A proposal by Yatsenyuk to enforce emergency military law will bury the peace process, Russian Deputy Foreign Minister Grigory Karasin was quoted as saying by RIA Novosti news service.
For its part, Ukraine has offered Russia an "immediate cease-fire" and is ready to work with leaders in Moscow for the full implementation of the Sept. 5 truce, Foreign Minister Pavlo Klimkin said on Twitter.
"Ukraine is ready to sign a cease-fire agreement if the sides stick to the Minsk accords," President Petro Poroshenko said. "Ukraine wants peace."
EU governments opted to maintain economic sanctions on Russia on Monday as long as the conflict continues. Foreign ministers from the bloc also agreed that a future settlement in Ukraine would enable possible collaboration with Russia in stabilizing the Middle East and fighting terrorism, EU foreign-policy chief Federica Mogherini said.
Strategic Debate
"Starting a strategic debate does not mean and has not meant changing the course of our relations with Russia," Mogherini told reporters after the ministers met in Brussels Monday. "There is no back to business as usual."
The fighting has rocked markets in Ukraine and Russia, where the sanctions have exacerbated a more than 50 percent decline in oil prices from a peak last year to undercut the ruble.
The Russian currency has lost 49 percent against the dollar since the start of last year, the worst-performance among currencies tracked by Bloomberg. It gained 0.5 percent to 64.85 a dollar at 4:44 p.m. in Moscow. The hryvnia, which is the second-worst performing in that period with a 48 percent decline, was little changed at 15.86 against the greenback.
The assaults at the airport probably don't represent a major escalation and won't trigger deeper sanctions against Russia, analysts from Eurasia Group said in a note today.
Further Apart
Putin will emphasize stabilizing Russia's economy and working to divide EU unity on sanctions in the next several months, analysts Cliff Kupchan, Alex Brideau, and Mujtaba Rahman and Alexander Kliment said. The two sides have come no closer to resolving the crisis, with Russia insisting that Ukraine devolve power to its regions, a demand Poroshenko can't meet without alienating his supporters, they said.
"Rather than moving closer together, the sides' objectives are moving further apart," Eurasia Group said. "We still believe this episode ends in a frozen conflict" of a separatist-led state that is "beyond the military and fiscal control of the Ukrainian government, indefinitely," it said.
Polish Prime Minister Ewa Kopacz landed in Kiev on Monday to meet Yatsenyuk. Poland, the most vocal EU supporter of the Ukrainian government that emerged from last year's street protests which led to the ouster of former President Viktor Yanukovych, pledged to lend Ukraine 100 million euros ($116 million) to help rebuild destroyed infrastructure in the Donbas region, according to a statement on Poroshenko's website.
The Ukrainian president and German Chancellor Angela Merkel have called for an immediate meeting of the contact group that includes Ukraine, Russia and the Organization for Security and Cooperation in Europe.
Before it's here, it's on the Bloomberg Terminal.
LEARN MORE