Israel Sows Cyber Hub in Desert to Make Beersheba Bloom: Cities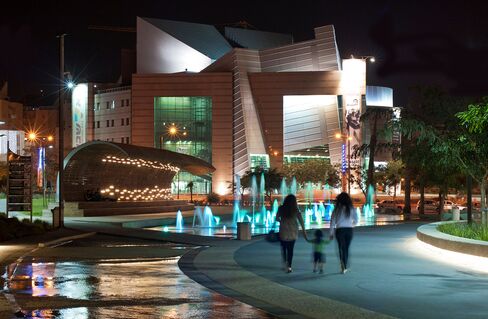 Israel is turning the desert green -- khaki, to be precise. Tens of thousands of military personnel are being moved from Tel Aviv to abet the creation of a modern urban center along a burgeoning cyber-security hub in the Negev.
A $20 billion blueprint is transforming Beersheba, the only city in the sprawling desert, into a key front in the world's escalating cyber conflicts, and not just a target for Palestinian rockets from nearby Gaza. Prime Minister Benjamin Netanyahu wants to capitalize on demand from companies and governments for beefed-up defenses against virtual attacks from anonymous foes.
"The biggest challenge for Israel is developing the Negev," said Rubik Danilovich, the mayor of Beersheba. "If you take the map of Israel and fold it in half, Beersheba is the center of Israel geographically and we want it to have buzz and vision."
Taming the Negev has been one of the Jewish state's foundational stories. Israel's first premier, David Ben Gurion, made settling it a priority, a goal that led to the development of farming advances like drip irrigation. In the 21st century, kibbutzim and oranges are out and cities and high-tech are in.
Technology contributes about half of Israel's industrial exports. Sales abroad account for about a third of gross domestic product. Israel is known as Startup Nation, stemming from a 2009 book of the same title. Cybersecurity exports totaled $3 billion in 2013, or about 5 percent of the global market. Hacking costs the world economy as much as $575 billion a year, according to a McAfee Inc. study published in June.
Work in Progress
Beersheba, home to 220,000, is a work in progress as investment comes in ahead of the military move.
Cranes dot its low-slung skyline. Apartment buildings sheathed in peeling yellow and white plaster around sandy yards covered with tarpaulins are increasingly sharing neighborhoods with steel-and-glass high rises.
Fountains now greet travellers as they drive into the city, replacing the rocky dry expanse of earlier years. In the Old City, bars and cafes are taking over abandoned shops.
Netanyahu's Cabinet last week approved the plan to move the military bases south. The premier, running for re-election March 17, said it marked the start of a "huge revolution" in the Negev.
Changing Views
The biggest challenge may not just be moving people but changing perceptions of a place dismissed by most as a backwater where residents are still perceived in the north as "riding camels," said Miki Malul, an economist at the city's Ben Gurion University.
The cyber development will go a long way to luring more industry and fulfilling 43-year-old mayor Danilovich's dream of turning Beersheba into a metropolitan city.
Since he took over City Hall in 2008, three separate conflicts with Gaza, 25 miles away, have made Beersheba a target of rocket attacks, halting development for months.
Rockets haven't been the only obstacle, according to Avishay Braverman, an opposition Labor lawmaker and former president of Ben Gurion University. He says the government has been dragging its feet.
"It's a crying shame," he said. "The payoff from this for Israel is in the tens of billions of dollars. All the government needs to cut out the bureaucracy, build an industry and push it forward."
Work Force
The move south by the military and companies such as EMC Corp., IBM and Lockheed Martin Corp. bring the promise of quality jobs to a city where less than 40 percent are employed compared to about half in Tel Aviv and Haifa. It could also stem the migration of the some 8,000 engineering students attending colleges in Beersheba.
The more than 35,000 soldiers moving south provide a pool of manpower for companies. That convinced Jerusalem Venture Partners to locate its second incubator in there.
"No other region in the world has a perfect storm like Israel in general, and Beersheba specifically," said Yoav Tzruya, partner in JVP Cyberlabs in Beersheba.
JVP's technology-development center in Jerusalem spawned companies such as the cloud-encryption firm Navajo, which was bought by Salesforce.com Inc. in 2011. The venture firm went as far as South Korea seeking a second location before settling on Beersheba. Key reasons included the government and military investment in the region, Tzruya said.
As the region gears up to become an anti-hacking center, an Internet security-focused high school is in the works, as is a second hospital and more residential neighborhoods amid expectations that the Negev population will jump from today's , about 610,000, to about a million by 2020.
"Economic development, if it works well, is sort of like being a fan of the football team," said Erel Margalit, a Labor lawmaker, head of the lobby for the Negev and founder of JVP. "It unites everyone in a big message of growth."
Before it's here, it's on the Bloomberg Terminal.
LEARN MORE