FXCM Said in Talks With Jefferies for $200 Million Rescue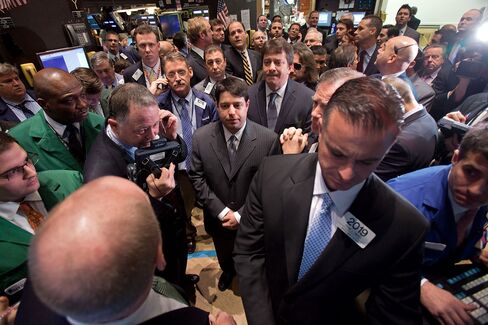 Jefferies Group is in talks to give FXCM Inc. a cash infusion of about $200 million, people with knowledge of the matter said, extending a lifeline to the currency brokerage hobbled by the Swiss central bank's decision to let the franc trade freely against the euro.
FXCM warned Thursday that client losses due to the Swiss National Bank's action threatened the broker's compliance with capital rules. The largest U.S. retail foreign-exchange broker, which handled $1.4 trillion of trades for individuals last quarter, said it was owed $225 million by clients.
This wouldn't be the first bailout Jefferies has extended to a financial firm in distress. When Knight Capital Group Inc. was teetering on the brink of collapse after bombarding markets with errant trades in August 2012, Jefferies and other firms gave the trading firm a $400 million cash infusion.
A spokesman for Jefferies, an investment bank owned by New York-based Leucadia National Corp., declined to comment, while a representative for New York-based FXCM didn't immediately respond to phone and e-mail messages seeking comment.
Shares of the brokerage had tumbled as much as 92 percent this morning before they were halted, pending an announcement. Leucadia reversed earlier losses and rose after news of the talks, which was also reported by Reuters. It was up 0.4 percent to $21.72 at 11:36 a.m. New York time.
Franc's Surge
FXCM isn't the only casualty from the franc's sudden move. Global Brokers NZ Ltd., which is based in Auckland, said losses from the surge are forcing it to shut down.
"The majority of clients in a franc position were on the losing side and sustained losses amounting to far greater than their account equity," Global Brokers NZ director David Johnson said in a statement dated Jan. 15 and posted on the website of affiliated company Excel Markets.
The franc surged as much as 41 percent versus the euro on Thursday, the biggest gain on record, and climbed more than 15 percent against all of the more than 150 currencies tracked by Bloomberg. Dealers in London at banks including Deutsche Bank AG, UBS AG and Goldman Sachs Group Inc. battled to process orders yesterday when the SNB surprised investors by ending its three-year policy of capping the franc at 1.20 a euro.
The U.S. Commodity Futures Trading Commission lets investors put down as little as 2 percent of the value of their foreign-exchange bets. Brokers may get stuck with the balance of losses suffered by clients who used leverage, borrowed on credit cards, or did both to bet against the franc.
FXCM Chief Executive Officer Drew Niv, in remarks published in Bloomberg Markets magazine's December issue, said individual currency traders are enticed by the chance to control large positions with little money down.
"Currencies don't move that much," he said. "So if you had no leverage, nobody would trade."
FXCM has its own experience saving an embattled trading firm. Last year, it acquired some assets from Infinium Capital Holdings LLC, a high-frequency trading firm based in Chicago. The trading desks it bought became part of V3 Markets LLC.
Before it's here, it's on the Bloomberg Terminal.
LEARN MORE