Copper Tumbles Most in Six Years Amid Commodity Collapse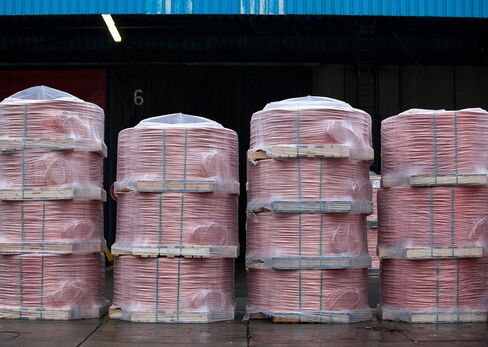 Copper tumbled the most in almost six years, leading a collapse in commodity prices that's keeping a lid on global inflation.
Lower energy costs and demand weakness amid worse-than-expected economic data in China are driving prices down, according to Goldman Sachs Group Inc. Consumption in the world's biggest user will grow at the slowest pace since at least 2009, Deutsche Bank AG estimates.
Commodities have sunk to the lowest level in more than 12 years, led by a rout in energy prices, after a decade-long bull market spurred producers to boost output and a stronger dollar diminished the allure to investors. Oil's 50 percent decline in the last year is cutting costs for mining companies and bolstering speculation the glut will expand. Copper is the worst performing non-energy raw material this year on the Bloomberg Commodity Index, which fell to the lowest since August 2002.
"People have seen oil prices decline so much and now they're targeting other commodities," Ivan Szpakowski, an analyst at Citigroup Inc. in Hong Kong, said in an interview with Bloomberg TV today. Copper is falling faster than most other commodities because "it's the one that is played by the macro investors and by people who are looking at the broader picture rather than commodity fundamentals."
Copper for delivery in three months dropped 5.3 percent to settle at $5,548 a metric ton ($2.52 a pound) at 5:51 p.m. on the London Metal Exchange, after dropping as much as 8.6 percent, the biggest intraday loss since October 2008.
Cutting Losses
Demand growth in China will slow to 4 percent in 2015 from 5.5 percent last year, according to estimates by CRU Group, a research company. Between 2002 and 2012 it averaged more than 10 percent. Economists surveyed by Bloomberg forecast the country's economy to grow 7 percent in 2015, the slowest pace since 1990.
"People are concerned about the demand growth in China," Chunlan Li, a Beijing-based copper analyst at CRU, said today by phone. "We have seen sharp declines in oil prices and the macro-economic picture doesn't look good."
The world economy will expand 3 percent in 2015, according to a World Bank report, down from a projection of 3.4 percent in June. The Washington-based lender cut its forecast for China, saying the world's second-biggest economy is undergoing a "managed slowdown."
"Obviously we're getting a World Bank downgrade for the world economy again, and now everyone is seeing slowdown-slowdown-slowdown in the numbers," Mike Zarembski, a senior commodities analyst at OptionsXpress by Charles Schwab, said in a telephone interview from Chicago.
China's consumption is likely to remain weak with visible inventories rising in the first half of the year, Goldman Sachs analysts including Max Layton wrote in a report dated Jan. 13. That will continue to weigh on prices, according to the bank, which said risks to its 12-month forecast of $6,000 a ton were "still heavily skewed to the downside."
Copper Inventories
Inventories of the metal monitored by major exchanges in London, New York and Shanghai have climbed 5.4 percent since the start of the year, according to data compiled by Bloomberg.
In New York, copper futures for March delivery fell 5.2 percent to $2.5055 a pound. Aggregate trading was an estimated 136,218 contracts, the highest since April 23, 2013.
"There was some loss-cut trading that came into the market," said Tetsu Emori, a senior fund manager at Astmax Asset Management Inc. in Tokyo. "The psychological factor is now the main driver. People have been looking at the increase in LME stocks as well."
Crude Slump
London-traded Brent crude slid to the weakest since March 2009 yesterday. The rout will help cut costs to produce and transport metals, according to Natixis SA. Energy makes up about 25 percent of copper mining costs, CRU estimates.
Any price rebound in copper will depend on government stockpiling by China this quarter and the pace of demand growth, according to Goldman Sachs. The metal "remains challenged" by factors including a stronger U.S. dollar and higher supply, as well as tighter credit and slower growth in China, it said.
Today's slide dragged down shares of metal producers while boosting manufacturers and utilities. Jiangxi Copper Co., China's largest producer, dropped 5.9 percent in Hong Kong while BHP Billiton Ltd., the world's biggest miner, slid to the lowest since 2009 in Sydney. Electricity generator Huadian Power International Corp. surged 6.5 percent in Hong Kong.
Refined production will exceed demand this year by 221,000 tons, widening from 59,000 tons in 2014, Gayle Berry, an analyst at Jefferies Bache Ltd., said in a Jan. 7 report. About 1.6 million tons of new mine supply of the metal may come online in 2015, Bloomberg Intelligence said last month.
Investors last week doubled bets on more losses in copper, already the worst-performing industrial metal in the past year after plunging 24 percent. Money managers increased the net-short position in copper to 10,881 Comex contracts in the week ended Jan. 6, compared with 4,455 a week earlier, according to Commodity Futures Trading Commission data.
Before it's here, it's on the Bloomberg Terminal.
LEARN MORE