Suncor Cuts Jobs, Spending as Oil Rout Rattles Canada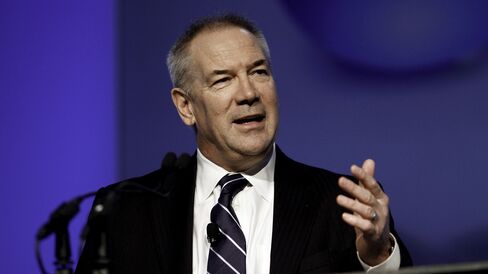 Suncor Energy Inc., Canada's largest oil company, said it will cut 1,000 jobs, lower its 2015 capital budget by about 13 percent and delay projects to weather collapsing prices.
The company will spend C$1 billion ($836 million) less this year than originally forecast in November, following Canadian Natural Resources Ltd. in revising its budget lower this week. Suncor also plans to reduce operating expenses by C$600 million to C$800 million in two years, according to a company statement today.
"Cost management has been an ongoing focus, with successful efforts to reduce both capital and operating costs well underway before the decline in oil prices," Steve Williams, Suncor's chief executive officer, said in the statement. "In today's low crude price environment, it's essential we accelerate this work."
The cuts are the latest blow to Canada's energy industry and economy as plummeting prices reverberate in the nation's oil sands, among the most expensive reserves to develop. The rout may delay the Canadian economy's return to full potential, Bank of Canada Deputy Governor Tim Lane said today.
Oil extraction makes up 3 percent of Canada's output and crude oil is 14 percent of exports, Lane said in a speech in Madison, Wisconsin. Output from oil sands located mostly in Alberta has risen fivefold to 2.3 million barrels a day between 1993 and last year. Oil-sands investment more than doubled to C$30 billion from 2006 to 2013, he said.
'Broader Impacts'
"We will closely monitor its broader impacts on growth and the delay it may cause to the economy's return to its production potential," Lane said.
Benchmark crude prices have fallen by more than half in six months.
Canadian Natural yesterday lowered its 2015 spending plan by 28 percent from the initial forecast and, while it's not cutting any jobs, has put in place a hiring freeze, Corey Bieber, chief financial officer, said in a phone interview.
Royal Dutch Shell Plc is cutting as many as 300 employees from its Albian Sands project in northern Alberta, according to Cameron Yost, a spokesman. Civeo Corp., a Houston-based owner of energy-worker camps, said last month it had cut 30 percent of its Canadian staff as it closed two lodges in northern Alberta.
Alberta's government, confronting the prospect of losing billions in tax and royalty revenue from the energy sector, is considering spending cuts, new taxes and running deficits as the annual budget and an eight-year financial plan are being drafted, Premier Jim Prentice said today in Edmonton.
Alberta Budget
The oil price slide will lead to a C$500 million deficit for Alberta in the fiscal year that ends on March 31, Prentice said. Without changes, the province faces a revenue shortfall exceeding C$6 billion in the 2015-2016 year, the equivalent to all education spending, and multibillion-dollar deficits for the two years after that, he said.
"Everything is on the table," Prentice said, adding that while he doesn't advocate for adding a sales tax, he will consider one. "We are living on resource revenue that belongs to our children and our grandchildren."
Suncor's job cuts will primary affect contract workers, the company said. The Calgary-based producer had about 14,000 employees, not including contract workers, at the end of 2013. Sneh Seetal, a company spokeswoman, declined to provide the number of contract workers.
The company is deferring some projects that haven't yet been sanctioned, such as the second phase of its MacKay River oil-sands project and the White Rose Extension project offshore Newfoundland and Labrador.
Before it's here, it's on the Bloomberg Terminal.
LEARN MORE