Police Drones Aimed at Berkeley's Skies Rankle Privacy Activists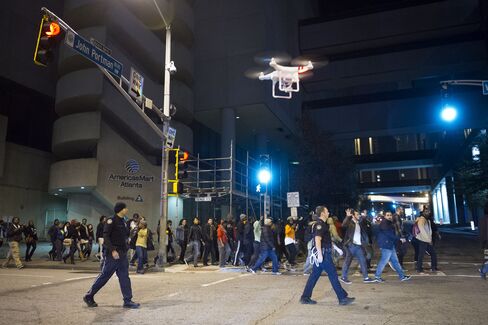 A move by police agencies in the San Francisco Bay Area to deploy drones for the first time is provoking a backlash from leaders and activists who fear the surveillance will allow authorities to peer into private lives.
"Berkeley and the Bay Area have a long history of political discussion, protests and debate, and there's a real concern around the use of these drones under those circumstances, and the broader privacy issues," said Jesse Arreguin, a Berkeley city council member who represents the downtown area near the University of California's flagship campus.
UC Berkeley, the birthplace of the free speech movement of the 1960s and a hotbed of political activism, would be among places subject to the police use of drones as local law-enforcement agencies pursue the new technology to monitor crime in progress.
San Jose, California's third-largest city, and Alameda County, home to Berkeley and Oakland, are exploring the use of drones, stoking public fears the devices will let police spy on them. While law-enforcement agencies from Grand Forks County, North Dakota, to Daytona Beach, Florida, have won federal approval to use the devices, the proposal to deploy them in Bay area law enforcement is chafing pro-privacy sensibilities.
'Trust Us'
"'Trust us' isn't going to work," Joe Simitian, a supervisor in Santa Clara County, home to San Jose, said in a telephone interview. "For any agency or department of the government at any level to simply say 'trust us, we can be counted on not to abuse the technology' - that's just not going to fly."
Privacy protections are ingrained in the politics of the state, the most-populous in the U.S. The state Assembly has a Select Committee on Privacy and Berkeley's city government includes a Peace & Justice Commission that advises the city council and the school board on those issues. House Minority Leader Nancy Pelosi, a San Francisco Democrat, was booed at a 2013 conference in San Jose over her criticism of Edward Snowden, a former government contractor who revealed National Security Agency data surveillance.
Nationwide, about 80 law-enforcement agencies operated unmanned aircraft as of November 2013, the latest data available, Federal Aviation Administration spokesman Les Dorr said. Privacy advocates say the proliferation of drones, which resemble miniature helicopters and are often equipped with video cameras, could open citizens to a wide array of intrusive surveillance.
Dangerous Scenes
Alameda and San Jose officials say they would use the aircraft to assess dangerous scenes -- such as an active shooter or hostage situation -- to shield first responders from harm and to inform tactical decisions.
"Through our research we learned that a small, unmanned aircraft can support first responders in situations which would benefit from an aerial perspective, and that by having that it could expose dangers that could otherwise not be seen," Tom Madigan, a captain at the Alameda County Sheriff's Office, said in a telephone interview. "That's what triggered our interest."
The devices, called unmanned aircraft systems, are already in use for commercial purposes by filmmakers, farmers and real-estate agents taking aerial photos of properties.
Unmanned Aircraft
Alameda County bought two unmanned aircraft weighing about 4 pounds (1.81 kilograms) for about $97,000 last year. The sheriff's office proposes using them to get an aerial view for search-and-rescue missions and disaster response, according to a draft policy.
Operators "will consider the protection of individual civil rights and the reasonable expectation of privacy as a key component on any decision made to deploy" them, the policy said.
In San Jose, the police department acquired one last year for about $7,000 and has since presented the idea at two meetings, with plans to hold at least two more, said Heather Randol, a department spokeswoman. The commission hosting the meetings will make a recommendation to the city council, which would have to approve drone use before the department seeks FAA approval, she said.
The drones were bought by both agencies without community knowledge or input, Nicole Ozer, technology and civil liberties policy director at the American Civil Liberties Union of Northern California, said in a telephone interview.
Model Ordinance
The ACLU has released a model ordinance for implementing drone use by municipalities that would require notifying the public and developing a policy for how the device is used, what data it collects and keeps, and who can access it, she said.
"There need to be these conversations before invasive technology is considered," Ozer said. "Drones are very small and they're very invasive. They could be monitoring, recording and retaining vast amounts of information on innocent activities."
Law enforcement represented 5 percent of applications submitted in 2013, compared with 37 percent by academia and 31 percent by the Department of Defense, according to the FAA. Federal review of applications to use drones can take as long as 60 days once the applicant provides safety information, said Dorr, the FAA spokesman.
The FAA's plans to release regulations for the commercial use of small drones by the end of last year have been held up by a review of the proposal at the White House Office of Management and Budget.
California Governor Jerry Brown, a 76-year-old Democrat, in September vetoed a bill that would have required law enforcement agencies to get search warrants to use drones.
In Silicon Valley, officials at the Menlo Park Fire Protection District have been gathering community input on using a drone to fight fires and rescuing boats in the San Francisco Bay, chief Harold Schapelhouman said.
"We know that the public has concerns about this flying over someone's neighborhood," he said. "That's not how we would use this device."
Before it's here, it's on the Bloomberg Terminal.
LEARN MORE