Oil Drops Below $45 as U.S. Stockpiles Seen Worsening Collapse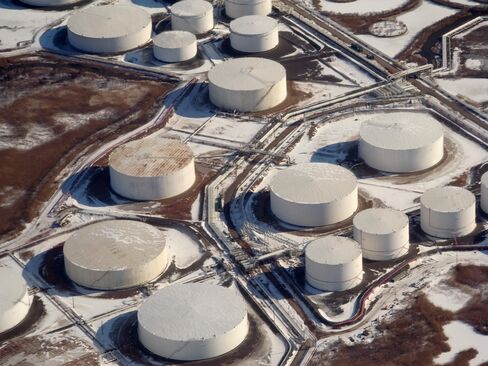 Oil fell below $45 a barrel amid speculation that U.S. stockpiles will increase, exacerbating a global supply glut that's driven prices to the lowest in more than 5 1/2 years.
The U.S. benchmark dropped as much as 4.1 percent before paring losses. Crude inventories probably gained 1.75 million barrels last week, a Bloomberg News survey showed before government data tomorrow. The United Arab Emirates, a member of the Organization of Petroleum Exporting Countries, will continue to expand output capacity, while shale drillers will probably be the first to curb production as prices fall, according to Energy Minister Suhail Al Mazrouei. The U.S. grade briefly traded above Brent for the first time since July 2013.
Oil slumped almost 50 percent last year, the most since the 2008 financial crisis, as the U.S. pumped at the fastest rate in more than three decades and OPEC resisted calls to cut production. Goldman Sachs Group Inc. said crude needs to drop to $40 a barrel to "re-balance" the market, while Societe Generale SA also reduced its price forecasts.
"It's a classic case of supply overwhelming demand," said Michael Hiley, head of energy OTC at LPS Partners Inc. in New York. "U.S. production will continue to edge higher. OPEC keeps reminding us that they are going to continue to produce."
West Texas Intermediate for February delivery decreased 18 cents, or 0.4 percent, to $45.89 a barrel on the New York Mercantile Exchange, the lowest close since April 2009. Futures slumped to $44.20 in intraday trading. The volume of all futures traded was 68 percent above the 100-day average for the time of day.
U.S. Supplies
Brent for February settlement slid 84 cents, or 1.8 percent, to $46.59 a barrel on the London-based ICE Futures Europe exchange after touching $45.19. Brent traded 70 cents above WTI, after the benchmarks hit parity during the session.
WTI climbed as much as 1.6 percent in electronic trading after two top Republicans said that President Barack Obama told congressional leaders he will propose terms for a measure authorizing U.S. military force against Islamic State.
U.S. crude stockpiles probably rose to 384.1 million barrels in the week ended Jan. 9, according to the Bloomberg survey before the Energy Information Administration's report.
Supply gained 3.9 million barrels last week, the American Petroleum Institute said today, according to a Twitter posting by Anthony Headrick.
"Prices continue to free-fall and there is little that can stop them," Amrita Sen, chief analyst at consultants Energy Aspects Ltd. in London, said in a report. "OPEC remains the only factor that can stabilize markets in the short term. But with the group out of the picture, the market is looking elsewhere for a tangible reaction."
U.S. production accelerated to 9.14 million barrels a day through Dec. 12, the most in weekly EIA estimates that started in January 1983. The nation's oil boom has been driven by a combination of horizontal drilling and hydraulic fracturing, or fracking, which has unlocked supplies from shale formations including the Eagle Ford and Permian in Texas and the Bakken in North Dakota.
OPEC Output
The U.A.E. plans to boost its production capacity to 3.5 million barrels a day in 2017, Al Mazrouei said in a presentation in Abu Dhabi yesterday. The country currently has a capacity of 3 million and pumped 2.7 million a day last month, according to data compiled by Bloomberg.
OPEC nations can withstand a drop in crude prices while "those who are producing the most expensive oil, the rationale and the rules of the market say that they should be the first to pull or reduce their production," Al Mazrouei told reporters today.
OPEC, whose 12 members supply about 40 percent of the world's oil, agreed to maintain its collective output target at 30 million barrels a day at a Nov. 27 meeting in Vienna. Qatar estimates the global surplus at 2 million barrels a day.
In China, the world's biggest oil consumer after the U.S., crude imports surged to a new high in December, capping a record for last year. Overseas purchases rose 19.5 percent from the previous month to 30.4 million metric tons, according to preliminary data from the General Administration of Customs in Beijing today. For 2014, imports climbed 9.5 percent to 310 million tons, or about 6.2 million barrels a day.
Before it's here, it's on the Bloomberg Terminal.
LEARN MORE