Lenovo Considering Public Offering for New Smart-Device Unit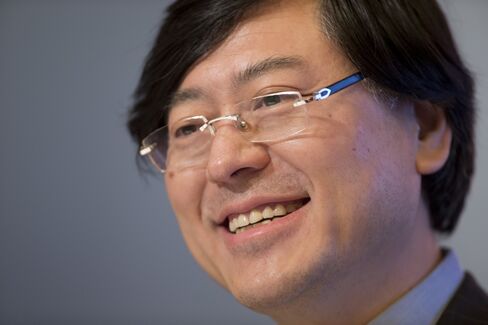 Lenovo Group Ltd. is considering taking its new device unit public as the Chinese electronics company joins the race to capitalize on the growing interest in smart homes.
The unit, which will be called Shenqi, could be worth "a couple of billion dollars" after it begins selling smartphones and Internet-connected household devices online under its own brand in April, Chief Executive Officer Yang Yuanqing said today in an interview at the company's headquarters in Beijing. Yang declined to give a timeframe for any fundraising moves or name specific investors.
"We want to try a new way to nurture and incubate business," said Yang, 50. "Smartphones will be just one of the devices for this new startup company and it will be backed not only with Lenovo money, but also will get money from capital markets."
The new unit will help Yang focus on Internet-based devices and the development of mobile applications as smartphone growth slows in China, the world's largest market. The market for Web-linked appliances will grow to $7.1 trillion by 2020, from $1.9 trillion in 2013, according to International Data Corp.
Lenovo fell 0.9 percent to close at HK$10.66 in Hong Kong. The stock climbed 8.2 percent last year, its sixth consecutive year of gains.
Online Shift
The Lenovo startup would use a direct-to-consumer, Internet-based business model similar to that which propelled closely held Xiaomi Corp. to the top of the China smartphone market and third-place globally in the third quarter last year. The Shenqi brand and online store would allow the company to reach consumers beyond the mobile phone carriers and retailers who sell Lenovo-branded smartphones and computers, Yang said.
"We want to build a pure Internet-oriented model," he said. "If we do this kind of model within the current Lenovo, there is a lot of conflict with existing channels and carrier partners. With a different team mechanism, we can do whatever we want."
Lenovo announced plans for the company in October. Chen Xudong, currently president of Lenovo's business in China, will be CEO of the new company. Liu Jun, head of Lenovo's mobile unit, and George He, head of Lenovo's ecosystem and cloud services group, will be co-chairmen.
While the unit has no official English name, Shenqi means "magical" or "miraculous."
PC Sales
"Strong software support in China is an increasingly important aspect of selling smartphones to customers," Stephen Yang, a Hong Kong-based analyst at Sun Hung Kai Financial Ltd., said before the Lenovo chief executive spoke today. The new company "will create a stronger online ecosystem for Lenovo's mobile products," he said.
Lenovo, the world's largest maker of personal computers, expanded mobile products to help counteract a global slowdown in demand for desktop and laptop devices. Worldwide PC shipments dropped 2.4 percent in the fourth quarter as demand from businesses for new machines waned, IDC said Jan. 12.
Smartphone shipments in China doubled in the past two years as the nation's 1.29 billion wireless users shifted from phones that can only handle voice calls and text messages to those able to surf the Web.
Device makers including Apple Inc., Samsung Electronics Co. and Xiaomi are expanding into cars and the home as the era of "hypergrowth" comes to an end in China's smartphone market, as Yang said in November. Samsung said last week that all of its products would be Web-ready within five years while Xiaomi unveiled an air purifier last month that sends pollution readings to mobile phones.
— With assistance by Edmond Lococo
Before it's here, it's on the Bloomberg Terminal.
LEARN MORE