Shire to Buy NPS for $5.2 Billion for Rare-Disease Drugs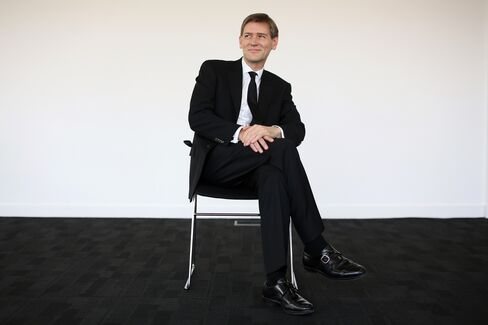 Shire Plc will continue buying companies after forging its biggest takeover, a $5.2 billion purchase of NPS Pharmaceuticals Inc. to add treatments for rare diseases.
"Given the amount of cash we generate and our ability to take on further debt, this does not put any restrictions of significance on our strategy to become a leader in the biotech area," Chief Executive Officer Flemming Ornskov said in a telephone interview yesterday. "Obviously that will require further M&A."
Shire is seeking to boost growth after its proposed $52 billion sale to AbbVie Inc. collapsed. The purchase is Ornskov's seventh since his appointment as CEO was announced in October 2012, including the $4.2 billion acquisition of ViroPharma Inc. to add a treatment for a rare swelling disease.
Shire, based in Dublin, said yesterday it will pay $46 a share in cash for NPS, a 9.8 percent premium to the closing price on Jan. 9. The offer is 50 percent more than Bedminster, New Jersey-based NPS's share price on Dec. 16, before news broke of Shire's interest. Both companies' boards have approved the transaction.
"They can take much more, they have a lot of scope," Guillaume van Renterghem, an analyst at UBS AB in Zurich, said today by telephone. "From a commercial point of view they can integrate a lot" because the company's sales representatives each sell only one or two products to doctors.
Complementary Products
Even so, the price for NPS was high and Shire may be better off buying products rather than entire companies to make integration easier, van Renterghem said.
NPS gives Shire Gattex, an approved treatment for short bowel syndrome, and Natpara, a drug for a rare and potentially fatal hormonal abnormality called hypoparathyroidism that is awaiting approval from the U.S. Food and Drug Administration. The regulator is scheduled to make a decision by Jan. 24.
"It ticks almost all the boxes," Ornskov said in the interview. "It's a strategic fit, growth enhancing, and we can afford it."
Shire fell 0.8 percent to 47.01 pounds in London, giving the company a market value of 27.7 billion pounds ($42.1 billion). The stock has climbed 26 percent since Oct. 16, when it plunged 28 percent in two days after AbbVie said it was reconsidering its offer. NPS rose 8.3 percent to $45.40 as of 12:26 p.m. in New York, the highest in 14 years.
Awaiting FDA
It was worth the risk to move ahead of the FDA's Natpara decision, Ornskov said. Shire's due diligence included looking at the correspondence with the FDA and, by moving early, Shire can also help with the drug's introduction, he said.
NPS "fits right into what Shire wants to do and where they have infrastructure," Stefan Quenneville, an analyst at Morningstar Inc., said in an interview.
Gattex will garner more than $300 million in sales in 2016, according to analysts' estimates compiled by Bloomberg, complementing Shire's existing stable of drugs for gastrointestinal diseases.
In biotechnology takeovers since the beginning of 2014, about one-third of the buyers paid a premium of 25 percent to 50 percent, according to data compiled by Bloomberg.
"It's a full price for two commercially unproven assets," Quenneville said.
Revisiting Plans
Ornskov had said in November that the company was revisiting some of the deals it was considering before AbbVie's abandoned takeover. Shire was considering a bid for NPS, Bloomberg News reported on Dec. 17, citing people familiar with the matter. Shire is based for tax purposes in Dublin, and Ornskov and other top executives work in Lexington, Massachusetts.
Acquisitions work best when they're in a treatment area "you know very well," he said, which for Shire includes rare diseases, gastrointestinal diseases and opthalmology, he said.
Natpara treats a rare disorder in which a diminished amount of parathyroid hormone causes calcium deficiencies, causing muscle pain, tingling, an inability to focus, and anxiety or depression. In extreme cases, it can cause seizures.
Shire's pipeline of experimental drugs will add $3 billion to revenue by 2020, and acquisitions may further boost sales, the company said on Dec. 10.
The NPS offer comes after Merck & Co.'s $8.4 billion agreement to buy Cubist Pharmaceuticals Inc., which had also been a potential target for Shire.
Shire said it will fund the NPS deal through its cash resources as well as existing and new bank facilities. The company received a breakup fee from AbbVie of $1.64 billion, giving it extra cash for takeovers. Before today, the shares had risen 63 percent in London in 12 months.
The purchase should add to non-GAAP earnings starting in 2016, Shire said. The company reported adjusted net income of $2.93 per American depositary share for the third quarter in October, beating analyst's estimates, while sales rose 32 percent to $1.6 billion. The drugmaker then raised its profit forecast a third time.
NPS reported an adjusted loss of 2 cents a share in the third quarter as sales climbed to $57.2 million.
Shire was advised by Citigroup Inc. and Lazard Ltd., as well as Davis Polk & Wardwell LLP and Slaughter & May. NPS worked with Goldman Sachs Group Inc., Leerink Partners LLC, and Skadden, Arps, Slate, Meagher & Flom LLP.
Before it's here, it's on the Bloomberg Terminal.
LEARN MORE