RBS Said to Weigh Sale of Asia Corporate Banking Business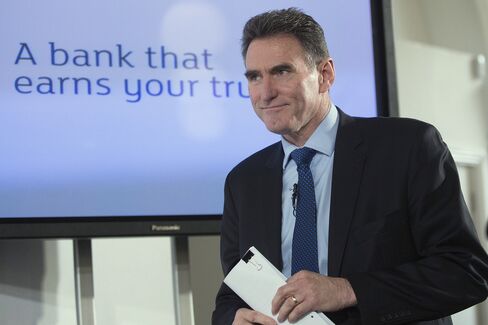 Royal Bank of Scotland Group Plc is looking to put most of its Asian corporate banking business up for sale, according to a person with knowledge of the discussions.
Chief Executive Officer Ross McEwan, 57, was scheduled to hold a series of meetings in Singapore today to consider ways to scale back the lender's Asian business, said the person, who asked not to be identified because the meetings are private. A spokesman for RBS in London declined to comment.
Since taking over in 2013, McEwan has been selling units and cutting jobs outside of the U.K. as he seeks to focus on the bank's domestic market to help reverse six straight annual losses. RBS said last month it's shutting its Japanese trading business after raising $3 billion in September selling shares in its U.S. subsidiary, Citizens Financial Group Inc.
"This is consistent with their strategic plan to scale back a number of geographies in which they operate," said Joseph Dickerson, an analyst at Jefferies International Ltd. in London, with a buy rating on the stock. "Outside of the U.K., the company will continue to operate in some markets where it feels like it can generate appropriate returns and isn't too much of a distraction for management."
RBS shares slipped 0.2 percent to 367.20 pence at 10:07 a.m. in London. They have gained about 2.7 percent over the past year, giving the lender a market value of 42 billion pounds ($64 billion). Lloyds Banking Group Plc, Britain's largest mortgage provider, slipped 12 percent over that period.
Job Cuts
RBS, based in Edinburgh, had 27 billion pounds of credit risk assets in the Asia-Pacific region at the end of June out of 551.6 billion pounds of global assets, according to the most recent data available in quarterly earnings reports.
The bank has about 2,000 employees in the Asia-Pacific region that could be affected, said the person with knowledge of the matter. RBS would probably keep some operations in Singapore offering clients dollar, euro and yen fixed-income products, the person added.
Any buyer wanting to purchase RBS assets across the region would need to hold an Indian banking license, the person said. Another option being discussed is selling assets by country.
Currency Fine
RBS has scaled back its corporate and institutional banking business, which houses most of the investment-bank activities, amid increasing regulatory pressures, with the division posting a 557 million-pound operating loss in the third quarter. The bank was fined $634 million by U.S. and U.K. authorities in November for rigging key foreign-exchange benchmarks.
The bank's Asia-Pacific corporate and institutional banking division is led by Pierre Ferland, who is responsible for a 10-country network offering clients foreign exchange, interest rates, fixed income, debt capital markets and transaction services, according to RBS's website. Ferland was appointed head of markets Asia Pacific in 2008 after heading RBS's financial institutions client coverage unit in London.
The 80 percent taxpayer-owned lender is seeking to focus on clients in its home market as McEwan plans to return RBS to full private ownership. The bank last year dismissed most of its team overseeing debt capital markets in central and eastern Europe, Middle East and Africa amid a review of operations outside the U.K.
McEwan has said he wants RBS to increase its U.K. assets to 80 percent from 60 percent of its global business. At the end of June, the bank had U.K. credit-risk assets of 302.8 billion pounds, accounting for 55 percent of total funds. North America was the second-biggest region with 101.3 billion pounds.
"If you look at their international corporate-banking business, it hasn't generated the highest of returns over the past couple of years," Jefferies's Dickerson said. "Given the fact that the U.K. government is the majority shareholder, it makes sense" to focus on the domestic market.
Before it's here, it's on the Bloomberg Terminal.
LEARN MORE