Netanyahu Says Israel Gives French Jews Haven From Terrorism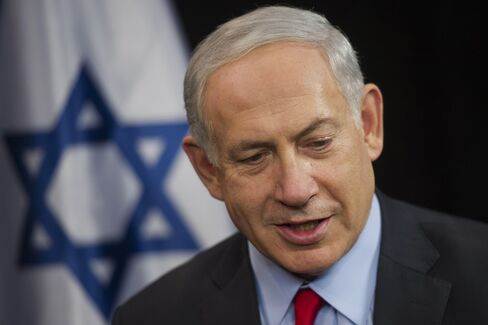 Israeli Prime Minister Benjamin Netanyahu offered sanctuary to French Jews who want to leave the country because of the threat of Islamic extremists, and arranged for those killed in a Paris kosher supermarket to be buried in Israel.
"You have the right to live secure and peaceful lives with full rights wherever you desire," Netanyahu told hundreds of French Jews at the Grand Synagogue in Paris, where he attended a memorial prayer service. He said French Jews have "the opportunity to join their brothers and sisters in the historic homeland of Israel."
Netanyahu earlier attended a march in Paris to condemn this week's attacks in the city, alongside French President Francois Hollande, Germany's Angela Merkel and other heads of government, as well as Palestinian President Mahmoud Abbas. Hollande visited the synagogue with Netanyahu.
Four Jews who were taken hostage at a kosher supermarket were among the 17 people killed by suspected Islamists in a series of attacks in Paris in the past week. France has the largest Jewish community in Europe, estimated by Israeli officials at 600,000.
French Jews have been moving to Tel Aviv, Jerusalem and other Israeli cities amid growing fears they are no longer safe at home. The numbers jumped from about 1,800 in 2012, the year a Muslim militant killed seven children and teachers at a Jewish school in the southwestern city of Toulouse, to almost 7,000 last year, according to Israeli government figures.
More Emigrants
Natan Sharansky, head of the quasi-governmental Jewish Agency that encourages immigration to Israel, accompanied Netanyahu to Paris and predicted that as many as 20,000 French Jews would move to Israel this year, double the forecast before last week's rampage.
The Israeli prime minister, who is seeking re-election in a March 17 vote, has made the dangers of radical Islamist movements a main theme of his Likud party's campaign. Netanyahu reversed an earlier decision to skip the Paris ceremonies on security grounds after political rivals announced they would attend.
The victims of the supermarket attack will be buried in Israel, tentatively on Jan. 13, at their families' request, Netanyahu's office said in an e-mailed statement.
Other Israeli politicians who traveled to France for today's events include Foreign Minister Avigdor Liberman of the Yisrael Beytenu party and Economy Minister Naftali Bennett of Jewish Home, both election rivals to Netanyahu.
"We are seeing images we hoped we wouldn't see again, of Jewish businesses being shuttered, of synagogues abandoned, of Jews scrambling to leave France," Bennett said in a statement after visiting the kosher market that was attacked.
Before it's here, it's on the Bloomberg Terminal.
LEARN MORE