U.S. Stocks Sink on Sliding Oil While Bonds, Gold Benefit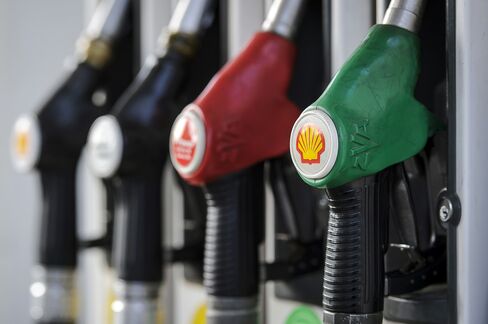 U.S. stocks fell, with energy producers leading declines as crude oil extended losses after Goldman Sachs Group Inc. cut its price forecasts. Treasuries and the yen advanced with gold amid demand for haven assets.
The Standard & Poor's 500 Index dropped 0.8 percent by 4 p.m. in New York, following two weeks of declines. Energy stocks sank 2.8 percent as U.S. oil slumped to a more than 5 1/2-year low of $46.07 a barrel, driving the Bloomberg Commodity Index to its lowest level since 2002. Yields on 10-year Treasuries lost four basis points to 1.91 percent. Copper declined to a five-year low, while gold futures climbed 1.4 percent to $1,232.80 an ounce. The yen gained versus most major counterparts.
Oil extended its descent into a bear market as Goldman Sachs predicted stockpiles of the commodity will increase in the first half, sending benchmark U.S. crude to $41 in three months time. Alcoa Inc. unofficially kicked off the U.S. reporting season, posting better-than-projected earnings after the drop in oil spurred analysts to lower forecasts for S&P 500 companies. Federal Reserve Bank of San Francisco chief John Williams said a June interest-rate increase was "reasonable."
"When you get the kind of one percent moves we've had in both directions, there's definitely still uncertainty out there and that's usually not the sign of a healthy market," Matt Maley, an equity strategist at Miller Tabak & Co. in Newton, Massachusetts, said by phone. "With earnings kicking off the question is going to be how much of the decline in energy company earnings is already priced in."
Alcoa Earnings
Alcoa, the largest U.S. aluminum producer, rose more than 1 percent in extended trading after reporting fourth-quarter profit that exceeded analysts' estimates amid rising demand for the industrial metal. The company is usually the first in the S&P 500 to report.
Profit at S&P 500 member companies probably climbed 2 percent in the last three months of 2014, according to the average analyst estimate compiled by Bloomberg. JPMorgan Chase & Co., Intel Corp. and Citigroup Inc. are among companies scheduled to report results this week.
In ordinary trading, Exxon Mobil Corp. and Chevron Corp. drove an S&P 500 gauge of energy shares to the lowest level since Dec. 16 as West Texas Intermediate crude fell for a second day, settling at its lowest price since April 2009. All but one of the of S&P 500 Energy Index's 43 members fell.
Goldman analysts reduced their three-month forecast for WTI, the U.S. marker crude, from $70, and said that Brent oil would drop to $42 from a previous prediction of $80 for the first quarter.
Goldman Forecast
Crude has to "stay lower for longer" if investment in shale is to be curtailed to re-balance the global market, according to Goldman. WTI slumped almost 50 percent last year, the most since the 2008 financial crisis, as a supply glut developed amid waning global demand.
Societe Generale SA also reduced its average price for U.S. crude for this year, to $51 a barrel from $65, according to a Jan. 9 report from Michael Wittner, the bank's New York-based head of oil research.
The Organization of Petroleum Exporting Countries is battling a boom in U.S. by resisting production cuts, signaling that it's prepared to let prices fall to a level that slows American output that's surged to the highest level in more than three decades.
While the Stoxx Europe 600 Index gained 0.6 percent today, European oil-and-gas producers slid 1.3 percent. An MSCI index of developing-nation energy companies fell 2 percent to pace losses in the broader stock gauge.
Market Swings
Volatility in the U.S. stock market has doubled in 2015 with oil and the S&P 500 moving up and down in lockstep every day since the year began. The biggest one-day declines in equities, including a 1.8 percent tumble on Jan. 5 and losses approaching 1 percent today and Jan. 6, occurred when WTI oil slid more than 4 percent.
Over longer periods the retreat in energy prices has failed to halt the S&P 500's upward progress and may be amplifying gains in industries where fuel is a significant cost.
The benchmark gauge for American equities has climbed about 3 percent since crude peaked while the Dow Jones Transportation Average has climbed twice as much. Southwest Airlines Co. posted the largest gain in the S&P 500 in 2014, rallying 125 percent, while the four worst-performing stocks in the index were in the energy sector.
Yields Slip
"Markets have been volatile because they still haven't made up their mind whether lower oil prices are positive for consumers and the overall world economy or whether it means more financial stress," Otto Waser, chief investment officer at R&A Research & Asset Management AG in Zurich, said by telephone. "This has been the tug of war between the two camps. We think it'll be positive for consumption. We're overweight in the U.S. this year."
Treasuries rose, pushing 10-year note yields to almost a three-month low, as tumbling oil prices crimp the outlook for inflation and fueled speculation the Fed may delay raising key rates from near zero.
The Fed's Williams, who votes on policy this year, said increasing borrowing costs in June would be a close call amid "strong momentum" in the labor market and weaker wage gains. Fed Chair Janet Yellen told reporters last month not to expect rate rises before the end of April, while data last week showed hourly earnings in the U.S. dropped the most in December since records began in 2006.
Commodity Slump
Futures on Gold advanced to a one-month high, touching $1,235.60 an ounce in electronic trading, on speculation that the Fed will be slow to lift rates in order to safeguard economic recovery. Contracts on silver and platinum also advanced.
The Bloomberg commodity gauge slid 1.7 percent today, to its lowest close since Nov. 21, 2002.
Copper for three-month delivery sank 1.2 percent in London to $6,017 a metric ton, after earlier reaching $5,966, its lowest level since October 2009. The metal hasn't posted a gain since Dec. 30.
China's copper consumption will grow at the slowest pace since at least 2010, Deutsche Bank AG predicts. At the same time, global economic growth will be the best in four years, economist estimates compiled by Bloomberg show.
The yen gained for a second day, adding 0.2 percent to 118.31 per dollar, while rising 0.5 percent against the euro. It rose the most versus the Brazilian real, surging 1.7 percent. The yen is regarded as a haven by some investors, along with gold and U.S. Treasuries.
Russia's ruble weakened 2.6 percent versus the greenback and the country's dollar-based RTS index of stocks slid 3.3 percent, while the Micex index was little changed.
Before it's here, it's on the Bloomberg Terminal.
LEARN MORE