Honda Fined Record $70 Million for Underreporting Injuries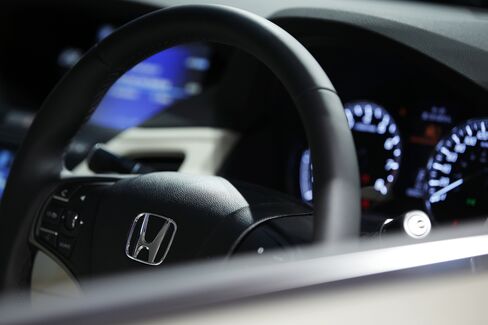 Honda Motor Co. agreed to pay a record $70 million in fines and submit to stricter oversight for failing to tell the U.S. government about warranty claims and more than 1,700 injuries and deaths linked to potential defects in its cars.
Automakers are required to report such information under a 14-year-old U.S. law, and Honda's violations may have hampered the National Highway Traffic Safety Administration's ability to quickly identify vehicle flaws.
"Honda and all of the automakers have a safety responsibility they must live up to -- no excuses," U.S. Transportation Secretary Anthony Foxx said in a statement today. "These fines reflect the tough stance we will take against those who violate the law."
Honda's violations came to light late last year as investigations into a global crisis over defective air bags cast doubt on the diligence of some automakers to tell the government about all potential product defects. In a synopsis of an internal review filed with NHTSA in November, the Tokyo-based automaker blamed its underreporting on "inadvertent data entry or computer programming errors" that spanned 11 years.
"We have resolved this matter and will move forward to build on the important actions Honda has already taken to address our past shortcomings in early warning reporting," Rick Schostek, Honda North America's executive vice president, said in a statement today. "We continue to fully cooperate with NHTSA to achieve greater transparency and to further enhance our reporting practices."
Civil Penalties
The civil penalties include two separate fines of $35 million, each the maximum allowable under U.S. law. One covers Honda's failure to report 1,729 death and injury claims to NHTSA from 2003 to 2014. The second fine covers lapses on completely reporting warranty claims and repairs offered under "customer satisfaction campaigns."
Honda shares rose 0.9 percent as of 9:15 a.m. in Tokyo trading, compared with the 0.5 percent gain in the benchmark Topix index.
The Center for Auto Safety, a watchdog group that in October pointed out gaps in Honda's injury-claims reporting, said a criminal investigation is still necessary. The Washington-based group cited the severe nature of the violations, which included cases involving exploding Takata Corp. air bags, a defect now linked to at least five deaths.
'Significant Step'
"This is a significant step forward for NHTSA," Clarence Ditlow, executive director of the Center for Auto Safety, said in an interview. "But $70 million is too small a price to pay."
NHTSA has been sharing information about its investigation with the Justice Department, which will decide whether the violations should result in criminal charges, Foxx said.
As part of the civil consent order with NHTSA, Honda will revise its regulatory compliance practices, improve personnel training and complete two outside audits on its data reporting, according to the U.S. statement.
The combined financial penalty exceeds NHTSA's previous record for a compliance violation by a single company, the $35 million imposed on General Motors Co. in May for mishandling the response to an ignition-switch defect.
NHTSA issued more fines in 2014 than at any time in its history -- $126 million -- showing it is taking a tougher stand on enforcement that is expected to continue, according to the regulator. The Honda agreement was signed just before the year ended and announced today.
Obey Law
"NHTSA will use every tool available to carry out its mission," Mark Rosekind, the agency's administrator, said. "We will be saying to the industry: obey the law, or pay a steep price."
Automakers face fines of $7,000 per violation per day for not abiding by the Transportation Recall Enhancement, Accountability and Documentation Act, which requires the companies to tell regulators about customer injuries, lawsuits, warranty claims and complaints. The maximum civil penalty is capped by Congress at $35 million.
The agency needs the ability to levy even higher fines, Foxx said. Legislation drafted by the Transportation Department would raise the cap for a single set of violations to $300 million.
Injury Claims
The number of injury-claim omissions Honda admitted to exceeded the 1,144 reports Honda filed over the 11-year period and in some cases involved the company not sharing with NHTSA information from police reports.
Eight of Honda's missing reports -- spanning from July 1, 2003, to June 30, 2014 -- involved Takata air-bag inflator ruptures, and NHTSA knew of those incidents, the company said in November.
Honda President Takanobu Ito said then the automaker didn't share the same understanding as authorities of its obligations under U.S. law. He said local management made many mistakes filing early-warning reports, which NHTSA relies on to help spot potential defects.
Honda said in October it had asked for a third-party audit of potential inaccuracies in its reports to NHTSA. The company decided in September to include verbal claims from owners or their representatives to make its reporting more consistent with other automakers, it said at the time.
Honda has said it has provided NHTSA detailed information relating to all known ruptures of Takata air-bag inflators.
GM, eager to demonstrate proactivity in the wake of the biggest recall in its history, disclosed 102 death and injury reports per 100,000 vehicles sold in 2014 through November. By contrast, Honda disclosed 2.4 reports per 100,000 vehicles sold over the same period.
Before it's here, it's on the Bloomberg Terminal.
LEARN MORE