United Attendants Say 13 Fired for Protesting 'Menacing' Jet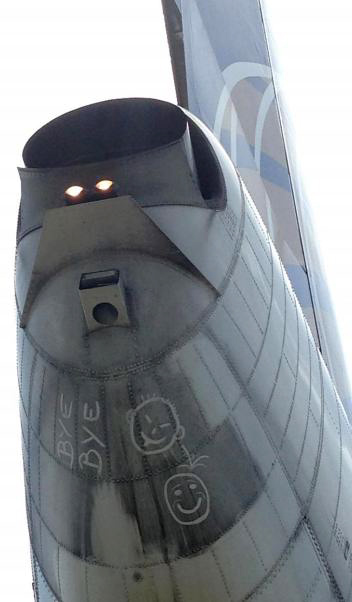 Thirteen former United Airlines flight attendants say they were improperly fired last year after refusing to work on a Boeing Co. 747 jumbo jet that had "menacing" images drawn below its tail.
The attendants say they had a right to disobey orders to make the July 14 San Francisco-to-Hong Kong trip after the words "bye bye" were found written in an oil slick on the fuselage, according to a complaint to the U.S. Occupational Health and Safety Administration. Two faces, one smiling and one "devilish," were drawn nearby, according to the complaint.
At issue is the extent to which the images represented a security risk, as alleged by the attendants. According to the complaint, the workers saw a "serious" threat, while United inspected an auxiliary power unit near the drawings, found nothing suspicious and trivialized the incident as a "joke."
United, a unit of United Continental Holdings Inc., vowed to "vigorously" contest the attendants' complaint and said its response to the case met internal standards and those set by the U.S. Federal Aviation Administration.
"Our flight operations, safety and maintenance teams appropriately investigated and determined there was no credible security threat," the Chicago-based airline said by e-mail. "All of FAA's and United's own safety procedures were followed, including a comprehensive safety sweep prior to boarding, and the pilots, mechanics and safety leaders deemed the aircraft entirely safe to fly."
Flight Canceled
United canceled Flight 869 after the crew declined to work the trip and terminated the employees in October after a series of hearings, according to the complaint.
When the images were discovered, the airline should have checked the entire jet, not just the auxiliary power unit, according to the complaint. The unit is a small turbine that drives a generator mainly for power on the ground.
With the 747 in a secured area of the airport and the graffiti on the tail about 30 feet off the ground, the images should have triggered a more-comprehensive reaction, according to the complaint. A pilot's suggestion to the crew that images were applied when the plane was in South Korea before arriving in San Francisco should have raised alarms about safety in that country, the attendants said.
"The flight attendants did not make a decision that United could not fly the plane," the attendants' attorney, David Marshall at Katz, Marshall & Banks LLP in Washington, said in a telephone interview. "They just decided that they were not going to endanger the passengers, themselves, the crew."
The attendants are seeking reinstatement of their jobs, back pay and compensatory damages, and are also pursuing grievances through the Association of Flight Attendants union, Marshall said. Katz, Marshall & Banks bills itself as a specialist in employee whistle-blower cases.
OSHA didn't immediately respond to telephone messages left for comment about the case.
Before it's here, it's on the Bloomberg Terminal.
LEARN MORE