Shell to Pay $83 Million Settlement for Nigeria Oil Spills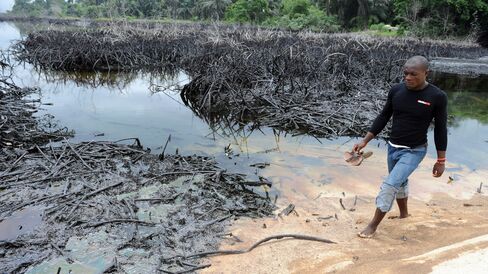 Royal Dutch Shell Plc agreed to pay compensation to thousands of residents of the Bodo community in Nigeria's crude-rich Niger River delta region for two "highly regrettable" oil spills in 2008.
Shell will pay a total of 55 million pounds ($83.3 million) with "an individual payment to each claimant who accepts the settlement agreement in compensation for losses arising from the spills," the Hague-based company said today in a statement. The settlement follows a three-year legal tussle between Shell and 15,600 Nigerians from Ogoniland, mostly fishermen, in a London court.
"From the outset, we've accepted responsibility for the two deeply regrettable operational spills in Bodo," Mutiu Sunmonu, managing director of Shell's Nigerian unit, said in the statement. "We've always wanted to compensate the community fairly and we are pleased to have reached agreement."
The compensation is split 35 million pounds for individuals and 20 million pounds for the benefit of the entire community. Earlier attempts to come to a settlement failed due to "grossly exaggerated" claims which exceeded 300 million pounds at one stage, Shell said.
Shell said it would soon begin work to clean up the spill sites after the agreement was reached.
Hundreds of spills occur every year in Nigeria, Africa's top oil producer and largest economy, damaging the environment and destroying the livelihood of fishing and farming communities in the delta region. Pipeline ruptures can be caused by corrosion, poor maintenance and equipment failure, as well as by thieves and saboteurs.
Faced Criticism
Shell, the biggest oil producer in Nigeria, has faced criticism from locals who say it pollutes the environment. In 2009, the company agreed to pay $15.5 million to settle U.S. lawsuits brought by Nigerians representing the delta's Ogoniland area. It denied wrongdoing as part of the settlement.
"While the pay-out is a long awaited victory for the thousands of people who lost their livelihoods in Bodo, it shouldn't have taken six years to get anything close to fair compensation," Audrey Gaughran, director of global issues at London-based Amnesty International, said in an e-mailed statement. "If Shell had not been forced to disclose this information as part of the U.K. legal action, the people of Bodo would have been completely swindled."
Martyn Day, the lawyer representing the claimants, said his clients agreed to the settlement after his team met 15,400 of them following a provisional deal with Shell. While delighted for his clients, it is "deeply disappointing" that for six years Shell didn't recognize the true extent of the damage caused by the spills, Day said today in an e-mailed statement.
"We hope that in future Shell will properly consider claims such as these from the outset and that this method of compensation, with each affected individual being compensated, will act as a template for Shell in future cases in Nigeria," he said.
Before it's here, it's on the Bloomberg Terminal.
LEARN MORE