Paris Killings Show Rise of Banned French 'Weapons of War'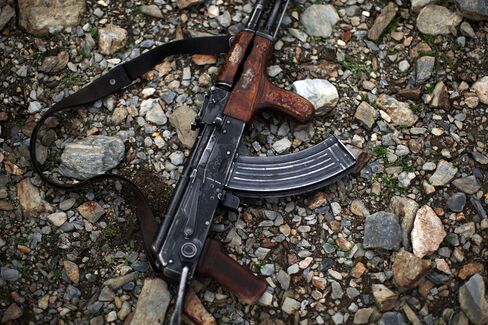 The masked, black-clad killers whose Paris attack on the offices of Charlie Hebdo today took 12 lives were carrying Kalashnikov AK-47 assault rifles. The scary thing in France, where gun-control laws are far stricter than in the U.S., is that their weapons choice wasn't surprising.
Semi-automatic and automatic firearms are banned, but that hasn't stopped drug dealers and terrorists from acquiring them in increasing numbers, according to the National Observatory for Delinquency, a state body created in 2003 by then-Interior Minister and later President Nicolas Sarkozy. The numbers of illegal weapons in France have increased by double digits for years, the body says.
"The French black market for weapons has been inundated with eastern European war artillery and arms," said Philippe Capon, the head of UNSA police union. "They are everywhere in France." AK-47s sell for 1,000 euros ($1,181) to 1,500 euros on the black market, he said.
Two attackers killed at least 12 reporters and police officers at the headquarters of the satirical weekly magazine, which has often portrayed religious leaders including Prophet Muhammad.
Eight journalists, two police officers, a guest and a maintenance man were killed, Paris Prosecutor Francois Molins said. Amateur video footage showed a perpetrator chasing a wounded victim in the street with an AK-47, then shooting him dead.
"It was well-armed commandos that had a task to do," said Emmanuel Quemener from the police union Alliance. "They had weapons of war, including Kalashnikovs. We've never seen anything like it."
U.S. Laws
The issue has poignancy in the U.S., where Adam Lanza used an American-made semi-automatic rifle known as an AR-15 to kill 20 children and six adult educators in Newtown, Connecticut, in December 2012. The gun had been legally acquired.
Semi-automatic military-style rifles, including the AK-47, are widely and legally available in the U.S. Equipped with large-capacity magazines, such rifles can fire scores of rounds in a minute or two. AK-47s have been used in American mass killings in Omaha, Nebraska, and Wakefield, Massachusetts, in recent years.
Civilians in France aren't allowed to possess military-style weapons unless they are a certified collector. Permits are required for hunting rifles and handguns and a background check is part of the process.
Military Weapons
Still, at least a dozen people were killed in 2014 in shootings with AK-47 rifles, in cities including Marseille, Toulouse and Istres. Police have seized military weapons such as Kalashnikovs and also the Israel-made Uzi automatic rifle, Capon said.
Weapons of that lethality began to surface in 2007, during riots in the Paris suburb of Villiers-le-Bel. While the rioters mainly used hunting rifles and shotguns against the 1,000 policemen seeking to control them, some used AK-47s, Capon said. The riots left 130 officers injured.
The Figaro newspaper reported in 2012 that the French police estimated that 4,000 "war weapons" were circulating illegally in France, citing unnamed police sources.
Such arms are relatively easy to procure in France, Rene-George Querry, the former head of anti-terrorism unit Uclat, said on BFM Television: "With all these conflicts around the world, they circulate pretty widely."