Eating Avocados Daily May Be Good for the Heart, Study Shows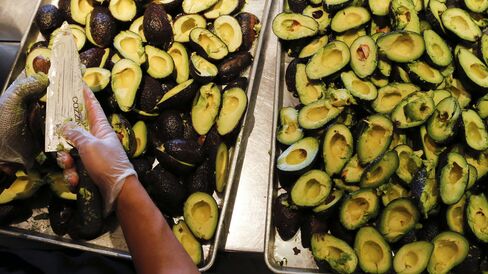 Guacamole lovers take note: Eating avocados daily along with a healthy diet may be good for your heart, new research found.
Those who ate an avocado along with a cholesterol-lowering, moderate-fat diet reduced their so-called "bad" cholesterol by 10 percent compared with people on an average American diet, according to an industry-funded study today in the Journal of the American Heart Association.
Consumers sometimes shy away from the fruit because they are high in calories. Yet eating an avocado, which contains about 200 calories, instead of the average 180 calories in desserts Americans consume daily helps replace saturated fats that can raise heart attack and stroke risks with healthier unsaturated fats, said senior study author Penny Kris-Etherton.
"Even though 200 calories is an appreciable amount, there certainly is room in the U.S. diet for these nutrient-dense foods that are high in calories if Americans take out all those empty calories they are eating," Kris-Etherton, a professor of nutrition at Pennsylvania State University in State College, said in a telephone interview. "If you're going to have a diet high in mono-unsaturated fats, include some avocados."
It's unclear why cholesterol was lowered in those who consumed avocados, she said. Researchers are uncertain if the benefit is unique to the avocado or if it's similar to the heart-healthy effects seen in nuts and other plant foods.
One-a-Day
Today's study, the first to examine the avocado's benefit on heart health, was funded by the Hass Avocado Board, which didn't have a role in the design of the study, the interpretation of the data or approval of the paper, the authors said. Kris-Etherton, head of the American Heart Association's Nutrition Committee, is also a member of Hass's Avocado Nutrition Science Advisors group.
Researchers in the study included 45 people ages 21 to 70 who were overweight or obese yet otherwise healthy. For two weeks, they consumed an average American diet with about a third of calories coming from fat. They were then assigned to one of three cholesterol-lowering diets -– a moderate-fat diet with and without a daily avocado where 34 percent of calories came from fat, including 17 percent from mono-unsaturated fats, and a low-fat diet where 24 percent of calories came from fat, including 11 percent from mono-unsaturated fats.
After five weeks on the moderate-fat or low-fat diets, the researchers compared participants' cholesterol levels. They found that those on the moderate-fat diet who ate an avocado daily benefited the most in lowering their low-density lipoprotein (LDL), or bad cholesterol. Those on the moderate-fat diet that didn't eat an avocado daily reduced their LDL cholesterol by 5.8 percent, while those on the low-fat diet lowered it by 5.3 percent, Kris-Etherton said.
Popularity Growing
Hass avocados, which are the most commonly eaten variety in the U.S., were used in the study. They have bumpy green skin that turns black as it ripens. They differ from Florida avocados, which are larger and smoother.
More than 1.85 billion pounds of Hass avocados were consumed in the U.S. last year, up 10 percent from 2013 and almost triple from 2004, according to Emiliano Escobedo, executive director of the Irvine, California-based Hass Avocado Board, in an e-mail.
Avocados aren't a mainstream food in the U.S., and they can be expensive, especially at certain times of the year, Kris-Etherton said.
Retail prices for Hass avocados rose to an average $1.25 each as of Dec. 19, up from $1.23 a year earlier, according to the U.S. Department of Agriculture.
"Most people do not really know how to incorporate them in their diet except for making guacamole," which is typically eaten with calorie- and sodium-laden corn chips, Kris-Etherton said.
She recommended eating the fruit with salads, vegetables, sandwiches, lean protein foods or by itself.
Before it's here, it's on the Bloomberg Terminal.
LEARN MORE