Kaisa Raises Who's Next Query as Chief Exits Hurt: China Credit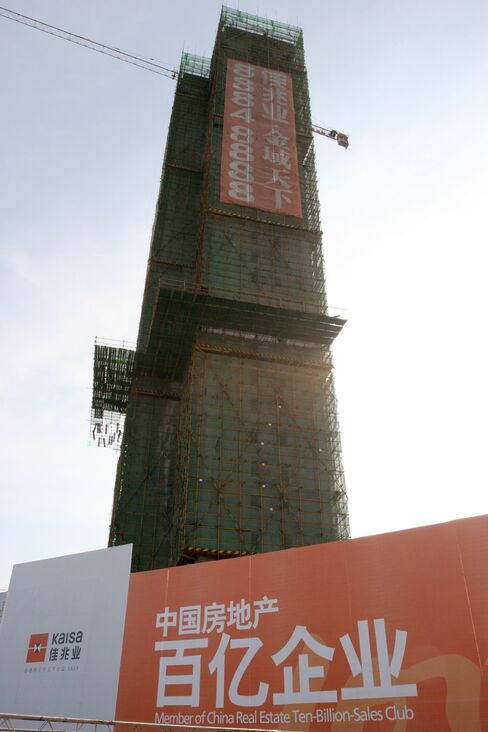 The loan default by Kaisa Group Holdings Ltd., after the second surprise exit of a Chinese property tycoon in six months, is prompting investors to ask who's next.
The 2019 notes from the builder, based in the southern city of Shenzhen, have tumbled 38.4 cents on the dollar to a record low of 25.3 cents, after the resignation of the developer's chairman triggered a loan default Dec. 31. The perpetual securities of Agile Property Holdings Ltd. dropped 17 cents to 67 since its billionaire chairman was placed under control of prosecutors in September before being released last month without details of the detention.
China's junk dollar notes have lost 3.9 percent in 2015, the worst start to a year ever in Bank of America Merrill Lynch indexes, after Kaisa Chairman Kwok Ying Shing resigned days after two other executives left their positions. Developers that rely on personal relations in securing land from the government are among the most at risk from President Xi Jinping's local-government financing shakeup and anti-graft drive.
"You never know where the skeletons in the closet are or what company will be next," said Charles Macgregor, head of Asia high-yield research at Lucror Analytics Pte, the Singapore-based independent credit researcher focused on high-yield markets. "There's always been a bit of a corporate-governance premium on Chinese developers and that will increase because of the latest challenges."
Glorious Property
In February, Glorious Property Holdings Ltd.'s chief executive and chief financial officer quit after shareholders rejected billionaire Zhang Zhirong's move to take the builder private. The company's 2018 notes slid for four straight months through May, and remain down at 68 cents on the dollar.
Agile Chairman and founder Chen Zhuolin was released in December after being held under house arrest in the southern city of Kunming since Sept. 30, according to company filings. He never surrendered his title during that period. Agile has no immediate comment on its bond prices or the reason for the chairman's detention, said James Wong, an outside consultant for the company at IPR Ogilvy & Mather in Hong Kong.
Kaisa, which had said on Dec. 10 that Kwok would resign for health reasons at the end of December, will make an announcement regarding its debt situation at the right time and won't reply to media requests for comments, Heng Tam, an outside consultant in Hong Kong also at IPR Ogilvy & Mather, said by phone.
Projects Blocked
In an exchange filing today, Kaisa denied unspecified news reports that it had passed a resolution in relation to winding up and restructuring the group. A report in China Business News yesterday citing an unidentified person familiar with the matter said Kaisa's board decided to seek bankruptcy and restructuring.
Kaisa said in a Dec. 21 filing that pre-sales at four projects in Shenzhen were blocked and hadn't received notification from authorities despite enquiries. The developer also said routine applications for licenses, permits and approvals for eight projects in the city hadn't been accepted.
The company's management didn't give convincing explanations for the blocks, analysts led by Hugo Hou at Haitong International Securities Co. wrote in a Dec. 22 report.
Coupon Eyed
After failing to repay a HK$400 million ($51.6 million) loan from HSBC Holdings Plc on Dec. 31, a deadline triggered by the chairman's resignation, investors are waiting to see if the builder makes a coupon payment on its 2020 notes tomorrow.
Failure to do so could mark the first default by a Chinese developer in the offshore bond market. Last March, Shanghai Chaori Solar Energy Science & Technology Co. became the first entity to default in the Chinese onshore note market.
"This year, aside from the usual worries about refinancing risk, we face the challenge of assessing the impact of a government clampdown on corruption and dealing with idiosyncratic risks," said Raymond Chia, Singapore-based head of Asia credit research at Schroder Investment Management Ltd. The firm had $447.7 billion under management as of Sept. 30.
China's economic growth will cool to 7 percent this year from an estimated 7.4 percent in 2014, according to analysts surveyed by Bloomberg, the slowest in more than two decades.
Policy Support
China's central bank cut interest rates for the first time since 2012 last year to help support developers. New-home prices fell in 67 of 70 cities in November after the government also eased property curbs, down from 69 the previous month.
Some property bonds have rallied amid the government support. The 2024 notes of Wanda Properties International Co., part of Dalian Wanda Group owned by billionaire Wang Jianlin, marked a record of 112.4 cents on the dollar on Dec. 8 and remain near that level at 111.3. The 2019 securities of China Vanke Co., the nation's biggest listed developer by sales, are at 103.9 cents, near the record 104.3 reached Nov. 28.
The bright spots haven't kept average borrowing costs in the industry from increasing. The premium on Chinese high-yield debt over Treasuries reached a more than two-year high of 1040 basis points on Jan. 6, according to the Bank of America index.
"We are not constructive" on Chinese property bonds, said Michael Ganske, London-based head of emerging markets at Rogge Global Partners Plc. His firm manages $55 billion bonds globally. "It's just an overheated sector and probably one of the main weaknesses in the Chinese economy."
Before it's here, it's on the Bloomberg Terminal.
LEARN MORE