Gold Rises to Three-Week High With Silver as Europe's Woes Mount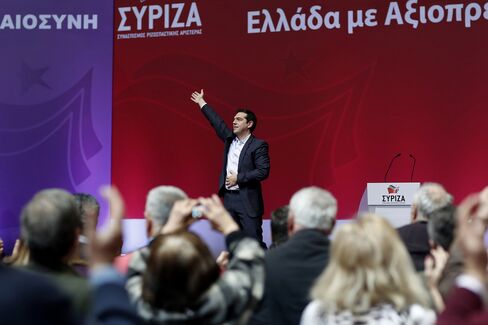 Gold and silver futures rose to three-week high weeks after Europe's economic concerns mounted, spurring demand for the precious metals as a haven.
A gauge of euro-area services and manufacturing signaled growth slowed in the final quarter of 2014, and the euro extended losses versus the dollar amid Greek opposition to austerity measures that may prompt the country's exit from the currency bloc. Money managers raised bullish wagers on gold for the first time in three weeks, U.S. government data showed.
The metal has climbed 7.9 percent from a four-year low in November on political turmoil in Greece and speculation that governments from Europe to China will bolster economic stimulus. Yesterday the U.S. Mint sold 42,000 ounces of gold coins, compared with 18,000 ounces in all of December.
"Europe's woes are bringing in some investors to gold," James Cordier, the founder of Optionsellers.com in Tampa, Florida, said in a telephone interview. "We will probably see more people move into gold as a risk-off trade."
Gold futures for February delivery climbed 1.3 percent to settle at $1,219.40 an ounce at 1:54 p.m. on the Comex in New York. Earlier, the price reached $1,223.30, the highest for a most-active contract since Dec. 16. The metal rose for the third straight session, the longest rally since Dec. 19. Aggregate trading was 36 percent more than the 100-day average, according to data compiled by Bloomberg.
'Greek Uncertainty'
"The metal is in demand as traders want to hedge their position against Greek-exit uncertainty," Naeem Aslam, the chief market analyst at Ava Capital Markets Ltd. in Dublin, said in an e-mail. While the chances of Greece leaving the euro zone are "very slim," investors "do not want to put themselves under a situation where they are not hedged," he said.
In 2014, gold posted a consecutive annual decline for the first time since 1998 as oil prices slumped and inflation remained muted amid bets that the Federal Reserve will raise U.S. interest rates.
The Fed won't raise rates until late this year "if at all" as declining oil prices and a stronger dollar limit room to increase borrowing costs, Bill Gross, the former manager of the world's largest bond fund, said yesterday in an outlook published on the website of Janus Capital Group Inc.
Silver futures for March delivery advanced 2.6 percent to $16.637 an ounce on the Comex. The price reached $16.74, the highest since Dec. 15.
On the New York Mercantile Exchange, platinum futures for April delivery rose 0.9 percent to $1,221.40 an ounce. Earlier, the price reached to $1,230, the highest since Dec. 15.
Palladium futures for March delivery rose 0.9 percent to $800.40 an ounce, ending a five-session slump.
Before it's here, it's on the Bloomberg Terminal.
LEARN MORE