Ferrari Spinoff Sets Up Fiat Chrysler for Another Deal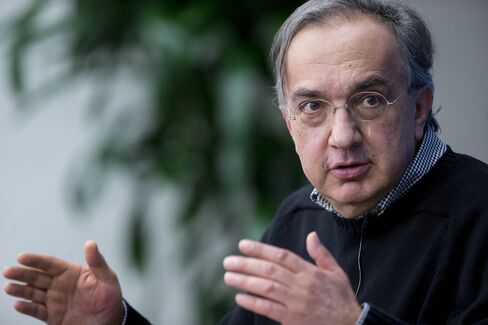 Sergio Marchionne, the architect of the auto industry's biggest deal in more than a decade, may not be finished yet.
Even as he completed the merger of Fiat SpA and its U.S. Chrysler unit last year to create Fiat Chrysler Automobiles NV, Marchionne said the industry is still fragmented and ripe for further consolidation. His planned spinoff of Ferrari this year puts the $14 billion automaker into position for another combination that could form a group to vie with No. 1 Toyota Motor Corp. or help address shortcomings in Asia.
Manufacturers are under pressure to join forces amid slowing growth and rising costs to develop cleaner cars and add automated driving functions and smartphone-like technology. By lowering debt with the cash raised from cutting loose Ferrari, Fiat Chrysler becomes a more attractive partner. The spinoff also gives Marchionne more leeway to set up a transaction by ensuring the Agnelli family, Fiat Chrysler's biggest shareholder, retains control over supercar-maker Ferrari.
While the Agnellis want to keep Ferrari, they would probably be "open to strategic combinations that will reduce, or eliminate, their stake" in Fiat Chrysler, said Max Warburton, a Singapore-based analyst with Sanford C. Bernstein & Co.
Suitable Partners
Volkswagen AG, Ford Motor Co. and General Motors Co. all fit criteria that Marchionne outlined last year for a suitable partner, while Mazda Motor Corp. and Suzuki Motor Corp. could be viable Asian merger candidates, analysts and investors said.
"There's room for megadeals in the car industry in the medium term as carmakers will be forced to share development costs," said Stefano Aversa, managing director of strategy consultancy AlixPartners in London. "No carmaker can sustain the investment needed alone, not even the biggest ones."
By announcing the Ferrari spinoff just days after completing the Fiat-Chrysler merger in October, Marchionne, a self-proclaimed corporate "fixer," signaled he may be open to another deal down the road. With the 62-year-old chief executive officer planning to stay at the helm to complete a strategic plan that runs to 2018, he's still got time to consider a transaction.
"I've always had the view that this industry over the middle to long term needs to look at other consolidation opportunities," Marchionne said in November after speaking at an event at Fiat's test track in Balocco, Italy, where the CEO is known to take his own Ferraris on high-speed jaunts. "Eventually it must happen."
The spinoff of Ferrari is part of Fiat Chrysler's efforts to raise about $5 billion to cut debt. The company also issued shares and convertible bonds last month.
Agnelli Stake
The Agnellis invested $886 million in Fiat Chrysler's convertible bond offering to maintain their stake and have no plans to sell. Still, the family would consider a dilution to facilitate the creation of a bigger group, John Elkann, chairman of the automaker and descendant of Fiat founder Giovanni Agnelli, said in a Sept. 30 interview with Marchionne in Balocco outside of Turin.
A representative for Exor, the Agnelli family's holding company, said there was no change in its position. A representative for London-based Fiat also declined to comment further.
Ford Affinities
Marchionne and Elkann said in the Sept. 30 interview that Fiat Chrysler is now strong enough on its own and didn't need another deal. Still, they outlined an ideal partner for the company. That would be an automaker that's global and not too exposed to the European market, while being culturally compatible with the Italian-American company. That could put Ford at the top of the wish list.
"Ford has been the North Star for Fiat ever since Fiat's founder Giovanni Agnelli visited Detroit in the 1910s," said Giuseppe Berta, a professor at Bocconi University in Milan and the former head of Fiat's archives. "There are distinct affinities between Fiat and Ford."
Susan Krusel, a spokeswoman for Dearborn, Michigan-based Ford, said the $57 billion automaker has "no plan or interest" other than focusing on its current business plans. Ford isn't interested in owning Fiat Chrysler, said a person familiar with the company's thinking.
Volkswagen Fit
Other analysts see Volkswagen, with its European roots and large operations in China, as an easier fit. Even if there has been public sparring between Marchionne and VW Chairman Ferdinand Piech, the $99 billion German automaker's portfolio ranging from mass-market Skoda compacts to upscale Audi sedans and Porsche sports cars serves as a model for Fiat Chrysler's multibrand strategy. With VW struggling to gain market share in the U.S., the Chrysler, Dodge and Jeep nameplates could be appealing, and Piech has long expressed interest in Alfa Romeo.
"VW would be the most likely hypothesis, given VW is relatively underexposed in North America," said George Galliers, an analyst with Evercore ISI in London. "I don't see either Ford or GM as buyers."
In July, Fiat was linked in media reports to mergers or deals with Volkswagen and France's PSA Peugeot Citroen. The Italian carmaker denied at the time that any discussions were going on. A representative for Wolfsburg, Germany-based Volkswagen said yesterday that takeovers aren't on its agenda as the automaker focuses on improving efficiency internally, reiterating a company statement from July.
While Fiat Chrysler has emerged as the world's seventh-largest automaker after the merger, its appeal to competitors may be limited. The company lacks sizable operations in growth markets such as China and India, with its main strength in the mature and competitive U.S. and European markets.
"Fiat Chrysler is neither attractive nor rich enough to attract anyone better than a desperate castoff," said Erik Gordon, a business professor at the University of Michigan. "The next conquest won't be so easy."
Big Ambitions
Still, Marchionne, who has long professed that only a handful of big carmakers will survive long term, is pushing for expansion. He's set the goal of boosting Fiat Chrysler's deliveries by 60 percent to 7 million cars by 2018. The plan is underpinned by 48 billion euros ($57 billion) of investment to add more Jeep, Alfa Romeo and Maserati models that could be sold worldwide. Making progress on that effort would strengthen his hand in any negotiations.
Fiat Chrysler yesterday said U.S. vehicle sales climbed 20 percent in December, the 57th consecutive month of rising sales with Marchionne at the helm.
Marchionne, who studied philosophy before getting into business, has a tendency to think big and set ambitious targets.
Aiming low would be "to establish mediocrity as a benchmark of the house," he said in the September interview. "If you dream of peanuts, you get monkeys."
Before it's here, it's on the Bloomberg Terminal.
LEARN MORE