Bill Gross Calls It: 2015 Is Going to Be Terrible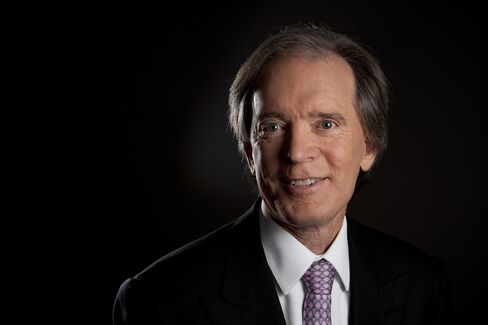 (Corrects Pacific Investment Capital Management Co.'s full name in the third paragraph.)

Bill Gross, bond king, ousted executive, self-styled poet of the markets, has a bold, depressing prediction for 2015, and he's not couching it in any of his usual metaphor: "The good times are over," he wrote in his January investment outlook note. By the end of 2015, he goes on, "there will be minus signs in front of returns for many asset classes."
Gross is putting himself way out on a limb: Not one of Wall Street's professional forecasters predict the S&P 500 will drop in 2015. Their average estimate calls for an 8.1 percent rise. And while the global economy looks weak, the U.S. has been heating up, with GDP up 5 percent in the third quarter.
These gloomy predictions come without Gross's usual colorful commentary. At Pacific Investment Capital Management Co., his monthly notes made reference to Flavor Flav and Paris Hilton. Since leaving for Janus Capital Group in September, he's riffed on domestic violence in the NFL, the "porosity" of sand and the joys of dancing with his wife.
This month, Gross is almost all business. The trouble for the world's economy is that ultra low interest rates are holding back growth rather than stimulating it, he warns. After years of rising markets, investors are facing too much risk for the prospect of low returns. "The time for risk taking has passed," he writes.
Gross admits he's taking his own risk with this call. Even if he's completely right that the bear market is over, he could very well be a year or two early. And even if he's right about economic growth, he could be wrong about how the market reacts to it.

Gross advises buying Treasury and high-quality corporate bonds – but they could be hurt if U.S. interest rates rise this year. He also puts a word in for stocks of companies with low debt, "attractive dividends and diversified revenues both operationally and geographically." But as Causeway Capital Management's Sarah Ketterer warned, those high-quality dividend payers have already soared and could have trouble meeting expectations in the next few years.
Gross has been wrong before, most famously in his predictions that bond yields would rise when the Federal Reserve ended quantitative easing. But maybe this time he sees something other market observers don't. As Gross writes, deploying the commentary's only off-color metaphor: "There comes a time when common sense must recognize that the king has no clothes, or at least that he is down to his Fruit of the Loom briefs."
Before it's here, it's on the Bloomberg Terminal.
LEARN MORE