American Apparel Adds Sex-Harassment Rules After Firing CEO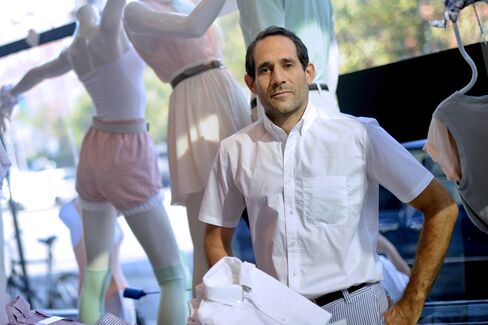 American Apparel Inc., which fired controversial founder Dov Charney as chief executive officer last month for alleged misconduct, strengthened rules to prevent sexual harassment among its employees.
Managers and subordinates are now prohibited from having romantic relationships, including dating casually, according to the new ethics code on the Los Angeles-based company's website. At about 6,200 words, the new code is more than four times as long as its predecessor.
American Apparel is working to get a fresh start after officially firing Charney on Dec. 16, ending a six-month saga that began when the board suspended him in June for misconduct. In removing Charney, the directors said he violated the chain's sexual-harassment policies and improperly bought travel for family members with company funds. While Charney declined to comment today, his lawyer has called the allegations "baseless."
Even before the board moved to oust him, Charney had been sued multiple times for sexual harassment. The cases were either dismissed or sent to private arbitration with the results unknown.
The new conduct rules came after the board revamped the company's management. Clothing-industry veteran Paula Schneider was chosen as CEO last month and officially took the post yesterday. The chain brought in Hassan Natha as chief financial officer and Chelsea Grayson as general counsel.
American Apparel also named Colleen Brown, who joined the board in August, as chairman. The moves represent a shift for a company that had no women on its board before last year.
Buyout Proposal
Charney hasn't given up his push to return to American Apparel in some capacity, according to a person familiar with the situation. He has been working with private-equity firm Irving Place Capital, which offered to buy the company for as much as $1.40 a share, the person said. The retailer last month acknowledged receiving the buyout proposal but said it's focused on reviving its business. The board views the Irving Place bid as significantly too low for a retailer on the verge of a comeback, a person with knowledge with the matter has said.
The new ethics code also includes an entire section titled "Fair Treatment of Employees" that says the company won't tolerate discriminatory slurs against employees. In the company's termination letter to Charney on June 18, it alleged that he made such remarks.
American Apparel fell 6.8 percent to about 92 cents at 2:57 p.m. in New York. The shares slid 16 percent last year.
Before it's here, it's on the Bloomberg Terminal.
LEARN MORE