A Swarovski-Encrusted Fitness and Sleep Tracker: The Gadget You Didn't Know You Needed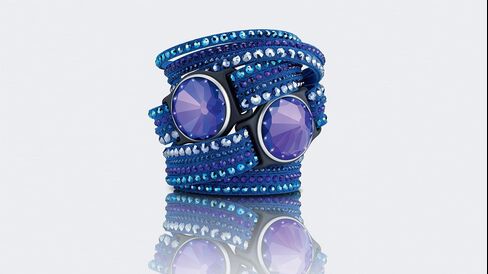 If you'd told me on my flight to the International Consumer Electronics Show (CES) that I was going to be hunting down a wearable that involved giant crystals, I'd have asked how many plastic bottles of Absolut you'd polished off. But, here I am, in a sea of brushed steel and Gorilla glass, and what I'm telling you about is Swarovski. Go figure.
The Swarovski Shine is a collaboration between the 120-year-old crystal maker and wearable brand Misfit. The core of the collaboration is a fitness and sleep tracker that is technologically identical to Misfit's standard Shine tracker—but with a large clear crystal on top. This will hit a limited number of Swarovski retailers in China, Hong Kong, and the U.S. by the end of March, though pre-orders are now available in the U.S. only.
In addition to the tracker itself, there are nine different "settings" for the Swarovski Shine, including suede wrap bracelets, pavé crystal pendants, and a crystal-studded wristband. The ability to wear the tracker on the wrist, on a necklace, or in a number of other positions has been an offering of the Misfit Shine from the beginning, so a collaboration with a major jewelry maker was only a matter of time.
Solar Power
If you're willing to wait for the sunnier days of 2015, there will be a second variation on the Swarovski Shine that will not be available until later in the second quarter. Instead of having a replaceable battery that lasts approximately 8 months, the violet Swarovski Shine is solar-charged and can run for days on 10-15 minutes of exposure.
Oddly enough, the technology company could not solve the solar charging problem without the aid of the jeweler—the large crystal's facets act as reflectors, creating the optimal angle of incidence for ambient light to the hit the solar cell hidden underneath. Without the crystal to focus the light, the cell is not efficient enough to keep the Shine running. Misfit founder Sonny Vu told me that, sadly, those of us looking for a more ... um … "understated" solar option might be waiting a very long time.
The Swarovski Shine is available in three starter kits ($169.99 to $249.99), each with a piece of jewelry, the Shine itself, and a silicone wristband for active use (these are still water resistant to 50 meters). The jewelry pieces can be purchased individually as well ($69 to $149).
Before it's here, it's on the Bloomberg Terminal.
LEARN MORE