Oilfield Writedowns Loom as Crude Slump Guts Drilling Values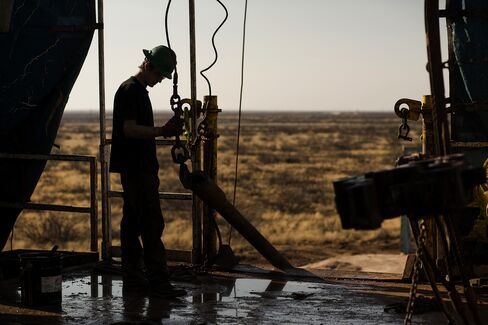 Tumbling crude prices will trigger a flood of oilfield writedowns starting this month after industry returns slumped to a 16-year low, calling into question half a decade of exploration.
With crude prices down more than 50 percent from their 2014 peak, fields as far-flung as Kazakhstan and Australia are no longer worth pumping, said a team of Citigroup Inc. analysts led by Alastair Syme. Companies on the hook for risky, high-cost projects that don't make sense in a $48-a-barrel market include international titans such as Royal Dutch Shell Plc and small wildcatters like Sanchez Energy Corp.
The impending writedowns represent the latest blow to an industry rocked by a combination of faltering demand growth and booming supplies from North American shale fields. The downturn threatens to wipe out more than $1.6 trillion in earnings for producing companies and nations this year. Oil explorers already are canceling drilling plans and laying off crews to conserve cash needed to cover dividend checks to investors and pay back debts.
"The mid-cap and small-cap operators are going to be hardest hit because this is all driven by their cost to produce," said Gianna Bern, founder of Brookshire Advisory and Research Inc., who also teaches international finance at the University of Notre Dame.
Shares Slump
All of the 43 U.S. oil and gas companies in the Standard & Poor's energy index declined today as of 4:37 p.m. in New York, bringing the combined loss for the group to 23 percent since crude began its descent from last year's intraday high of $107.73 a barrel on June 20.
Oil dipped to $47.55 a barrel today in New York, the lowest since April 2009. The decline represents a $4.4 billion drop in daily revenue for oil producers, which equates to $1.6 trillion on an annualized basis, Citigroup researchers led by Edward Morse said in a Jan. 4 note to clients.
The oil-market rout is exposing projects dating as far back as 2009 that were either poorly executed or bad ideas to begin with, Syme's team said in a note to clients. Shell, Europe's largest energy producer, may have as much as 5 percent of its capital tied up in money-losing projects. For U.K.-based BG Group Plc, the figure could be as high as 8 percent, according to the Citi analysts.
Exploration Companies
The biggest swath of asset writedowns probably will happen among so-called exploration and production companies, or E&Ps, a group that includes Sanchez, Matador Resources Co. and Clayton Williams Energy Inc., Bern said. That universe of explorers doesn't have the same financial might as bigger producers such as Marathon Oil Corp., Bern said.
Houston-based Sanchez fell 12 percent Jan. 5 in New York trading, bringing its one-year decline to 66 percent. Clayton Williams, based in Midland, Texas, declined by 7.8 percent.
Matador, which lost 8.5 percent of its value yesterday, said today it will halt drilling in the Eagle Ford shale formation in south Texas and postpone its annual analyst presentation to Feb. 5 from Jan. 15 to allow more time to evaluate capital spending plans.
"Impairments are unavoidable," said Mark Sadeghian, an energy-industry analyst at Fitch Ratings Ltd. in Chicago.
Declining Worth
The writedowns that occur will be in the form of asset impairment charges related to the declining worth of specific oilfields, rather than wholesale reductions in proved reserves, Sadeghian said. Investors are less inclined to punish oil companies for impairment charges than they would for a drop in reserve volumes, said Gabriele Sorbara, an analyst at Topeka Capital Markets Inc. in New York.
Citi expects Brent crude, an international crude benchmark, to average $62 this year, cutting earnings per share for major oil companies by an average of 29 percent through 2017 and increasing pressure to postpone some drilling.
For the biggest U.S. and European petroleum producers, return on equity -- a measure of how profitably earnings are reinvested -- has fallen to an average of 7.5 percent, the lowest since the fourth quarter of 1998, according to Syme's team.
That's triggering a cascade of spending cuts from Dallas to London that could boost return-on-equity for the group to an average of 11.5 percent within three years, Syme's group said.
'More Shuttering'
The oil industry may cut spending on offshore platforms, refinery upgrades and other capital projects by 20 percent this year, according to Sanford C. Bernstein analyst Oswald Clint in a Jan. 5 report. This will mean less funds for refining and "more shuttering of underperforming European assets should be expected in 2015."
The major international explorers such as Exxon Mobil Corp. and Chevron Corp. are unlikely to incur any significant impairment charges unless crude prices continue falling and remain depressed for an extended period, Bern said.
The oil-market slump still hasn't reached the depths of the 2008 rout that accompanied the worldwide financial crisis, she said. Back then, West Texas Intermediate crude dropped from $147.27 to $32.40 -- a 78 percent decline -- in a five-month span. A commensurate fall from last year's peak would entail reaching a nadir of $23.70.
"You'd look for a longer, more sustained decline before the Marathons and ConocoPhillips and Exxons of the world start to revisit asset valuations," Bern said.
Before it's here, it's on the Bloomberg Terminal.
LEARN MORE