U.S. Stocks Fall 5th Day as Oil Extends Rout; Bonds Gain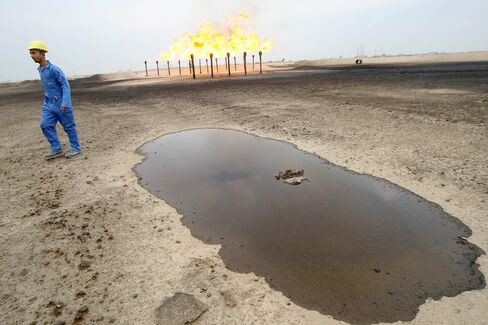 U.S. stocks extended the longest losing streak in 13 months as oil sank below $48 a barrel and data showed slower growth in the services industries. Global bonds rallied and the yen strengthened with gold.
The Standard & Poor's 500 Index fell 0.9 percent at 4 p.m. in New York for a fifth day of declines. Bank and energy shares led losses. Futures on the Nikkei 225 Index slid 2 percent in Chicago. The yield on 10-year Treasuries plunged seven basis points to 1.96 percent, the first drop below 2 percent since October. The yen climbed to the strongest level in two months versus the euro and gold jumped 1.2 percent. West Texas Intermediate declined 4.2 percent to settle at $47.93.
Oil's selloff has turned energy companies into the biggest losers in an equities retreat that has wiped more than $1 trillion from values this year amid concern that global growth is slowing. U.S. data showed service industries expanded in December at the slowest pace in six months, while factory orders fell more than estimated. Treasuries rallied as lower oil prices damped the global outlook for inflation. The U.S. 30-year bond gained for an eighth day. A gauge of services and manufacturing in the euro area came in below a preliminary reading.
"At this point it's going to get hard to bottom out this market until you've bottomed oil," Jim Paulsen, who helps oversee $345 billion as chief investment strategist at Wells Capital Management, said by phone. "It's really got people spooked. I do think oil will bottom and the dollar will peak and it'll get us away from this mini-panic."
U.S. Data
Energy shares continued to sell off, dropping 1.2 percent to pace declines in the S&P 500. The group has fallen more than 15 percent since the start of October amid an almost 50 percent slide in crude prices. The companies are trading at less than 13 times earnings, down from a three-year high of 17 in June. They've traded at an average multiple of about 14 since 2000.
Goldman Sachs Group Inc. chief equity strategist David Kostin thinks investors should be looking to buy energy shares.
"Within the market we're looking for pockets of opportunity," Kostin said in an interview on Bloomberg Television's "Market Makers" with Erik Schatzker and Stephanie Ruhle. "Relative to historical metrics, it's extremely attractive."
Financial shares in the index lost 1.5 percent for the biggest drop as JPMorgan Chase & Co. tumbled 2.5 percent.
Oil Glut
WTI fell for a fourth day to settle at the lowest since April 2009. U.S. crude inventories probably expanded last week, a Bloomberg News survey showed before a government report tomorrow. That would add to end-of-year levels that were the highest in at least three decades and exacerbate a global glut. Brent crude dropped 3.8 percent to $51.10 in London.
The S&P 500 briefly pared its decline to 0.3 percent in late trading after before resuming declines in the final 15 minutes of the session. The gauge closed more than 4 percent below its all-time high on Dec. 29.
It slumped 1.8 percent yesterday, the most since Oct. 9, to cap its first four-day loss since 2013. It dropped below its 100-day moving average today.
"It's a balancing act between bulls and bears," Allan von Mehren, chief analyst at Danske Bank A/S in Copenhagen, said. "Many investors are playing the recovery scenario and will buy on setbacks, but others get nervous after a strong rally. The U.S. economy will have a strong first quarter and this should help stocks rise, but we will have higher volatility."
VIX Spike
The Chicago Board Options Volatility Index rose 7.8 percent to 21.47, the highest level for the gauge known as the VIX since Dec. 16.
Reports on U.S. hiring are also due this week. The Federal Reserve tomorrow releases the minutes from its last policy meeting at which it pledged patience in raising interest rates even as the economy expands.
Investors later this month will evaluate corporate earnings reports to help gauge equity valuations. Alcoa Inc. unofficially starts the earnings season when it reports fourth-quarter results on Jan. 12. Profit at S&P 500 companies probably climbed 2.4 percent in the period, analysts predicted.
Bill Gross said prices for many assets will fall this year as record-low interest rates fail to restore sufficient economic growth.
With global expansion still sputtering after years of interest rates near zero, investors will gradually seek alternatives to risky assets, Gross wrote today in an investment outlook for Janus Capital Group Inc.
Rate Increase
Yesterday, the former manager of the world's largest bond fund said the Federal Reserve won't raise interest rates until late this year "if at all" as declining oil prices and a stronger dollar limit room to increase borrowing costs.
The chance of a Fed interest-rate increase by its September meeting was at 60 percent, down from 63 percent yesterday, futures data show.
Declining appetite for risk is stoking demand safer assets around the world. Treasury 30-year bonds gained for an eighth day, sending the yield to the lowest level since August 2012. Bond yields in Austria, Belgium, Finland, France and the Netherlands dropped to records.
Securities in the Bank of America Merrill Lynch Global Broad Market Sovereign Plus Index had an effective yield of 1.28 percent as of yesterday, a record low based on data starting in 1996.
Slower Growth
"We're seeing investors come back to 2015 and focus on slower global growth, dis-inflationary forces and taking gains," Yousef Abbasi, the global market strategist at JonesTrading Institutional Services LLC in New York, said in an interview. "Buyers have no reason to step in right now and the allocation into bonds is occurring on a global basis."
A Purchasing Managers' Index for euro-area services and manufacturing signaled economic growth slowed in the final quarter of 2014. The gauge rose to 51.4 in December from 51.1 in November, Markit Economics said today. The data suggest the euro-area economy expanded 0.1 percent in the fourth quarter, Markit said,
Yesterday, data showed December consumer prices in Germany slowed to the lowest level in more than five years, and economists estimate euro-area data tomorrow will show a decline.
All but four of the 19 industry groups in the Stoxx 600 declined today. Oil-and-gas companies were little changed after a 4.9 percent drop yesterday, while producers of basic resources rallied 0.9 percent as gold advanced. Technology shares led losses with a 1.9 percent slide.
Emerging Market
The MSCI Emerging Market Index fell for a fourth day, losing 0.8 percent as benchmark gauges in Hong Kong, South Korea, Taiwan and India lost at least 1.7 percent.
Stock markets in the Middle East, home to some of the world's biggest oil producers, extended declines. The Dubai Financial Market Index tumbled 3.2 percent, Abu Dhabi's ADX General Index slid 2.7 percent and Qatar's benchmark gauge declined 1.5 percent.
Russia's ruble weakened 4.3 percent to 63.25 versus the dollar and the dollar-denominated RTS Index retreated 3.7 percent. The ruble-based Micex index gained 1.9 percent.
Credit-default swaps on Russian government debt surged 66 basis points to an almost six-year high of 604 basis points, according to data compiled by Bloomberg. That signals a more than 30 percent probability of default within five years.
Gold, Yen
Gold climbed 1.3 percent to settle at $1,219.40 an ounce, the highest in three weeks after a third day of gains, amid concern that Greek opposition to austerity measures may prompt the country's exit from the euro currency bloc.
Bullion prices have rallied 7.9 percent since falling to a four-year low in November on political turmoil in Greece and speculation that governments from Europe to China will bolster economic stimulus.
The yen gained 1.2 percent to 141.03 per euro, after reaching 140.90, the strongest since Nov. 3. Japan's currency advanced 1 percent to 118.511 per dollar. The dollar was little changed at $1.18991 per euro.
"The yen's benefiting from lower yields and that flight to safety," said Joe Manimbo, a market analyst in Washington at Western Union Business Solutions, a unit of Western Union Co. "It's not just oil and it's not just Greece. There are underlying worries in the markets about the economic health of the euro zone."
Before it's here, it's on the Bloomberg Terminal.
LEARN MORE