Euro Slides to Weakest Since 2006 on ECB, Greece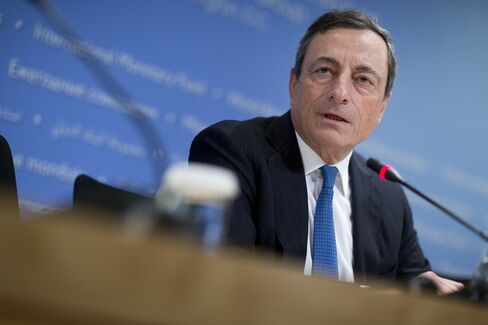 The euro weakened to an almost nine-year low versus the dollar amid investor concern Greece might leave the currency union and on speculation the European Central Bank has moved closer to large-scale sovereign-bond purchases.
A gauge of the dollar reached the strongest in nine years with the Federal Reserve moving toward raising interest rates. The yen gained to an eight-week high against the euro as a slide in Asian stocks boosted haven demand. The Russian ruble and Canadian dollar slipped as oil fell. Brazil's real dropped after economists boosted inflation forecasts and cut growth estimates. Volatility jumped to the highest in more than a year.
"The euro seems to be in the worst of all worlds, where nothing seems to be working and all you have is the prospect of more balance-sheet expansion," Steven Englander, the New York-based head of Group of 10 currency strategy at Citigroup Inc., said by phone. "The outlook remains poor."
The euro dropped 0.6 percent to $1.1933 as of 5 p.m. in New York after sliding to $1.1864, the least since March 2006. The shared currency fell 1.3 percent to 142.76 yen and earlier reached 142.30, lowest since Nov. 10. The dollar depreciated 0.7 percent to 119.64 yen.
The Bloomberg Dollar Spot Index, which tracks the U.S. currency against 10 major peers, rose 0.2 percent to 1,143.40 and touched 1,146.49, the highest in data going back to 2005.
Volatility Jumps
JPMorgan Chase & Co.'s Global FX Volatility Index climbed to the highest since September 2013, reaching 10.27 percent. It has increased from a record-low 5.28 percent last July.
Oil declined for a third day, falling below $50 a barrel in New York for the first time since 2009, after the Bloomberg Commodity Index slumped 17 percent last year for its worst performance since 2008.
The ruble of Russia, the world's largest energy exporter, decreased 8.7 percent to 60.85 per dollar in Moscow in its first day of trading of 2015, after a 46 percent decline last year, when it reached a record-low 80.10.
The Canadian dollar touched the weakest in 5 1/2 years, sinking as much as 0.5 percent to C$1.1844 per U.S. dollar, the weakest since May 2009. It later erased losses to close up 0.2 percent at C$1.1763.
Brazil's currency slipped after analysts boosted their 2015 inflation estimate to 6.56 percent from 6.53 percent and cut their growth forecast to 0.5 percent from 0.55 percent, according to the Jan. 2 central-bank survey of about 100 analysts published today.
The real declined 0.4 percent to 2.7060 per dollar after falling as much as 1.4 percent.
Yen Gains
The yen rose against all of its 16 major counterparts as the Nikkei 225 Stock Average slid 0.2 percent to 17,408.71 on the first day of 2015 trading. The currency will probably stabilize after declining 12 percent against the dollar last year, Citigroup's Englander said.
"The one thing that's a small positive in the yen in the short term is that all the Japanese policy measures are done, say for the next six months or longer," he said.
The pound slipped to its weakest level in 17 months as data showed construction output in the U.K. slowed more than analysts predicted last month, adding to evidence that the economic recovery is losing momentum.
Sterling fell as much as 1 percent to $1.5176, the lowest since August 2013, before closing 0.5 percent weaker at $1.5250.
The pound has depreciated 0.5 percent in the past week among 10 developed-nation currencies tracked by Bloomberg Correlation-Weighted Indexes. The euro fell 0.3 percent, while the dollar gained 1.8 percent and the yen rose 1.7 percent.
'Sinking' Euro
The euro slid against most of its major peers after ECB President Mario Draghi said in an interview with German newspaper Handelsblatt published Jan. 2 that policy makers were ready to act if needed to counter deflation.
Greece began an election campaign that Prime Minister Antonis Samaras said may lead to an exit from the euro region should the Syriza party win. Der Spiegel magazine reported German Chancellor Angela Merkel considers a Greek exit from the euro to be manageable.
Economic data due Jan. 7 was forecast by economists in a Bloomberg survey to show euro-area consumer prices dropped 0.1 percent in December from a year earlier, the first decline since 2009.
"It's probable that the euro will go on sinking," Stephen Lewis, chief economist at ADM Investor Services International Ltd, said by phone from London. "There are very few fundamental factors in its favor. Lurking in the background, there are problems over Greece and therefore questions as to whether the euro zone is going to hold together."
Before it's here, it's on the Bloomberg Terminal.
LEARN MORE