Wet Seal Receives Default Notice From Creditor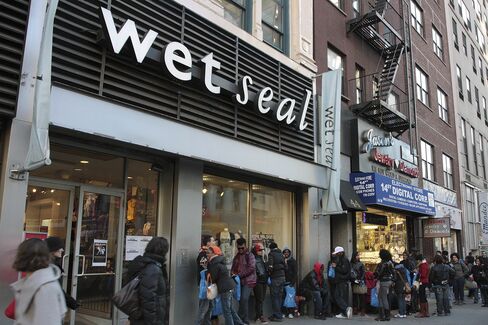 Wet Seal Inc., the money-losing clothing chain that said last month there was substantial doubt it could continue operating, received a notice of default on $27 million in senior convertible notes.
The total amount due is equal to $28.8 million, plus costs of collection, attorneys' fees and disbursements, Wet Seal said in a regulatory filing today. On Dec. 29, the company and its creditor -- Hudson Bay Master Fund Ltd. -- entered a forbearance agreement that lasts until Jan. 12, according to the filing, giving the retailer a two-week reprieve.
Wet Seal, a Foothill Ranch, California-based chain focused on young women, has lost more than $150 million over the past two years and is projected to lose an additional $88 million in the current fiscal year. Competition from e-commerce sites and fast-fashion retailers, as well as a broader slowdown in mall traffic, have sent its sales tumbling.
The stock fell as much as 20 percent to 5.7 cents in late trading today after the disclosure. Already, the shares had lost 97 percent of their value during the past year.
The company also said in the filing that it had increased the base salary of Chief Financial Officer Thomas Hillebrandt to $350,000 from $255,000.
Before it's here, it's on the Bloomberg Terminal.
LEARN MORE