North Korea Says Hack Claims Absurd in Sanction Criticism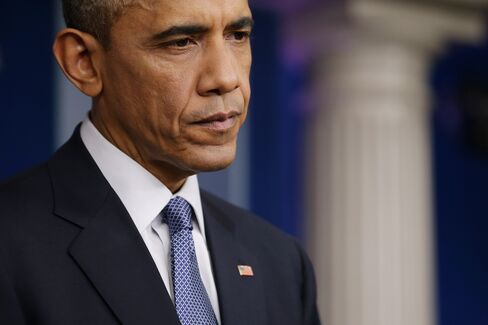 North Korea denounced new U.S. sanctions on Sunday and said the nation was "deliberately linking" it to the hacking of Sony Corp. computers.
President Barack Obama, who blamed North Korea last month for the attack, announced sanctions on 10 officials and three state organizations on Jan. 2. The U.S. says the parties play key roles in cyber attacks, weapons proliferation and other illicit activities.
The hacking assertions are "absurd" and "major media and prestigious experts of the U.S. and the West are becoming vocal claiming that the recent hacking attack was not made by North Korea," the official Korean Central News Agency reported on Jan. 4, citing an unidentified Foreign Ministry spokesman. The U.S. moves were its first public action after Obama said it would address the cyber-assault on Sony's movie studio "in a place and time and manner that we choose."
"We take seriously North Korea's attack that aimed to create destructive financial effects on a U.S. company and to threaten artists and other individuals with the goal of restricting their right to free expression," White House press secretary Josh Earnest said in a statement that accompanied the release of an executive order.
'Good First Step'
Senator Robert Menendez, the outgoing chairman and top Democrat on the Senate Foreign Relations Committee, called the sanctions "a good first step" in responding to North Korea's alleged cyber attack.
"We need to look at putting North Korea back on the list of state sponsors of terrorism, which would have far more pervasive consequences," the New Jersey senator said yesterday on CNN's "State of the Union" program.
Secretary of State John Kerry hasn't yet responded to a written request from Menendez seeking such a move, the lawmaker said. Obama said last month that he will review whether to put North Korea back on the list of state sponsors of terrorism.
Menendez also criticized the president for describing the Sony hack as "an act of cyber-vandalism." Obama used that phrase in a December CNN interview when he was asked if North Korea's attack amounted to an act of war.
"Vandalism is when you break a window," Menendez said. "What happened here is that North Korea landed a virtual bomb on Sony's parking lot, and ultimately had real consequences to it as a company and to many individuals who work there."
The decision by the U.S. to tighten sanctions on North Korea is an "appropriate" measure against that nation's persistent provocations, South Korea's Ministry of Foreign Affairs said in a statement on its website.
Hollywood Secrets
The sanctions are intended as a signal to other countries engaged in offensive cyber activities, according to an administration official involved in the deliberations about the response. One of the intended recipients of the message is China, which has the world's largest cyber espionage operation and has been the main point of influence over North Korean leader Kim Jong Un, the official said.
"China opposes any form of cyber attacks," Chinese Foreign Ministry spokeswoman Hua Chunying said today at a daily briefing in Beijing. "China also opposes any individual or foreign country using China's infrastructure to conduct illegal cyber attacks, or conducting illegal cyber attacks within China's territory. When those activities are found, China will deal with them seriously according to laws."
Hua also called on "relevant parties" to "conduct actions very cautiously," referring to the U.S. sanctions and North Korea's response.
The cyber-attack on Sony exposed Hollywood secrets, destroyed company data and caused the studio to initially cancel the release of "The Interview," a comedy about a fictional assassination of Kim.
Before it's here, it's on the Bloomberg Terminal.
LEARN MORE