U.S. Stocks Little Changed on Factory Data; Dollar Gains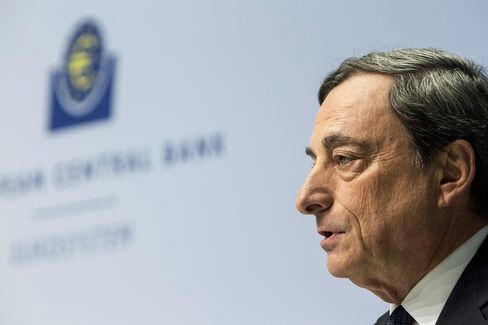 U.S. stocks were little changed after erasing declines in the final half hour of trading, as investors assessed data showing manufacturing cooled. Treasuries rallied and the dollar strengthened amid speculation the Federal Reserve will raise rates this year.
The Standard & Poor's 500 Index fell less than 0.1 percent at 4 p.m. in New York, erasing a drop of 0.6 percent. The Russell 2000 Index dropped 0.5 percent. The Stoxx Europe 600 Index lost 0.4 percent while the euro weakened to a 4 1/2-year low and the dollar rose versus all of its 16 major peers. The yield on five-year German notes fell below zero for the first time and the rate on 10-year Treasuries dropped five basis points to 2.12 percent.
Manufacturing in the U.S. cooled in December, settling into a more sustainable pace of growth as the year drew to a close. European Central Bank President Mario Draghi said he can't exclude the risk of deflation in the euro area, hinting that the likelihood of large-scale quantitative easing is increasing, according to an interview with German newspaper Handelsblatt. The Fed releases next week the minutes from its last policy meeting at which it pledged patience in raising interest rates even as growth showed signs of accelerating.
"Investors are looking for validation that the economy is, in fact, as strong as advertised," Peter Sorrentino, a Cincinnati-based fund manager at Huntington Asset Advisors Inc., which oversees $1.8 billion, said in a phone interview. "The market may struggle to find its footing here in the first couple of days until we get some more data points out."
Slow Trading
The S&P 500, which closed at records 53 times last year, slipped in the last two days of 2014, trimming its third straight annual gain to 11 percent. Trading in S&P 500 shares was 21 percent below the 30-day average at this time of day.
Shares rallied last year as accelerating growth fueled optimism in the U.S. economy and an accommodative Federal Reserve policy sent risk-seeking investors into equities.
The Institute for Supply Management's factory index dropped to a six-month low of 55.5 from 58.7 in November, a report from the Tempe, Arizona-based group showed today. The reading in October matched a three-year high.
"The data failed to meet early expectations but is still trending in the right direction as we continue the trend of positive but not robust growth," Eric Wiegand, a senior portfolio manager at U.S. Bank Wealth Management in New York, which oversees $120 billion, said by phone. "We expect more volatility but as you look around the globe we're still in expansionary territory and that's not the case with our major trading partners."
Housing, Small-Caps
Consumer-discretionary producers in the S&P 500 lost 0.7 percent while phone and utilities added 0.5 percent.
D.R. Horton Inc. and Lennar Corp. slumped at least 1.2 percent as an S&P index of homebuilders lost 1 percent. Disappointing November construction spending suggests some economists may revise down fourth-quarter gross domestic product estimates, Christophe Barraud, Market Securities LLP chief economist, said in a note to Bloomberg First Word.
The Bloomberg Dollar Spot Index had its highest close since March 2009. The yen retreated 0.4 percent to 120.26 against the U.S. currency. The pound weakened to the lowest level in more than a year against the dollar after a report showed U.K. manufacturing unexpectedly slowed last month.
Investors have been buying U.S. assets as the Fed pledged patience in raising interest rates and economic growth accelerated.
The euro touched $1.2009, its lowest level since June 2010, after completing its worst annual loss since 2005. The Swiss franc weakened to parity with the dollar for the first time in four years.
Deflation Risk
"The risk that we don't fulfill our mandate of price stability is higher than it was six months ago," Draghi told Handelsblatt. "We are in technical preparations to alter the size, speed and composition of our measures at the beginning of 2015, should this become necessary, to react to a too-long period of low inflation. There's unanimity in the ECB council on that."
Spain's 10-year yield fell 12 basis points, or 0.12 percentage point, to 1.49 percent, touching the lowest level since Bloomberg began collecting the data in 1993.
Germany's five-year yield dropped two basis points to minus 0.007 percent, meaning investors are willing to receive less back from the securities if they hold them to maturity than they paid to purchase them.
The rate on 10-year bunds fell to a record-low 0.492 percent and the yield spread with similar-maturity Spanish bonds earlier touched as little as 97 basis points.
Act Swiftly
"The market's verdict right now seems to be that Draghi's ECB will act swiftly," said Christoph Rieger, head of fixed-rate strategy at Commerzbank AG in Frankfurt. "If that is the case, spreads can compress further and we stick with our strategic overweight of the peripheral countries. Next to the large peripherals, Portugal should be the best performer of 2015."
The Stoxx 600 fell as much as 0.7 percent as a measure of euro-area manufacturing expanded less in December than initially estimated. The number of shares changing hands in Stoxx 600-listed companies was 36 percent lower than the average of the past 30 days, data compiled by Bloomberg showed.
"While the Fed is not going to rush into any action, rates will go up," said Thomas Averill, a managing director in Sydney at Rochford Capital, a currency and rates risk-management company. "The market is very long the dollar against the yen and the euro, and across the board."
Oil, Copper
Oil capped the sixth weekly loss by dropping to the lowest since May 2009 amid growing supply from Russia and Iraq and signs of manufacturing weakness in Europe and China.
West Texas Intermediate for February delivery fell 1.1 percent, to $52.69 a barrel in New York. Brent futures dropped 1.6 percent, to close at $56.42 a barrel in London. Both had the lowest settlement since April 30, 2009.
Copper dropped to the lowest in more than four years in London. The metal for delivery in three months fell 0.7 percent to settle at $6,255 a metric ton ($2.84 a pound). Nickel and aluminum retreated in London, while zinc, lead and tin gained.
Gold futures for February delivery gained 0.2 percent to settle at $1,186.20 an ounce in New York.
Emerging Equities
The MSCI Emerging Markets Index slipped 0.4 percent to erase a third weekly gain. The gauge dropped 4.6 percent in 2014, capping the first back-to-back annual decline in 12 years. Brazil's Ibovespa slid 3.1 percent as commodity producers declined.
The Hang Seng China Enterprises Index advanced 2.2 percent to its highest close since August 2011 today amid speculation the government will further ease monetary policy to support a slowing economy. Hong Kong markets were closed yesterday, while mainland exchanges remain shut until Jan. 5.
A Chinese manufacturing gauge slipped to the lowest level in 18 months, adding pressure on policy makers to do more to support economic growth, according to data released yesterday by the statistics bureau and the China Federation of Logistics and Purchasing in Beijing.
Local markets in China, Russia, Japan, New Zealand, the Philippines, Taiwan and Thailand were closed today.
Before it's here, it's on the Bloomberg Terminal.
LEARN MORE