OPEC Resolve on Supply Promises No Calm for Oil Markets: Energy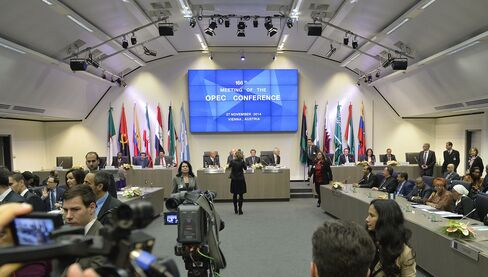 Oil's biggest price swings in three years are poised to continue as OPEC cedes no ground to competing suppliers.
Oil traders' expectations for future swings, known as implied volatility, surged since Saudi Arabia and fellow members of the Organization of Petroleum Exporting Countries decided on Nov. 27 to keep pumping crude despite a supply glut. That will mean prices fluctuating in the next several years by even more than the $59-a-barrel move in 2014, Bank of America Corp. says.
"OPEC has always been there to lower volatility both on the upside and downside, but now they have less and less weight," said Pierre Andurand, the London-based founder of Andurand Capital Management LLP, whose $350 million fund earned 18 percent in November from betting on lower Brent crude prices. "It means more volatility."
OPEC's policy of testing rival producers' tolerance for lower prices has sparked the search for a new equilibrium, increasingly shaped by the readiness of U.S. shale drillers to sustain projects as returns shrink. This year's drop in Brent is threatening investment in new crude supply, creating the potential for more volatility in years to come. Futures are down 49 percent in London, the most since 2008.
Saudi Adjustments
Implied volatility for front-month Brent futures reached
49.7 percent on Dec. 22, the highest level since August 2011. It climbed by 3 percentage points the day after OPEC's November meeting, then slid almost 9 percentage points through to Dec. 5, before pushing higher. Brent has fallen 27 percent since the day before the group's session in Vienna, trading for $56.08 a barrel today.
"Saudi Arabia has for years been the main balancing agent in the market," Sabine Schels, an analyst at Bank of America, said by phone from London on Dec. 16. "Now they're telling us, 'We're not doing this anymore.' They're likely to let the market trade in a much wider range."
Adjustments by Saudi Arabia have steered global output levels for decades, cushioning sudden supply shocks. A 1.5 million barrel-a-day drop in Libyan production during the 2011 uprising against Muammar Qadaffi was matched by a corresponding increase by the world's biggest oil exporter, data compiled by Bloomberg show.
Higher volatility, which Saudi Arabia is better placed to withstand than shale drillers, is itself a strategy for curbing rival supplies, according to Bank of America.
Balance Sheets
"Volatility benefits low-cost producers with strong balance sheets, i.e. Saudi Arabia," Schels said. "Volatility hurts small players that are highly levered, that have weak balance sheets, i.e. U.S. shale producers."
The average borrowing cost for energy companies in the U.S. high-yield debt market almost doubled to 10.43 percent by mid-December from an all-time low of 5.68 percent in June, Bank of America Merrill Lynch data show. Energy producers have raised $550 billion of new bonds and loans since early 2010 as the Federal Reserve held borrowing costs near zero, said Deutsche Bank AG. Researcher CreditSights Inc. predicts the default rate for energy junk bonds will double to 8 percent next year.
About $930 billion of investment in global oil projects through 2025, generating 7.5 million barrels of daily production or about 8 percent of current demand, is at risk if Brent remains below $70 a barrel, Michele della Vigna, an analyst at Goldman Sachs Group Inc. in London, said in a Dec. 15 report.
The "damage" being inflicted on investment in new production by collapsing prices is creating the conditions for a rebound over the next two years, said Andurand, the hedge fund manager who called the top of the oil market in 2008.
Brent Trading
Trading in Brent, a global benchmark grade, has expanded. Open interest, or contracts outstanding, was at 1.493 million on Dec. 29, from this year's low of 1.292 million on Aug. 18, data from the London-based ICE Futures Europe exchange show.
Elevated volatility boosts interest in the $1.25 billion U.S. Oil Fund, the biggest exchange-traded product tracking the value of crude, according to John Hyland, the chief investment officer of the fund's Alameda, California-based manager. Shares outstanding in the fund rose to 63.9 million on Dec. 23, the most since June 2010.
"OPEC is broken, which definitely has a quantum shift for crude volatility to a permanently higher level," Anuraag Shah, the manager of the $85 million Tusker Capital LLC in Los Angeles, wrote in an e-mail Dec. 16. "It's great for all traders."
Before it's here, it's on the Bloomberg Terminal.
LEARN MORE