Hedge Funds Surrender to Oil Rout as Bullish Bets Drop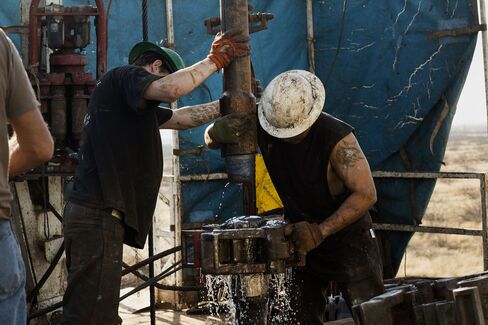 Hedge funds finally pulled back from bets on higher oil prices as the market faced its worst year since 2008.
Speculators reduced their net-long position in West Texas Intermediate crude for the first time in four weeks, cutting their holdings by 5 percent in the week ended Dec. 23, Commodity Futures Trading Commission data showed yesterday. Long wagers dropped the most since August.
Prices tumbled today to the lowest level in more than five years as U.S. output climbed and the Organization of Petroleum Exporting Countries refused to make production cuts. The International Energy Agency and U.S. Energy Information Administration cut their estimates of 2015 global fuel consumption this month amid expectations for slower economic growth outside the U.S.
"The weak physical fundamentals have weighed on the market," Tim Evans, an energy analyst at Citi Futures Perspective in New York, said by phone. "OPEC's shift from a policy of supporting prices to one of protecting market share has also had a major impact."
WTI rose $1.19, or 2.1 percent, to $57.12 a barrel on the New York Mercantile Exchange during the CFTC report period. The U.S. benchmark grade dropped 85 cents, or 1.6 percent, to $53.27, the lowest settlement since May 1, 2009. Brent fell 57 cents to $57.33, bringing 2014 losses to 48 percent.
OPEC Meeting
OPEC's decision at a Nov. 27 meeting in Vienna not to reduce its output target of 30 million barrels a day prompted speculation that the group will let crude slide to a price that will slow U.S. drilling.
The Paris-based IEA, which represents 29 industrialized countries, trimmed its 2015 global demand projection by 230,000 barrels from last month, according to a Dec. 12 report.
"Traders just said enough is enough," Phil Flynn, a senior market analyst at the Price Futures Group in Chicago, said by phone. "They were tired of trying to guess the bottom of the market and missing. We don't have a bottom yet and there's still a ways to go.'"
The U.S. pumped 9.14 million barrels a day in the week ended Dec. 12, the most in weekly data that started in 1983. The gain came as horizontal drilling and hydraulic fracturing unlocked supplies from shale formations including the Eagle Ford in Texas and the Bakken in North Dakota.
Hedge funds had increased bets on rising prices to a record 356,336 futures and options in June as WTI climbed to a nine-month high.
Longs Drop
The net-long position in WTI dropped by 10,784 contracts to 206,939 in the week ended Dec. 23, the report showed. Long positions fell 5.1 percent while shorts decreased 5.6 percent.
The report was delayed because of the Christmas holiday last week.
For Brent crude, hedge funds and other money managers cut bullish bets by 15 percent to 112,886 contracts in the week ended Dec. 23, data from the ICE Futures Europe exchange showed yesterday. It was the first decline since before last month's OPEC meeting.
In other markets, bullish bets on gasoline retreated 0.6 percent to 49,136 contracts, the first decline in seven weeks. Futures increased 1.9 percent to $1.5704 a gallon on Nymex in the reporting period.
Retail gasoline, averaged nationwide, slid to $2.257 a gallon yesterday, the lowest since May 2009, according to Heathrow, Florida-based AAA, the largest U.S. motoring group.
Bearish wagers on U.S. ultra low sulfur diesel increased 1.6 percent to 24,500 contracts. The fuel advanced 1.6 percent to $1.9907 a gallon in the report week.
Natural Gas
Net-long wagers on U.S. natural gas fell 87 percent to 3,647.75 lots, the lowest since January 2012. The measure includes an index of four contracts adjusted to futures equivalents: Nymex natural gas futures, Nymex Henry Hub Swap Futures, Nymex ClearPort Henry Hub Penultimate Swaps and the ICE Futures U.S. Henry Hub contract.
Nymex natural gas dropped 12 percent to $3.171 per million British thermal units during the report week.
The rise of the dollar against its counterparts has added to the downward pressure on both prices and investor interest, Citi Futures' Evans said. The U.S. currency climbed to a two-year high against the euro during trading yesterday, reducing the appeal of raw materials as a store of value.
The Bloomberg Dollar Spot Index climbed to the highest since March 2009 on Dec. 23, while the Bloomberg Commodity Index dropped to the lowest since March 2009 today.
"We sometimes forget that this has coincided with a significant strengthening of the U.S.," Evans said. "This makes portfolio managers want to hold U.S. dollars instead of commodities."
Before it's here, it's on the Bloomberg Terminal.
LEARN MORE