S&P 500 Falls to Erase Month Gain; Oil Slides, Bonds Gain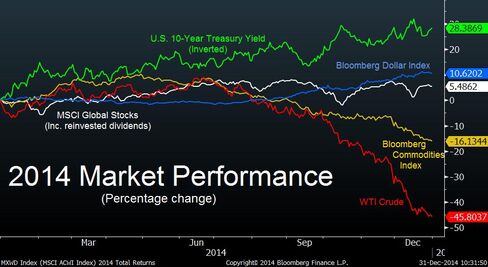 The Standard & Poor's 500 Index fell, erasing a gain for December, while stocks rose in Europe to finish a third yearly increase. Crude oil declined to cap its worst year since 2008 amid a global supply glut, dragging commodities to a fourth straight annual drop.
The S&P 500 lost 1 percent at 4 p.m. in New York, with about half the losses coming in the final 30 minutes of trading. It retreated in December for the first time since 2007. The Stoxx Europe 600 Index climbed 0.4 percent. West Texas Intermediate crude dropped 1.6 percent to close at $53.27 a barrel and the Bloomberg Commodity Index, which tracks 22 products from crude to copper, decreased 1.7 percent for a 17 percent slide in 2014. Yields on 10-year Treasury notes slid 2 basis points to 2.17 percent, while the dollar had for its best year since at least 2005.
Crude's 46 percent tumble this year, spurred by the largest U.S. output in three decades and OPEC's refusal to cut production, has roiled global markets and hurt energy-producing nations including Russia, whose ruble had its steepest annual retreat since 1998. While the S&P 500 had a third straight annual advance, rising 11 percent, the MSCI All-Country World Index excluding the U.S. fell 6.3 percent for the year. The divergence is a consequence of rising stocks and a dollar that strengthened amid speculation the Federal Reserve will raise interest rates next year.
"Investors are sitting on the sideline and trying to evaluate what this whole oil situation means," Bill Schultz, who oversees $1.2 billion as chief investment officer at McQueen, Ball & Associates in Bethlehem, Pennsylvania, said in a phone interview. "They're wondering how beneficial lower oil prices are to the consumer, and trying to balance that with what political uncertainty it creates overseas."
U.S. Data
The S&P 500 closed at a record on Dec. 29 for the 53rd time this year as $1.1 trillion was added to American share values. The benchmark overcame five separate declines of 4 percent or more in 2014, while stocks never once declined more than three straight times, a first in data compiled by Bloomberg going back to 2000.
Data today showed jobless claims rose for the first time in five weeks, displaying the typical year-end holiday swings that make the data difficult to interpret. A separate report indicated contracts to purchase previously owned homes rose in November as employment gains and low borrowing costs helped bring potential buyers into the market.
"You can have volatility in trading activity the last few days of the year, certainly on the last day, when people realize it's their final opportunity to do whatever they want in terms of rearranging their portfolios," John Carey, a Boston-based fund manager at Pioneer Investment Management, which oversees about $230 billion, said in a phone interview. "It'll be off to the races again on Friday."
Record Levels
More than $1.8 trillion was added to the value of global shares this year as the S&P 500, Dow Jones Industrial Average and Russell 2000 Index of smaller companies climbed to records. The Nasdaq Composite Index reached its highest level since March 2000 this week. Benchmark indexes retreated over the final two days of the year.
The Stoxx 600 climbed 4.3 percent in 2014 and the MSCI All-Country World Index gained 2.1 percent. European stocks advanced in the last day of the year. The gauge fell in December amid a slump in energy producers and in Greek equities as Prime Minister Antonis Samaras failed to get enough backing for his presidential candidate, leading to early elections.
"The drop in oil added much more volatility to markets," said Louis de Fels, a Paris-based fund manager at Raymond James Financial Inc., which oversees about $53 billion. "But we're confident in European equities in 2015. We expect there'll be fewer geopolitical problems next year. Also, lower oil will help consumption in Europe, the U.S. and China. This is quite good news for 2015 global growth."
Oil Slump
Crude slipped for the fourth time in five days to trade near a five-year low. The Energy Information Administration said crude stockpiles at Cushing, Oklahoma, gained last week.
U.S. stockpiles were at the highest level for this time of the year in three decades. OPEC has signaled it won't cut supply to influence prices, instead preferring to defend market share amid an unprecedented U.S. shale boom.
Commodities had the biggest annual loss since the global financial crisis in 2008, retreating for a record fourth year. A slowdown in China has hurt demand for raw materials and data today showed a factory gauge at a seven-month low in December.
"What we're seeing is that supplies from North America have really outpaced worldwide demand and as a result, we have a supply glut," Andy Lipow, the president of Lipow Oil Associates LLC in Houston, said by phone. "That of course has put pressure on prices over the last several months and as a result, has dragged down commodities indexes as well."
Gold, Copper
Gold futures for February delivery fell 1.4 percent to $1,184.10 an ounce. Bullion lost 1.5 percent for 2014, compared with an average annual move of 12 percent in the past 14 years. It slid two years in a row for the first time since 1998.
Copper dropped 14 percent in 2014, the most in three years, amid prospects for fading demand from China. Copper for delivery in three months on the London Metal Exchange fell 0.4 percent today to settle at $6,300 a metric ton ($2.86 a pound)
The MSCI Emerging Markets Index rose 0.4 percent, trimming the first back-to-back annual loss in 12 years. The developing-country gauge has fallen 4.5 percent in 2014. Global investors pulled the most funds out of emerging markets this month since June 2013, the International Institute of Finance said.
China, Russia
China's stocks rallied, capping the best year for the benchmark index since 2009, amid speculation the government will take steps to boost the world's second-biggest economy after a factory gauge weakened.
Russian markets were closed today. The ruble depreciated 44 percent against the dollar this year, the second-worst performing currency in the region after Ukraine's hryvnia. The benchmark Micex Index lost 7.2 percent in 2014.
The Shanghai Composite Index rose 2.2 percent to 3,234.68 at the close, the highest level since January 2010. The nation's stocks were the best performer globally this year, topping 93 world indexes tracked by Bloomberg, as a 53 percent surge helped China surpass Japan as the world's second-biggest equity market.
The yen had a third annual loss as the Bank of Japan expands currency-depreciating stimulus, while the dollar is up against all its major counterparts as the Federal Reserve moves closer to raising interest rates.
Yen, Dollar
The yen slumped 12 percent against the dollar this year after dropping 18 percent last year and 11 percent in 2012. It fell 0.5 percent today to 120.99 per dollar. The euro dropped 0.5 percent to $1.2099, for a 12 percent annual decline.
The greenback climbed versus all of its 31 major peers this year as data showed growth in the U.S. economy accelerated to the fastest pace in more than a decade.
Yields on 10-year Treasury notes are down from 3.03 percent at the end of 2013.
Before it's here, it's on the Bloomberg Terminal.
LEARN MORE